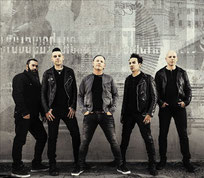 Mit Stone Sour kehrt im Juni eine Speerspitze des US-amerikanischen Rockzirkus zurück und legt mit "Hydrograd" den sehnlich erwarteten Nachfolger für das 2012 und 2013 in zwei Teilen veröffentlichte Konzeptwerk "House Of Gold & Bones" vor. Mit diesen beiden Alben hatten sich Stone Sour endgültig in die globale Rock-Oberliga gespielt. Beide Werke stiegen weltweit hoch in die Charts und konnten unter anderem Top-Ten-Plätze in den USA, Deutschland, Österreich und der Schweiz sowie in vielen weiteren Ländern verbuchen.
Zudem stiegen sie bis an die Spitze der US-Hard Rock Charts sowie der britischen Rock Charts. Seither überzeugte die Band mit zwei kraftvollen EPs voller Coverversionen, zusammengefasst unter dem Namen "The Burbank Dualogy". Nun ist die Zeit reif für ein neues Album, das die Band im Rahmen einer Welttournee live vorstellen wird. Nach Europa kommt sie zum Ende des Jahres, in Deutschland sind fünf Shows in Frankfurt, Berlin, Hamburg, Köln und München vorgesehen. Als Special Guests mit dabei: The Pretty Recklless.
Stone Sour galten lange als loses Nebenprojekt des sonst bei Slipknot beschäftigten Sängers Corey Taylor. Bereits in den 90ern gegründet, wurde die Band aber für mehrere Jahre wieder auf Eis gelegt. 2002 erfolgte die Wiederbelebung der Idee zu Stone Sour, als Gitarrist Josh Rand mit frisch geschriebenen Songs an Taylor herantrat. 18 Monate arbeiteten sie am selbstbetitelten Debüt, das 2002 mit großem Erfolg erschien. Zwei Songs des Albums wurden sogar für einen Grammy in der Kategorie 'Best Metal Performance' nominiert.
Durch Verzögerungen bei Slipknot gewann Taylor viel Zeit und Freiraum, Stone Sour voranzutreiben. In Abständen von jeweils vier Jahren entstanden die Alben "Come What(ever) May" und "Audio Secrecy", die beide in die US-Top 10 stiegen und zahlreiche, internationale Erfolge verbuchen konnten. So landete "Audio Secrecy" in Deutschland auf Platz 3 und knackte in England die Top 10. Die Kontinuität in der Arbeit hatte der Band zwischen Metal, Grunge und Hard Rock offenbar sehr gut getan.
So gut, dass Corey Taylor, Josh Rand, James Root (Gitarre), Roy Mayorga (Drums) und der erst 2012 hinzugestoßene Studio-Bassist Johny Chow, als nächste Veröffentlichung gleich zwei komplette Alben aufnahmen. Der Zweiteiler "House Of Gold & Bones", 2012 und 2013 veröffentlicht, ist ein ausuferndes Konzeptwerk traditioneller Güte, wie man es in den 70ern in der Rockmusik aufnahm. Es erzählt eine zusammenhängende Geschichte und erhielt flächendeckend überragende Kritiken. Mit dieser Konzeptarbeit, die laut Frontmann Corey Taylor eine "Mischung aus Pink Floyds 'The Wall' und Alice in Chains' 'Dirt'" darstellt, untermauerte die Band ihre Ausnahmestellung in der Rock- und Metal-Szene.
Im Anschluss an diese Mammut-Unternehmung – und auch bedingt durch einen Besetzungswechsel, bei welchem James Root 2014 durch Christian Martucci ersetzt wurde – musste die Band erst mal einen neuen Anfang für das nächste Album finden. Sie nahm den Umweg über einen Plan, der laut Taylor "schon seit den Anfangstagen von Stone Sour bestand: Songs unserer größten Helden in der uns eigenen Art zu covern." Mit "Meanwhile In Burbank..." und "Straight Outta Burbank..." erschienen 2015 und 2016 zwei EPs, auf denen sich Songs von Alice In Chains, Black Sabbath, Kiss, Metallica, Bad Brains, den Rolling Stones und anderen Rock-Größen befanden. Zum eigentlich geplanten dritten Teil dieser EP-Reihe kam es nicht mehr, denn plötzlich sprudelten auch wieder die neuen Songs. 18 davon wurden Anfang des Jahres aufgenommen, 15 werden sich nun auf dem kommenden Album "Hydrograd" finden, das laut Taylor "weniger Metal, dafür mehr Rock'n'Roll, Groove und vor allem große Melodien" aufbieten wird.
Live Nation Presents
Stone Sour
19.11.2017 - Frankfurt, Jahrhunderthalle
20.11.2017 - Berlin, Columbiahalle
27.11.2017 - Hamburg, Sporthalle
10.12.2017 - Köln, Palladium
11.12.2017 - München, Zenith
Ticketmaster Pre-Sale: Do., 25.05.2017, 10:00 Uhr (24 Stunden)
Allgemeiner Vorverkaufsstart: Fr., 26.05.2017, 10:00 Uhr
Ticket-Hotline: 01806 – 999 0000 (Mo-Fr 8-22 Uhr / Wochenende u. Feiertage 9-20 Uhr)
(0,20 Euro/Anruf aus dem dt. Festnetz, max. 0,60 Euro/Anruf aus dem dt. Mobilfunknetz)
Ticket-Hotline: 01806 – 57 00 00
(0,20 Euro/Anruf aus dem dt. Festnetz, max. 0,60 Euro/Anruf aus dem dt. Mobilfunknetz)