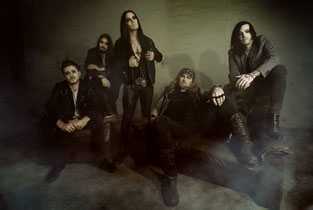 + THE FRIGHT - neues Album "Canto V"
+ Artwork, Tracklisting, Konfigurationen und weitere Infos
Die Leipziger Goth Rocker von THE FRIGHT veröffentlichen am 13.10.2017 weltweit ihr neues Album "Canto V" via Steamhammer / SPV. Das großartige Artwork stammt von Timo Würz der unter anderem schon für ASP, Psychopunch und viele andere Künstler tätig war und rundet das künstlerische Gesamtpaket bestens ab. Soundmässig braucht sich das Werk nicht hinter internationalen Produktionen verstecken - für den guten und druckvollen Ton sorgte Waldemar Sorychta (Tiamat, Lacuna Coil, Sodom, Moonspell etc.).
Waldemar zur Zusammenarbeit mit THE FRIGHT: "Außergewöhnliche Band mit einer gelungenen musikalischen Mischung zwischen Gothic und Metal. Starke eingängige Melodien mit einem überdurchschnittlich guten Gesang. Musikalisch TOP. Die gesamte Produktion hat extrem viel Spaß gemacht. Hab definiv neue Freunde gewonnen. Vielen Dank Jungs."
Lon Fright (Sänger THE FRIGHT) zum Album: "Ich habe mir das Album jetzt sicherlich schon 100 mal angehört und verliebe mich immer wieder neu in unser Werk. Erst recht, weil ich meine Gefühlswelt noch nie so schonungslos offenbart habe. Es gibt nichts was ich ändern würde. Das Teil ist ein dunkles Manifest für Würde in Liebe, Tod und Autonomie. Waldemar hat uns dabei 10 Level höher geschossen und uns den maßgeschneiderten authentischen Sound verpasst, den wir immer wollten. Ich bin scheiße stolz! "
Weitere News zu kommenden Videos (es wird insgesammt 4 davon um den VÖ geben!) und Live Shows folgen in Kürze.
"Canto V" ist erhältlich in diesen physischen Konfigurationen:
- CD im Digipack
- Limitierte LP Version (nur 500 weltweit!) im Gatefold Cover
180 gr. Vinyl transparent rot mit schwarzen Schlieren, inkl. 2 seitigem Poster in 4-facher LP Grösse und CD mit dem kompletten Album in Papierstecktasche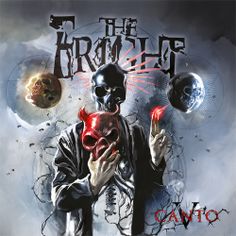 Tracklist CD Digipack
01. Bonfire
02. No One
03. Wander Alone
04. Love Is Gone
05. Fade Away
06. Oblivion
07. Leave
08. Drowned In Red
09. Century Without A Name
10. In Sicherheit
Tracklisting LP
SIDE A
01. Bonfire Night
02. No One
03. Wander Alone
04. Love Is Gone
05. Fade Away
SIDE B
01. Oblivion
02. Leave
03. Drowned In Red
04. Century Without A Name
05. In Sicherheit