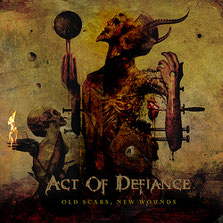 Video zur neuen Single, 'M.I.A.' jetzt online!

Mit ihrem 2015er Debütalbum 'Birth And The Burial' boten ACT OF DEFIANCE - die Band von Gitarrist Chris Broderick, Sänger Henry Derek, Drummer Shawn Drover und Bassist Matt Bachand - unverfälschten, harten Metal bar jeglicher Trends. 2017 nun kehrt das Quartett mit seinem zweiten Langspieler 'Old Scars, New Wounds' zurück, das am 29.9. bei Metal Blade Records erscheinen wird.

Heute stellen wir euch das Video zum ersten Song der Scheibe vor; seht euch 'M.I.A.', auf metalblade.com/actofdefiance an, einen Clip von Regisseur Robert Graves (ashadowbeyond.com).
Vorbestellen könnt ihr das Album in den folgenden Formaten:
--CD
--180g schweres, schwarzes Vinyl (EU-exklusiv)
--goldfarbenes Vinyl (EU-exklusiv - 100 Einheiten)
--"auburn marbled"-Vinyl (US-exklusiv - 300 Einheiten)

Auf 'Old Scars, New Wounds' legen ACT OF DEFIANCE die Messlatte ein Stück höher an. Alle elf Tracks wirken frisch und dringlich, wobei ihnen etwas Zeitloses anhaftet, das alte und neue Metal-Fans für sich einnehmen wird - und das ist etwas, das kaum eine zeitgenössische Band von sich behaupten darf.

Auf 'Old Scars, New Wounds' hört man eine Fülle unterschiedlicher Genre-Strömungen und unverbrauchter Ideen. Die Scheibe klingt dynamischer und noch abwechslungsreicher als ihr Vorgänger, den Broderick und Drover im Alleingang schrieben, ehe sie Bassist Matt Bachand und Sänger Henry Derek einspannten. Als eingespielte, hart arbeitende Band schaffte man es diesmal, jedem Mitglied Raum zur Entfaltung zu geben, und ihre unterschiedlichen Stile prägen die neuen Stücke dementsprechend.

Der Titel, den die Band dem verheerenden Song 'Conspiracy Of The Gods' entlehnt hat, steht für das Leben allgemein, und die Inhalte der Texte sind so bunt wie die Heavy-Stilistiken, die das Album zu Gehör bringt. 'Another Killing Spree' befasst sich mit extremer Drogenabhängigkeit, während 'Lullaby Of Vengeance' ein wütender Song darüber ist wütende Texte zu singen, und 'Overexposure' eine Hymne gegen den Ausverkauf darstellt. Ferner behandelt die Gruppe brandaktuelle Themen, insbesondere in "Mis-Information Age" und "Broken Dialect".

"'Mis-Information Age' bezieht sich stark auf das gesellschaftliche Klima momentan, wo man Informationen unter Vorbehalt sehen muss", führt Broderick aus. "Wir sagen, dass man skeptisch bleiben und sichergehen soll, dass man die Wahrheit gesagt bekommt und niemandes Propaganda aufsitzt, wohingegen 'Broken Dialect' die These aufstellt, dass sich niemand mehr unterhalten kann, ohne zu streiten, sondern stattdessen verbissen an Argumenten festhält, die seinen Standpunkt stützen."

Da Broderick in jedem Stück ein Solo zum Besten gibt, dürfen seine Fans beruhigt sein, denn der Mann shreddet wie eh und je - obwohl er es zuerst gar nicht wollte. "Ich hatte eigentlich vor, mich etwas zurückzunehmen, was das Frickeln angeht, doch das Gegenteil ist passiert! Das liegt daran, dass ich mir wider Erwarten neue Techniken draufschaffte und erkannte, dass einiges an Potenzial darin steckt, weshalb ich mich ordentlich ins Zeug legte, um sie auf der Platte zur Geltung zu bringen."

'Old Scars, New Wounds'
01. M.I.A.
02. Molten Core
03. Overexposure
04. The Talisman
05. Lullaby of Vengeance
06. Circle of Ashes
07. Reborn
08. Conspiracy of the Gods
09. Another Killing Spree
10. Broken Dialect
11. Rise of Rebellion

Beim Schreiben folgte das Quartett keinem bestimmten Plan, und weil alle Mitglieder verstreut in den USA leben, komponierte jeder für sich. Man schickte sich Demos hin und her, arbeitete die Ideen der jeweils anderen aus. Wie viele zeitgenössische Bands nutzte man moderne technische Mittel, um ein Gemeinschaftswerk zu schaffen, obwohl weite Entfernungen zwischen den Heimatorten der Musiker lagen. Produzent Dave Otero (Cattle Decapitation, Allegaeon) betreute die Gruppe dementsprechend: Broderick spielte die Gitarrenspuren in seinen Ill-Fated Studios in LA ein, Derek und Brodericks Vocals wurden in den Red Light Studios in LA aufgenommen, und Bachand hielt seine Spuren im Studio Manshark in South Hampton, Massachusetts, fest, wohingegen Drovers Drums in den Glow In The Dark Studios in Atlanta mitgeschnitten wurden.

Nach ihrer Live-Feuerprobe mit 'Birth And The Burial' sowohl als Headliner als auch als Einheizer für Killswitch Engage und Hatebreed möchte die Band mehr Konzerte geben, wenn 'Old Scars, New Wounds' erschienen ist. Ihre Lust aufs Publikum hat nicht im Geringsten nachgelassen. Konzerttermine kündigt die Band sehr bald an.

Mehr Neuigkeiten, Tracks und Videos von ACT OF DEFIANCE im Vorfeld der Veröffentlichung von 'Old Scars, New Wounds' demnächst.

ACT OF DEFIANCE sind:
Chris Broderick - Gitarre
Henry Derek - Gesang
Shawn Drover - Drums
Matt Bachand - Bass

https://www.facebook.com/actofdefiancemusic
https://instagram.com/actofdefiance
https://twitter.com/actofdefiance1
https://twitter.com/chris_broderick
https://twitter.com/shawndrover
https://twitter.com/mattowsfall
https://twitter.com/totheboyelis