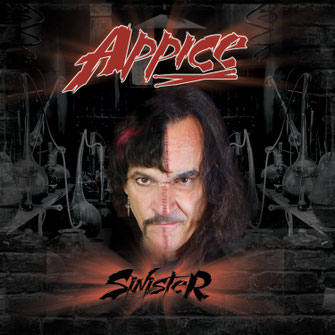 - Das erste Studio Album der legendären Drum-Brüder -
- Album VÖ am 27. Oktober 2017 -
Ein Phänomen wie Carmine und Vinny Appice findet man in der Rockgeschichte kein zweites Mal. Seit mehr als 40 Jahren gehören die beiden Brüder zu den gefragtesten und renommiertesten Rock-Drummern der Welt. Carmine und Vinny sind (getrennt voneinander) auf vielen legendären Alben zu hören und waren unzählige Male mit einigen der großartigsten Bands der Welt unterwegs. Carmine startete seine Karriere in den Sechzigern bei den unvergessenen Vanilla Fudge und trommelte im Laufe seiner Karriere unter anderem für Superstars wie Rod Stewart oder Ozzy Osbourne. Sein knapp elf Jahre jüngerer Bruder Vinny blickt auf eine ebenso spektakuläre Laufbahn zurück, mit Engagements unter anderem bei Black Sabbath, Heaven & Hell oder Dio. Mit Ausnahme der Live-Scheibe Drum Wars – Live! (2014) suchte man nach einer direkten Zusammenarbeit der beiden bislang jedoch vergeblich. Das ändert sich nun! Sinister ist das erste gemeinsame Studioalbum von Carmine und Vinny und wurde mit Unterstützung einiger namhafter Gäste aufgenommen. Vinny: "Wie Ringo es nennt: A little help from our friends".
Insgesamt 13 Tracks sind auf Sinister zu finden, eingespielt von Carmine und Vinny gemeinsam mit namhaften Kollegen. In ´Killing Floor` und in ´Future Past` hört man den großartigen Craig Goldy (zusammen mit Bassist Tony Franklin), Franklin wiederum taucht zusammen mit Paul Shortino auch in ´Suddenly` und in ´You Got Me Running` auf. Shortino verleiht zusätzlich ´War Cry` und dem programmatischen ´Monsters And Heroes` seine imposante Stimme, in ´Monsters And Heroes` trifft er dabei auf Bulletboys-Gitarrist Mick Sweda, in ´War Cry` auf den Whitesnake-Saitenkünstler Joel Hoekstra. Apropos Stimme: Mit ´Sinister`, ´Danger` (Bass: Phil Soussan), ´In The Night` (Gitarre: Bumblefoot) und ´Sabbath Mash` (Gitarre: Erik Turner, Keyboards: Erik Norlander) veredelt Jim Crean gleich vier Nummern, sein Gesangskollege Chas West ist in ´Killing Floor` zu hören, Scotty Bruce in ´Future Past` und Robin McAuley in ´Riot`. Die größte Überraschung: In ´You Got Me Running` hat Carmine höchstpersönlich den Gesang übernommen. Vinny: "Carmine singt schon seit Jahren. Er ist ein sehr guter Lead- und Background-Sänger und ich freue mich, dass er auch auf dieser Scheibe eine Nummer übernommen hat."
Man darf sich also auf eine packende Rockscheibe freuen, die nun so schnell wie möglich auch ihre Bühnenpremiere erleben soll. Carmine: "Wir können es kaum erwarten, das Album auf Tour zu bringen! Heavy drums and heavy songs. It will kill!"
"Sinister" erscheint am 27. Oktober 2017 über SPV/Steamhammer als CD Digipack, Doppel Gatefold Vinyl, Download und Stream.
TRACKLISTING:
01. Sinister
02. Monsters And Heroes
03. Killing Floor
04. Danger
05. Drum Wars
06. Riot
07. Suddenly
08. In The Night
09. Future Night
10. You Got Me Running
11. Bros In Drums
12. War Cry
13. Sabbath Mash
LINE UP & GÄSTE
Carmine Appice (drums & vocals)
Vinny Appice (drums)
Jim Crean (vocals)
Paul Shortino (vocals) (Rough Cutt, Ex-Quiet Riot)
Robin McAuley (vocals) (MSG)
Chas West (vocals) (Ex-Lynch Mob)
Scotty Bruce (vocals)
Craig Goldy (guitar) (Ex-Dio, Ex-Giuffria)
Bumblefoot (guitar) (Ex-Guns N' Roses)
Joel Hoekstra (guitar) (Whitesnake)
Mike Sweda (guitar) (Bulletboys)
Erik Turner (guitar) (Warrant)
David Michael Phillips (guitar) (King Kobra)
Tony Franklin (bass) (Ex-Blue Murder, Ex-The Firm)
Phil Soussan (bass) (Ex-Ozzy Osbourne)
Johnny Rod (bass) (King Kobra, Ex-WASP)
Jorgen Carlson (bass) (Gov't Mule)
Erik Norlander (keyboards) (Lana Lane)