Bei Jag Panzer zählt der menschliche Zusammenhalt mehr als alles andere. Wenn dieser nicht mehr gegeben ist, verliert für Gitarrist Mark Briody eine Band ihre Existenzberechtigung. "Wir kennen uns seit vielen Jahren und sind wie eine große Familie", sagt er und blickt auf die Zeit von 2011 bis 2013 zurück, als Jag Panzer kurz vor dem vermeintlichen Aus standen. "Damals verließen uns zwei Bandmitglieder. Wir wollten aber nicht einfach mit neuen Leuten weitermachen, deshalb lösten wir uns auf." Doch dann rührte sich die starke Fanbase der amerikanischen Power Metal-Formation und sorgte dafür, dass der Funke neu zündete. Briody: "Es herrschte weiterhin so reges Interesse an unseren bisherigen Alben, dass meine Bandkollegen merkten, wie viele Leute Jag Panzer hören und wie groß noch immer unser Publikum ist. Also telefonierten wir wieder zunehmend häufiger, und als es dann auch noch einige vielversprechende Konzertanfragen gab, stand die Reunion fest." Welch glückliche Fügung, denn dadurch darf sich die Öffentlichkeit nun über ein gelungenes Comeback-Album freuen. Titel: The Deviant Chord, ein wahres Metal-Pamphlet, das am 29. September 2017 über Steamhammer/SPV veröffentlicht wird und zehn starke Songs mit allen typischen Jag Panzer-Tugenden umfasst.
Gemeinsam mit seinen Bandkollegen John Tetley (Bass), Harry 'The Tyrant' Conklin (Gesang), Rikard Stjernquist (Schlagzeug) und dem zurückgekehrten Joey Tafolla (Leadgitarre) hat Briody ein in jeder Hinsicht überzeugendes Album eingespielt hat, das von den großen Qualitäten aller fünf Beteiligten nachhaltig profitiert. "John übernimmt bei uns die ´Qualitätskontrolle`, das bedeutet: Er sorgt dafür, dass aus jedem Song das Optimum herausgeholt wird. Harry ist ein musikalisches Genie. Er singt seit seiner frühesten Kindheit und kennt sich mit Gesangsarrangements und Aufnahmetechniken bestens aus. Dank dieser Fähigkeit kann er den Songs wichtige Impulse geben. Bei Rikard dreht sich alles ums Schlagzeug. Er trommelte bereits als kleiner Junge und hat nie etwas anderes gemacht. Rikard hat schon an vielen unterschiedlichen Orten gelebt und dabei immer in Bands gespielt. Joey ist im wahrsten Sinne des Wortes der klassische Leadgitarrist und besitzt eine tolle Bühnenpräsenz. Von seinem fabelhaften Spiel profitiert jeder Song nachhaltig."
Veröffentlicht wird The Deviant Chord als CD-Digipak (inklusive Poster), 2LP Gatefold Version, Download und Stream, das sehenswerte Cover-Artwork stammt vom serbischen Künstler Dusan Markovic und spiegelt die packende Atmosphäre des Albums perfekt wider.

Kein Zweifel: Das Feuer in Jag Panzer ist zurück und es brennt von innen heraus lichterloh. Briody: "Die Band ist bis in die Haarspitzen motiviert. Zum ersten Mal gab es zu jedem Song unterschiedliche Demoversionen, sodass jeder an sämtlichen Entwicklungsschritten beteiligt war. Alle Bandmitglieder konnten miterleben, wie sich ein Song weiterentwickelt und dabei immer stärker wird. Eine wirklich tolle Erfahrung! Deshalb freuen wir uns jetzt darauf, The Deviant Chord in die Öffentlichkeit zu entlassen."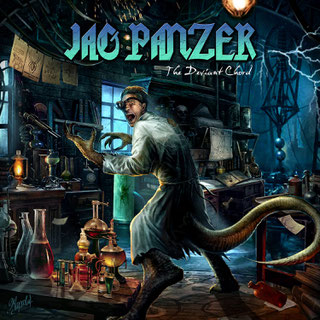 Tracklisting:
01. Born Of The Flame 4:00
02. Far Beyond All Fear 3:49
03. The Deviant Chord 5:37
04. Blacklist 4:19
05. Foggy Dew 3:20
06. Divine Intervention 3:30
07. Long Awaited Kiss 6:16
08. Salacious Behavior 4:07
09. Fire Of Our Spirit 4:37
10. Dare 5:17
https://de-de.facebook.com/jagpanzerofficial/