Mit ihrem aktuellsten Meisterwerk setzte die niederländische Symphonic Metal-Band EPICA neue Maßstäbe: »The Holographic Principle« ist das bis dato epochalste, vielschichtigste, mutigste und erfolgreichste Werk der Niederländer, erreichte Top-10-Platzierungen in den deutschen, niederländischen und Schweizer Albumcharts. Dementsprechend hochwertig sind alle Tracks, die für den Albumprozess geschrieben wurden - nur haben es nicht alle Songs auf die Scheibe geschafft, "und dies liegt einzig darin begründet, dass die Platte eine Länge von 76 Minuten nicht überschreiten sollte", erläutert Kreativkopf Mark Jansen. Deshalb entschied sich die Band dazu, eine EP mit sechs brandheißen Nummern zu veröffentlichen, welche in der Kreativphase von »The Holographic Principle« entstanden sind.
Gesagt, getan. Und deshalb verkünden EPICA heute stolz die Veröffentlichung ihrer brandneuen EP, »The Solace System«! Die EP wird ab dem 01. September 2017 überall erhältlich sein.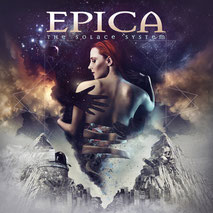 Die Trackliste ist wie folgt:
01. The Solace System
02. Fight Your Demons
03. Architect Of Light
04. Wheel Of Destiny
05. Immortal Melancholy
06. Decoded Poetry

Mark erzählt über die Songs: "Die Hörer können eine höchst qualitative EP erwarten - mit Songs, die unserer Meinung nach viel zu gut sind, um sie nur als Bonustracks zu verwerten. Wir wollten diese Stücke zusammen in einem Kontext veröffentlichen. Es ist immer hart, am Ende eines Aufnahmeprozesses zu entscheiden, welche Songs auf dem Album landen, denn dies bedeutet, dass du auf Stücke verzichten musst, die von bester Qualität sind, aber vielleicht einfach nicht ganz so gut in den Gesamtflow der Platte passen oder es eben andere Lieder gibt, die sich von den Lyrics optimaler eignen."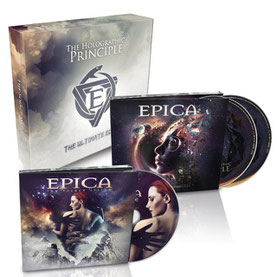 Umso cooler, dass EPICA diesen Weg gewählt haben und uns jetzt eine prächtige EP kredenzen. So muss keiner auf die verdammt starken Songs verzichten, die, ebenso wie das Album, von einer kontrastreichen Vielseitigkeit leben, gleichermaßen opulente, bombastische Momente zelebrieren, als auch von einer filigranen Emotionalität gezeichnet sind!

Hier ein erster Beweis dafür, in Form des Musikvideos zum Titeltrack 'The Solace System': https://www.youtube.com/watch?v=q2b3V0VJdW0

»The Solace System« wurde von Joost van den Broek und Jacob Hansen aufgenommen, gemixt und gemastert. Produziert wurde es vom Anime-Meister Davide Cilloni. Das glanzvolle Artwork stammt erneut aus der Feder von Stefan Heilemann.
 
Simone Simons (Gesang) kommentiert die EP:
"Während dem Schreibprozess von »The Holographic Principle« haben wir gemerkt, dass wir eine beachtlich große Anzahl von tollen Songs hatten. Diese Songs haben nicht gut zum Album gepasst, aber sind dafür jetzt für Euch auf dieser Special-EP erhältlich! Ich hoffe, ihr werdet diese Songs genauso lieben wie wir!"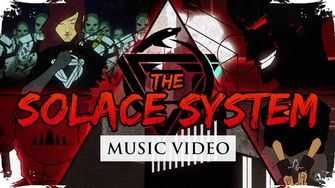 Und weil das noch nicht genug ist, wird es sogar die Möglichkeit geben, die EP »The Solace System« zusammen mit der CD des aktuellen Studioalbums »The Holographic Principle« als Box-Set zu kaufen!

Dieses trägt den Namen »The Holographic Principle - The Ultimate Edition«.
Das Box-Set »The Holographic Principle – The Ultimate Edition« sowie die EP »The Solace System« können ab sofort vorbestellt werden.
Physisch über Nuclear Blast: http://nblast.de/EpicaSolaceSystem
Oder über den EPICA Webshop: http://smarturl.it/thesolacesystem
Oder digital [Du erhältst dann den Titeltrack 'The Solace System' sofort]: http://nblast.de/EpicaDigital

Die guten Neuigkeiten haben jedoch noch kein Ende - weiterhin wird Nuclear Blast am 18. August zwei alte Alben von EPICA, »Design Your Universe« und »The Devine Conspiracy«, auf Vinyl neu veröffentlichen! Beide Alben sind jeweils in zwei verschiedenen Farben erhältlich, der Vorverkauf hat bereits letzte Woche gestartet.

Holt Euch hier die beiden Alben auf Vinyl: http://nblast.de/EpicaSolaceSystem
EPICA Webshop: http://smarturl.it/thesolacesystem
Live-Termine von EPICA:

European summer dates:
24.0622017 - FIN - Nummijärvi, Nummirock
30.06.2017 - BG - Plovdiv, Hills of Rock
02.07.2017 - GR - Malakasa, Rockwave Festival
13.-16.07.2017 - CZ - Vizovice, Masters Of Rock
04.-06.08.2017 - P - Corroios, VOA Fest
09.-12.08.2017 - E - Villena, Leyendas Del Rock
16.-19.08.2017 - D - Dinkelsbühl, Summer Breeze
23.-27.08.2017 - PL - Straszecin, Czad Festival
 
»The Dutch Principle Tour«
w/ MAYAN
17.10.2017 - B - Leuven, Het Depot (w/ KING HISS)
18.10.2017 - B - Antwerp, Trix (w/ OFF THE CROSS)
20.10.2017 - NL - Zwolle, Hedon
21.10.2017 - NL - Haarlem, Patronaat
22.10.2017 - NL - Nijmegen, Doornroosje

Zur Unterstützung ihrer kommenden EP »The Solace System« werden EPICA im November und im Dezember diesen Jahres einige Headlineshows spielen. Mit von der Partie wird die neue All-Star Band VUUR von Anneke Van Giersbergen, wie auch die Tunesischen Progressive Metaller von MYRATH sein.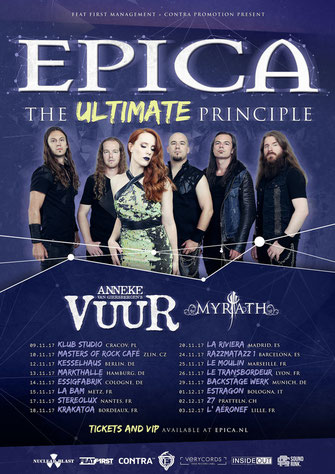 »The Ultimate Principle Tour«
w/ VUUR, MYRATH
09.11.2017 - PL - Krakow, Klub Studio
12.11.2017 - D - Berlin, Kesselhaus
13.11.2017 - D - Hamburg, Markthalle
14.11.2017 - D - Köln, Essigfabrik
15.11.2017 - F - Metz, La BAM
17.11.2017 - F - Nantes, Stereolux
18.11.2017 - F - Bordeaux, Krakatoa
20.11.2017 - E - Madrid, La Riviera
24.11.2017 - E - Barcelona, Razzmatazz 1
25.11.2017 - F - Marseille, Le Moulin
26.11.2017 - F - Lyon, Le Transbordeur
29.11.2017 - D - München, Backstage
01.12.2017 - I - Bologna, Estragon
02.12.2017 - CH - Switzerland, Pratteln
03.12.2017 - F - Lille, L'Aeronef

Tickets erhaltet Ihr unter: www.epica.nl/tour

Oder im Nuclear Blast Online Shop: http://www.nuclearblast.de/de/shop/artikel/gruppen/79977.1.indoor-konzerte.html?article_group_sort_type_handle=rank&custom_keywords=EPICA

EPICA-VIP-Upgrades gibt es hier: www.epica.vip
Damit habt ihr die Chance auf ein M&G, ein Foto, einen früheren Einlass und vieles mehr!

Mehr zu EPICA:
'Edge Of The Blade' OFFIZIELLES MUSIK VIDEO: https://www.youtube.com/watch?v=D_QLQHkj1XU
'Universal Death Squad' OFFIZIELLES LYRICVIDEO: https://www.youtube.com/watch?v=P_Ys_W7ySkM
'Beyond The Matrix' OFFIZIELLES MUSIK VIDEO: https://www.youtube.com/watch?v=EhGgb1E3HpQ
Europa-Tour 2017 - Aftermovie: https://youtu.be/0z4JVKs7aOA
'Dancing In A Hurricane' - Live at The Zenith: https://www.youtube.com/watch?v=m1qRwjqjurQ

Weitere Infos:
www.epica.nl
www.facebook.com/epica
www.nuclearblast.de/epica