MTV HEADBANGER'S BALL – Die Erfolgsstory geht weiter: Termine für 2017 bestätigt!
2016 erweckte Continental Concerts in Zusammenarbeit mit MTV ein großes Stück Heavy-Metal-Geschichte wieder zum Leben: die kultige Sendung "MTV Headbanger's Ball" ging auf große Live-Tournee und machte aus dem hoch gefeierten Format ein waschechtes Indoor-Festival. Nun geht das erfolgreiche Konzept in Serie und bringt auch das Jahr 2017 wieder zum Kochen. Und auch das Line-Up bezeugt die Zeitlosigkeit des Genres.
Als Top-Act spielen MAX und IGGOR CAVALERA ihr RETURN TO ROOTS – Set. Die brasilianischen Brüder haben durch ihr Wirken mit SEPULTURA bereits ein wichtiges Kapitel Heavy-Metal-Geschichte geschrieben. Ihr Album "Roots" hält sich bis heute hartnäckig als Blaupause und Meisterwerk in Sachen Death- und Thrash-Metal und kein Metal-Fan kommt um die Zeile "Roots Bloody Roots" herum. Auch, wenn MAX CAVALERA bereits mit SOULFLY seinen eigenen Weg eingeschlagen hat, finden sich die Brüder des ursprünglichen SEPULTURA-Line-Ups wieder zusammen, um ihr wichtigstes Werk vereint zu präsentieren.
Mit OVERKILL hält eine weitere Legende Einzug ins Line-Up. Hits wie "Bring Me The Night" tun ihr Übriges, während die Erfolgsgeschichte um Bobby "Blitz" Ellsworth und seine Jungs schon seit den 80er Jahren nicht abreißt. Nach 19 Studioalben und ihrem neuesten Werk "The Grinding Wheel" sind die Thrash-Metaller fitter denn je und geben auf dem HEADBANGER'S BALL ihre energievolle Live-Show zum Besten.
INSOMNIUM bringen als finnischer Exportschlager eine gewaltige Ladung Melodic-Death in die Runde. 1997 gegründet arbeiteten sich die vier Skandinavier um Nillo Sevänen schnell zum heißgehandelten Tipp in der Szene nach oben. Große Hymnen wie "While We Sleep" oder "Through The Shadows" brachten die Band in Gefilde, in denen sie durchaus mit Größen wie In Flames oder Dark Tranquillity verglichen werden und mithalten könnten.
Abgerundet wird das Line-Up durch DESERTED FEAR. Die Thüringer Death-Metaller können nach 10 Jahren Bandgeschichte bereits eine einzigartige Vita vorweisen, die ihresgleichen sucht. Denn bereits nach wenigen Jahren spielten die Metalheads um Manuel Glatter bereits die ganz großen Bühnen der Republik. Pünktlich zum Zehnjährigen erscheint ihr Album "Dead Shores Rising" und verspricht, den MTV HEADBANGER'S BALL gebührend zu eröffnen.
Am 18. April 1987 bereits erstausgestrahlt, gehörte MTV HEADBANGER'S BALL zeitweise zu den beliebtesten Sendungen auf MTV und lief in den USA acht Jahre, in Europa sechs Jahre im Hauptprogramm des Musiksenders. Zum Programm gehörten Musikvideos und Specials wie Interviews oder Storys. Mit dem Format "Triple Thrash Treat" hielten härtere Spielarten des Metal endlich Einzug ins weltweite Fernsehen - eine Tradition, auf der die Veranstaltungsreihe erfolgreich aufbaut. Dabei ist die Veranstaltungsreihe, genauso wie das TV-Format, eine Plattform für verschiedene Arten des Metal, aber auch eine Plattform für Newcomer.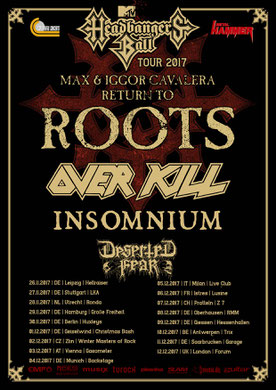 26.11.2017 - D - Leipzig, Hellraiser
27.11.2017 - D - Stuttgart, Lka
28.11.2017 - NL - Utrecht, Ronda
29.11.2017 - D - Hamburg, Große Freiheit
30.11.2017 - D - Berlin, Huxleys
01.12.2017 - D - Geiselwind, Christmas Bash
02.12.2017 - CZ - Zlin, Winter Masters of Rock
03.12.2017 - A - Wien, Gasometer
04.12.2017 - D - München, Backstage
05.12.2017 - I - Milan, Live Club
06.12.2017 - F - Istres, Lùsine
07.12.2017 - CH - Pratteln, Z7
08.12.2017 - D - Oberhausen, Ruhrpott Metal Meeting
09.12.2017 - D - Gießen, Hessenhallen
10.12.2017 - B - Antwerpen, Trix
11.12.2017 - D - Saarbrücken, Garage
12.12.2017 - UK - London, Forum

Tickets sind erhältlich unter: www.headbangersball-tour.eu