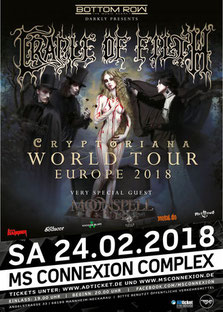 Eine ungeheuerliche Tour-de-Force von unverwechselbarem Schwermetall wurde mit »Cryptoriana« erschaffen und die Anfänge dazu legte die Band im Sommer 2016 in Ashok und Škaroupkas Heimat in der Tschechischen Republik.
Während der ersten Hälfte von 2017 bannte die Band ihre Gedanken dann für die Ewigkeit, zusammen mit ihrem langjährigen Produzenten Scott Atkins. Nach dem aufregenden Melodrama der Eröffnungssalve 'Exquisite Torments Await' und 'Heartbreak And Seance' entwickelt sich das zwölfte CRADLE-Album schnell zu einem wilden Manifest aus epischen Anti-Hymnen, das im Bonustrack und ANNIHILATOR-Cover 'Alison Hell' gipfelt.
Vom hypnotischen 'Achingly Beautiful'' über die thrashgetriebene Großartigkeit von 'Wester, Vespertine' zu dem pechschwarzen Wasserspeier-Angriff von 'You Will Know The Lion By His Claw', ist »Cryptoriana« einfach das musikalisch und visuell bewegendste Album in der Geschichte der Band.
"Das Album ist durchdrungen von viktorianischem Gothic-Horror, und der Titel spiegelt dies wider", erklärt Dani. "»Cryptoriana« beschäftigt sich mit der Faszination der Menschen für das Übernatürliche, Makabre und die sterblichen Überreste während des Viktorianischen Zeitalters. Der Untertitel »The Seductiveness Of Decay« erläutert außerdem diesen Hang zum Tod und den verlockenden, langen Prozess der Selbstzerstörung. Um mich in das Thema einzufinden und mit Hilfe von H.G. Wells famoser Zeitmaschine, begab ich mich also in den geheimen Untergrund des späten viktorianischen Englands…" Anstehend für den 22. September 2017 ist »Cryptoriana - The Seductiveness Of Decay« genau das künstlerische Statement, das Fans der unzerstörbaren Institution zu hören erwarten und nie waren CRADLE OF FILTH kraftvoller und einzigartiger.
Cryptoriana WORLD TOUR Europe 2018
+ very special guest: Moonspell
24.02.2018 - MS Connexion Complex - Mannheim
Einlass 19:00 Uhr - Beginn 20:00 Uhr
Weitere Dates in unsere Tourdaten.
---
CRADLE OF FILTH - Details zum neuen Album
Die legendären britischen Extreme-Metal-Ikonen CRADLE OF FILTH haben die Einzelheiten zum kommenden zwölften Studio-Album bekanntgegeben.

»Cryptoriana - The Seductiveness Of Decay« erscheint am 22. September über Nuclear Blast. Das umwerfende Cover aus der Feder von Artūrs Bērziņš findet sich über dieser Nachricht.  Bērziņš ist das Mastermind hinter dem Artwork, der Fotografie sowie der Videografie des neuen Albums und am besten für seine neo-symbolische Raster-Grafiken und Öl-Gemälde sowie die postmoderne interpretation klassischer Mythen bekannt. Er wird als "heiliges Monster der lettischen Postmoderne" bezeichnet.
Der berüchtigte Dani Filth kommentiert: "The album is deeply infused with Victorian gothic horror and thus the title is a reflection of that. 'Cryptoriana' implies the Victorian's infatuation with the supernatural, the grave and the ghoulish. And the subtitle 'The Seductiveness Of Decay' further cements this attraction to death and the glittering lengthy process of self-annihilation."

Die erste Single von »Cryptoriana - The Seductiveness Of Decay« wird am 5. Juli erscheinen - ab diesem Datum wird zudem das Album vorbestellbar sein.

Dani Filth dazu: "We, as a band, are incredibly excited about hitting the UK and Ireland for a full run of dates around All Hallows Eve, as playing the band's home country is always great fun and the audiences here are very receptive. And nuts. The dates will be the first in a long line of shows that will extend throughout the rest of the World throughout 2018. We aim to be very prolific on the live front, delivering a show worthy of our fan's exalted expectations and more."

»Cryptoriana - The Seductiveness Of Decay« wurde in den Grindstone Studios in Suffolk von Scott Atkins aufgenommen, der bereits an einigen CRADLE OF FILTH-Alben gearbeitet hat. Dani selbst wohnte dem Mix ebenfalls bei.

www.cradleoffilth.com
www.facebook.com/cradleoffilth