Im März diesen Jahres haben die Metalgiganten von ARCH ENEMY den Kreis um das Album "War Eternal" mit ihrem sehr erfolgreichen live Release "As The Stages Burn!", welches die Band bei ihrem grandiosen Headlining beim Wacken Open Air 2016 gefilmt hat, geschlossen: https://www.youtube.com/watch?v=UNPKGyYzPCo
Jetzt ist es Zeit für das nächste Kapitel in der Geschichte von ARCH ENEMY und somit gibt die Band den Titel und das Releasedatum des nächsten und zehnten Studioalbums, "Will To Power" bekannt. Dieses Album wird am 08. September 2017 über Century Media in Europa und über Trooper Entertainment in Japan veröffentlich.
Kurz nach der Veröffentlichung des Albums, wird der Tourauftakt zur "Will To Power" Tour in Osteuropa, Österreich, Finnlad und Russland beginnen. Dieser Tour folgt eine ausgedehnte Nordamerika Tour im Oktober und November. Eine komplete Europatour kann Anfang 2018 erwartet werden. Daten dazu werden bald bekannt gegeben.

Michael Amott kommentiert: "After many months of writing and recording in the studio we are delighted to have finally completed work on our 10th studio album, "Will To Power". We are looking forward to sharing new music with you soon.
We are equally excited to announce the first leg of our "Will To Power" world tour... Can't wait to play new and old songs for our fans, see you all soon!" 
 
"Will To Power" wird ein akustisches Statement der Band und in dieser Zeit unaufhaltsam sein.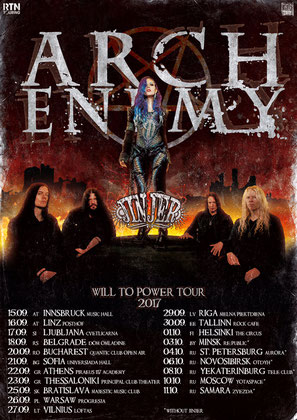 ARCH ENEMY @ Summer festivals 2017
06.07.207 - D - Ballenstedt, Rock Harz Festival
08.07.207 - E - Viveiro, Resurrection Fest
12.07.207 - HU - Dunaújváros, Rockmarathon
15.07.207 - S - Gävle, Gefle Metal Festival
04.08.207 - SK - Snia, Rock Pod Kamenom Festival
05.08.207 - CZ - Ostrave, Ostrave v Plamenech
07.08.207 - I - Majano, Festival Di Majano
08.08.207 - A - Dornbirn, Conrad Sohm
10.08.207 - E - Villena, Leyendas Del Rock
11.08.207 - P - Vagos, Vagos Metal Fest
12.08.207 - NL - Leeuwarden, Into The Grave
13.08.207 - UK - Walton-On-Trent, Bloodstock Open Air
 
ARCH ENEMY "Will To Power Tour 2017"
w/ special guest Jinjer
15.09.207 - A - Innsbruck, Music Hall
16.09.207 - A - Linz, Posthof
17.09.207 - SLO - Ljubljana, Cvetlicarna
18.09.207 - SRB - Belgrad, Dom Omladine
20.09.207 - RO - Bukarest, Quantic Club Open Air Stage
21.09.207 - BG - Sofia, Universiada Hall
22.09.207 - GR - Athen, Piraeus 117 Academy
23.09.207 - GR - Thessaloniki, Principal Club Theater
25.09.207 - SK - Bratislava, Majestic Music Club
26.09.207 - PL - Warschau, Progresja
27.09.207 - LT - Vilnius, Loftas
29.09.207 - LV - Riga, Melna Piektdiena
30.09.207 - EST - Tallin, Rock Café
01.10.207 - FIN - Helsinki, The Circus
Tickets für alle Shows gibt es hier: www.archenemy.net
 
ARCH ENEMY line-up:
Michael Amott - Guitar
Daniel Erlandsson - Drums
Sharlee D'Angelo - Bass
Jeff Loomis - Guitar
Alissa White-Gluz - Vocals 
 
ARCH ENEMY online:
http://www.archenemy.net/
https://www.facebook.com/archenemyofficial
https://twitter.com/archenemymetal
https://www.youtube.com/user/archenemyofficial
https://www.instagram.com/archenemyofficial/