Australiens Nummer-1-Export in Sachen extreme Musik, THY ART IS MURDER, werden am 18. August ihr neues Album »Dear Desolation« über Nuclear Blast Entertainment veröffentlichen. Checkt hier das Musikvideo zur ersten Single 'Slaves Beyond Death'.

»Dear Desolation« wurde von Will Putney im Graphic Nature Audio in Belleville, NJ produziert, gemischt und gemastert. Das Artwork stammt von Eliran Kantor (HATEBREED, TESTAMENT, ICED EARTH, SODOM).
THY ART IS MURDER-Sänger C.J. McMahon kommentiert: "I feel the strongest I've ever felt going into a record. Coming back to the fold of our band has reinvigorated me. I missed my brothers, touring, and of course all our dedicated fans around the world who have always given us their all.

This new record is going to shape our future; we gave it everything we could and then some. In the past, I was the weakest link and now that I have re-built myself, we are stronger than ever and nothing can stand in our way."

Gitarrist Andy Marsh fügt hinzu: "Hate, War, Desolation; the trilogy series of the path mankind has laid out before himself. We are prouder than ever of our efforts on this record. A lot of time, planning, creativity and teamwork has culminated in what we think is our most completed vision yet: »Dear Desolation«."

Bestellt »Dear Desolation« in verschiedenen Formaten und Bundles aus der ganzen Welt ganz einfach über https://www.thyartismurder.net. Bestellt das Album ab sofort über iTunes oder Amazon vor und erhaltet 'Slaves Beyond Death' sofort.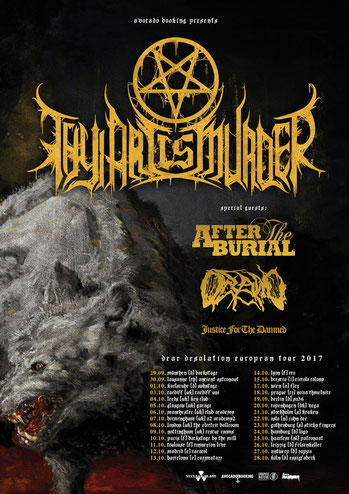 THY ART IS MURDER
AFTER THE BURIAL
OCEANO
JUSTICE FOR THE DAMNED
presented by Metal Hammer
29.092017 - D - München, Backstage
30.092017 - CH - Lausanne, Ancient Astronaut
01.102017 - D - Karlsruhe, Substage
03.102017 - UK - Cardiff Cardiff, Uni
04.102017 - UK - Leeds, Key Club
05.102017 - UK - Glasgow, Garage
06.102017 - UK - Manchester, Club Academy
07.102017 - UK - Birmingham, O2 Academy2
08.102017 - UK - London, The Electric Ballroom
09.102017 - UK - Nottingham, Rescue Rooms
10.102017 - F - Paris, Backstage By The Mill
11.102017 - F - Toulouse, Connexion Live
12.102017 - E - Madrid, Caracol
13.102017 - E - Barcelona, Razzmatazz
14.102017 - F - Lyon, CCO
15.102017 - I - Brescia, Circolo Colony
17.102017 - A - Wien, Flex
18.102017 - CZ - Prague, Nova Chmelnice
19.102017 - D - Berlin, SO36
20.102017 - DK - Copenhagen, Vega
21.102017 - S - Stockholm, Kraken
22.102017 - NO - Oslo, John Dee
23.102017 - S - Gothenburg, Sticky Fingers
24.102017 - D -  Hamburg, Logo
25.102017 - NL -  Haarlem, Patronaat
26.102017 - D - Leipzig, Felsenkeller
27.102017 - B -  Antwerp, Zappa
28.102017 - D - Köln, Essigfabrik

www.facebook.com/thyartismurder
---
THY ART IS MURDER kündigen neues Album an, Headliner-Tour im Herbst 2017
Australien's Nummer 1-Export in Sachen Extreme Metal, THY ART IS MURDER, haben angekündigt, noch dieses Jahr ihr viertes Album mit dem Titel »Dear Desolation« zu veröffentlichen. 

Gitarrist Andy Marsh erklärt den Albumtitel wie folgt: "»Dear Desolation« was the easiest way to sum up the new record, and some of the issues we talked about. With lyrics ranging from extinction level events, to mortality's interaction with morality, »Dear Desolation« seemed like an appropriate address toward nothingness, a call into the abyss from which we might not hear an answer."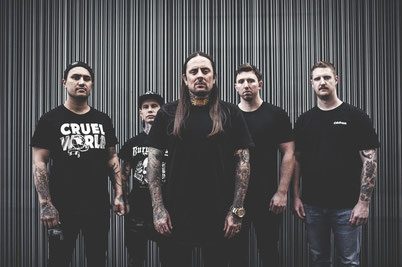 Die Band kündigt heute zusätzlich die korrelierende Headliner-Tour für den Herbst 2017 an. Die Tour started am 29. September in München.

Die Band kommentiert: "We are super stoked to return to Europe, and this time with more UK dates than we have played in a very long time. For too long we have neglected the UK and we are going to make up for it in style. Joining us on our album headlining tour will be our great friends and ridiculously heavy bands, AFTER THE BURIAL, OCEANO, and Australian blackened hardcore juggernauts JUSTICE FOR THE DAMNED. We can't wait to bring our new record to the road, and this will mark the very first leg of the »Dear Desolation« world tour."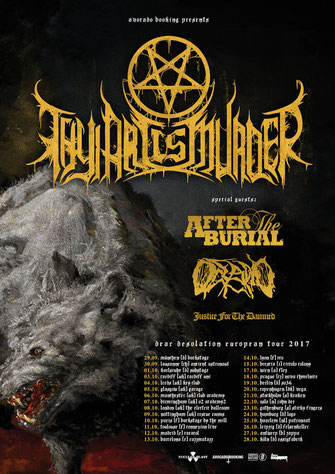 THY ART IS MURDER
AFTER THE BURIAL
OCEANO
JUSTICE FOR THE DAMNED
presented by Metal Hammer
29.09.2017 - D - München, Backstage  
30.09.2017 - CH - Lausanne, Ancient Astronaut 
01.10.2017 - D - Karlsruhe, Substage 
03.10.2017 - UK - Cardiff Cardiff, Uni 
04.10.2017 - UK - Leeds, Key Club 
05.10.2017 - UK - Glasgow, Garage 
06.10.2017 - UK - Manchester, Club Academy 
07.10.2017 - UK - Birmingham, O2 Academy2 
08.10.2017 - UK - London, The Electric Ballroom
09.10.2017 - UK - Nottingham, Rescue Rooms 
10.10.2017 - F - Paris, Backstage By The Mill 
11.10.2017 - F - Toulouse, Connexion Live 
12.10.2017 - E - Madrid, Caracol 
13.10.2017 - E - Barcelona, Razzmatazz
14.10.2017 - F - Lyon, CCO 
15.10.2017 - I - Brescia, Circolo Colony 
17.10.2017 - A - Wien, Flex 
18.10.2017 - CZ - Prague, Nova Chmelnice 
19.10.2017 - D - Berlin, SO36 
20.10.2017 - DK - Copenhagen, Vega  
21.10.2017 - S - Stockholm, Kraken  
22.10.2017 - NO - Oslo, John Dee 
23.10.2017 - S - Gothenburg, Sticky Fingers 
24.10.2017 - D -  Hamburg, Logo 
25.10.2017 - NL - Haarlem, Patronaat 
26.10.2017 - D - Leipzig, Felsenkeller 
27.10.2017 - B - Antwerp, Zappa  
28.10.2017 - D - Köln, Essigfabrik