Figure of Six: Manege frei für den Wahnsinn - Album "Welcome To The Freakshow" erscheint am 26.5.
Erstes offizielles Video: https://youtu.be/B2UojJFi1YM
Stil-Schubladen sind für Figure of Six dazu da, ihren Inhalt durcheinander zu werfen. Progressiv? Ja, die Ideen. Eingängig? Ja, die Refrains. Brutal? Ja, die Strophen. Sphärisch? Ja, die Intros. Darüber rast Sänger Alessandro Medri im Highspeed-Gegrunze à la White-Chaple, veitstanzt mit der Suicide- Silence-Hexe oder lustwandelt über glockenreinen Metalcore-Harmonien, die an Bring me the Horizon erinnern. Aus dem Untergrund donnern Djent-Gitarren, durch lichte Höhen fräsen sich Electro-Beats. Und wie aus dem Nichts ergießt sich eine catchy Hookline aus den Lautsprechern - immer zur rechten Zeit.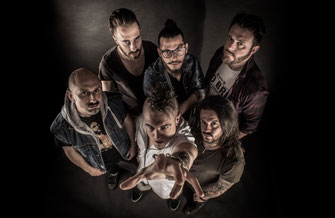 Am 26. Mai 2017 erscheint ihr viertes Studioalbum, Welcome to the Freak Show, bei Bleeding Nose Records.
"Unser Metal ist schon etwas schizophren" sinniert Matteo Troiano, Bandchef und einer der beiden Gitarristen. "Wir stehen total auf Neues, zollen aber unseren musikalischen Wurzeln Respekt." Die tatsächlichen Wurzeln der Band reichen bis 1996 zurück, ihre musikalischen sogar bis in die Sechziger Jahre – zu Jimi Hendrix, Jefferson Airplane und den Beatles. Einflüsse stammen auch von Led Zeppelin, Guns'N'Roses sowie Metal-Größen á la Iron Maiden, Korn oder Dimmu Borgir. Gelernt haben Figure of Six von diesen Altmeistern vor allem eines: schlüssiges Songwriting.
Das beweisen die sechs Italiener spätestens mit ihrem ersten, 2005 erschienen Album Step One. Nicht nur sendet MTV Holland das Video zum Song Go Away, einzelne Tracks begeistern sogar Iron Maiden- Frontmann Bruce Dickinson – und er spielt sie in seiner gleichnamigen Radiosendung auf BBC 6. Kritiker loben die "brutalen Riffs, Samples, Loops, Synthesizer, Growles, Raps und melodischen Chöre" des Debüts als gelungene "Mischung aus Linkin Park und Slipknot", finden aber auch Gemeinsamkeiten mit Static-X, Dope und Index Case.
Das zweite Album Aion (2008) kennzeichnet das deutsche Rock Hard folgendermaßen: "Handwerklicher Anspruch trifft auf ungekünstelte Power und Eingängigkeit". Der österreichische Stormbringer gerät über das "Gesamtkunstwerk" der Platte schlicht aus dem Häuschen: "Die Musik erinnert an vergangene Höhepunkte aus dem Hause Soilwork, klingt aber sehr eigenständig und bietet geniale Momente en masse. Vielleicht die erste Ausnahmescheibe des Jahres." In den deutschen DJ- Charts MRC landet Aion auf Platz 30.
Auch das 2012er Brand New Life lobt wiederum Rock Hard als "angenehm klischeefrei": "Übliche Zutaten wie fette Stakkato-Riffs und akzentuierte Doublebass-Attacken werden mit abwechslungsreichen Vocals und originellen Keyboards aufgelockert."
Dass das Ganze auch live funktioniert, hat das Sextett auf mehreren Touren bewiesen: etwa als Italien- Support für die Nu-Metalband Dry Kill Logic. Sie begleiteten außerdem die deutsche Trash-Legende Destruction in Italien und der Schweiz, spielten unter anderem mit Dillinger Escape Plan, Poison the Well und Hatesphere. Figure of Six rockten das Krock Festival und standen beim Festival Eternity of Rock mit den Apokalyptischen Reitern auf der Bühne.
Inzwischen haben die sechs Italiener einen neuen Frontmann, Alessandro Medri, eingearbeitet und gemeinsam mit ihm das vierte Album aufgenommen: Welcome to the Freak Show, einem Konzeptalbum. Medri, ein Fan des Dekadentismus, des französischen Dichters Arthur Rimbaud sowie Dantes Göttlicher Komödie, thematisiert in den Texten der zehn Songs die Anomalie und Monstrosität des menschlichen Wesens. "Du betrittst das Zelt in der Erwartung, Missgeburten zu bestaunen. Doch die Manege ist mit Spiegeln ausgestellt und in deren Glas siehst du nur – das Monster in dir selbst" fasst Medri seine Philosophie zusammen. "Truth! Before insanity" (Wahrheit erst! Dann Wahnsinn) grüßt Medri darum in wildem Gegrowl den Hörer im ersten Song namens Welcome to the Freak Show.