Gänsehaut-Gefühle in Bad Homburg
Die Akustik-Tributeband "Maiden United" spielt im Kurtheater – Zahlreiche musikalische Gäste und
Gänsehaut-Gefühle sind vorprogrammiert: Die 2006 gegründete niederländische Iron-Maiden-Akustik-Tributeband Maiden United kommt am Samstag, den 20. Januar 2018, für ein exklusives Konzert in das Bad Homburger Kurtheater. Zu diesem einmaligen Konzert wird die All-Stars-Band um Damian Wilson [Threshold], Ruud Jolie und Mike Coolen [beide Within Temptation] einige prominente Gäste mit dabei haben, welche zu der Elite im Rock- und Heavy-Sektor zählen.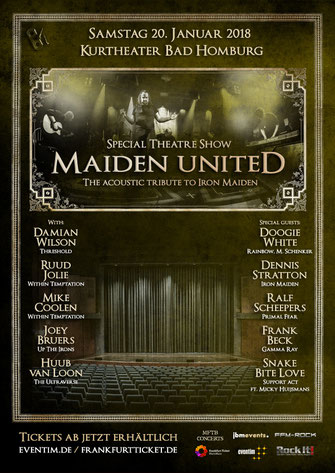 Bei der einmaligen Show in Bad Homburg wird die Band diesmal von Ralf Scheepers [Primal Fear],
Doogie White [Rainbow], Frank Beck [Gamma Ray], Dennis Stratton [Praying Mantis / Iron
Maiden] und Micky Huijsmans [End Of The Dream] unterstützt und wird so für ein das Konzerthighlight des Jahres sorgen.
Dieses Gastspiel ist nicht nur ein Konzert für Fans der Metallegende Iron Maiden, sondern für alle
Liebhaber handgemachter Musik.
Als Support Band wird die niederländische Motörhead Akustik-Band "Snake Bite Love" mit ihren außergewöhnlichen Interpretationen das Publikum zu begeistern wissen.
Maiden United
Maiden United ist ein niederländisches – englisches Musikprojekt mit Musikern erstklassiger Rockbands.
Die Musiker spielen Lieder der britischen Heavy Metal-Band IRON MAIDEN in akustischen Versionen. Das Projekt veröffentlichte bislang drei, von der Fachpresse hochgelobte Studioalben.
Die Band Maiden United wurde im Jahre 2006 vom Bassisten Joey Bruers ins Leben gerufen. Die
akustischen Interpretationen dieser Ausnahmeband gehen weit über die üblichen Coverversionen hinaus.
Mit einigen Musikern spielte er verschiedene Lieder der Band in Akustikversionen, welche vom Publikum
positiv aufgenommen wurden. Steve Harris, der Bassist von Iron Maiden, sah ein Konzert von Maiden
United und war begeistert. Zusammen mit dem Within Temptation-Gitarrist Ruud Jolie arrangierte Bruers weitere Lieder von Iron Maiden neu und suchte nach Musikern für das Projekt. Mit Damian Wilson (Threshold) wurde hierfür einer der besten Sänger des Musik Business gefunden.
Seit 10 Jahren tourt die Band sehr erfolgreich durch Europa und begeistert mit ihren Auftritten eine stetig wachsende Fanschar. Selbst auf den größten Festivals, wie Wacken, Bang Your Head und dem Dynamo Festival in den Niederlanden, ist die Band ein immer wieder gern gesehener Gast, welche das Publikum mit ihrer einzigartigen Magie regelmäßig verzaubert.
Special Guests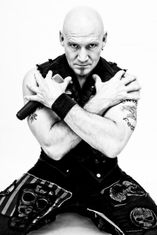 Ralf Scheepers
Ralf Scheepers zählt wohl zu den prägnantesten Stimmen in der deutschen und internationalen Hard Rock Landschaft. Seit gut 30 Jahren ist Scheepers auf allen Bühnen der Welt, ob früherer als Sänger von Gamma Ray oder heute mit einem der deutschen Aushängeschilder des Metal, Primal Fear, zuhause.
Neben seiner Hauptband, Primal Fear, ist Scheepers auch bei vielen weiteren Bands und Projekten als Gast zu hören (u.a. Rock Meets Classic, Helloween, Ayreon, etc.).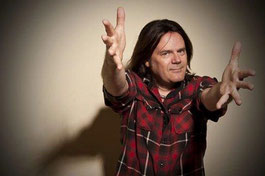 Doogie White
Doogie White wurde als Sänger der Band Rainbow weltweitbekannt. Mit der Band Rainbow nahm White 1995 das Album "Stranger In Us All" auf und ging mit diesem bis 1997 auf ausgedehnte Welttournee. In seiner weiteren Karriere arbeitete White mit vielen namenhaften Interpreten wie Michael Schenker (Scorpions), dem Gitarrenvirtosen Yngwie Malmsteen und weiteren Größen des Rockbusiness zusammen.
Mit seiner Band Cornerstone feierte White weltweite Erfolge. Heute ist White Mitglied der Band Demon´s Eye.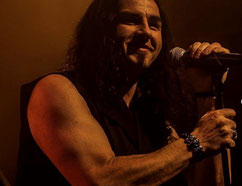 Frank Beck
Frank Beck ist Sänger der deutschen Heavy Metal Ikonen Gamma Ray. Beck ist außer bei Gamma Ray auch Sänger der Metal Band Red Raven. Weiter ist dieser sympathische Sänger mit seiner kraftvollen Stimme auch ein gerngesehener Gast bei zahlreichen anderen Bands und Projekten, wie beim letztjährigen Wacken Festival bei Hansen & Friends.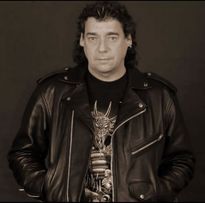 Dennis Stratton
Dennis Stratton ist ein ehemaliger Gitarrist der N.W.O.B.H.M. Legende Iron Maiden. Mit Iron Maiden nahm Stratton 1980 das selbstbetitelte Debüt Album Iron Maiden auf. Dennis Startton ist seit den 90er Jahren als Gitarrist von Praying Mantis tätig, mit denen er einige Achtungserfolge erreichte.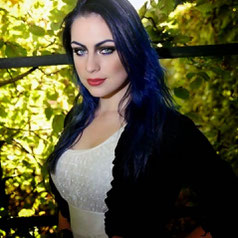 Micky Huijsmans
Micky Huijsmans ist die Sängerin der niederländischen Symphonic Metal Band End Of The Dream, welche im Mai ihr zweites Album, Until You Break, veröffentlichen werden. Micky Huijsmans gilt in ihrem Changre als eine der talentiertesten Sängerinnen und kann, trotz ihrem jungen Alters von 21 Jahren, ohne Weiteres stimmlich mit den Größen der Female Symphonic Metal Szene, wie Floor Jansen [Nightwish] und Sharon den Adel [Within Temptation] mithalten.
Supportband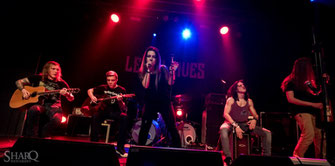 SNAKE BITE LOVE ist eine akustische Motörhead Tribute Band aus den Niederlanden, welche durch Studenten der Metal Factory in Eindhoven gegründet worden ist. SNAKE BITE LOVE spielt die Songs der Rock `n´ Roll Pioniere Motörhead in einem völlig neuen Gewandt. Nicht nur die klassischen Songs wie "Poison" oder "Lost In The Ozone" strahlen akustisch in einem ganz neuen Glanz, sondern auch die ruhigeren Songs wie "Don't let daddy kiss me" erhalten in der der akustischen Umsetzung eine völlig ungeahnte Tiefe.
Die Band besteht aus Micky Hujsmans [End Of The Dream], Remco Schouten, Siebe Sol Sijpkens Wouter Macaré und Jitse Zonneveld.
Sie werden überrascht sein, wie Motörhead in der akustischen Fassung, mit der einzigartigen Stimme der jungen Micky Hujismans, klingen wird.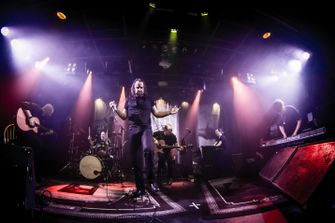 Tickets:
Bei Frankfurt Ticket (https://www.frankfurtticket.de/tickets/maiden-united-6713.18371), Eventim und allen angeschlossenen Vorverkaufsstellen. Bestuhlte Veranstaltung.
Samstag, 20. Januar 2018
Einlass: 19 Uhr
Beginn: 20 Uhr
Location:
Kurtheater Bad Homburg
Louisenstraße 58
61348 Bad Homburg