Man könnte VICIOUS RUMORS fast als lebendes Wesen sehen – welches sich permanent weiterentwickelt und entfaltet. Nach 38 Jahren und 16 Alben versprach die Band einige wichtige Bekanntmachungen, los geht´s: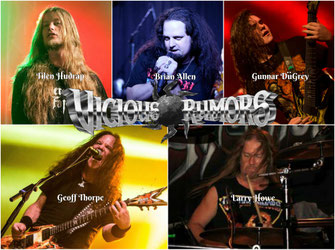 VICIOUS RUMORS geben stolz bekannt, das Brian Allen wieder für die Band am Mikro steht! (Brian sang auf den SPV/Steamhammer albums Razorback Killers (2011), Live You to Death (2012) and Electric Punishment (2013)) Brian, der die Band 2013 aus familiären Gründen verlassen hatte, kehrt voller Elan in die Band zurück. Geoff Thorpe: " Wir sind super aufgeregt, Brian zurückzuhaben! Das Leben geht manchmal wahrhaftig seltsame Wege!" VICIOUS RUMORS arbeiten mit Brian schon mit Hochdruck an einem neuen Killer-Album!
Der vorherige Sänger Nick Hollemann hat die Band verlassen, um sich um andere Projekte zu kümmern. Thorpe dazu: "Er verlässt zwar die Band, aber er verlässt keinesfalls die Familie! Wir wünschen Nick wirklich alles gute für die Zukunft und danken ihm für vier gemeinsame Jahre der Zusammenarbeit!"
So, das war´s aber noch nicht! VICIOUS RUMORS legen noch eine Schippe drauf und verkünden die Aufnahme ihres neuen Lead-Gitarristen Gunnar DüGrey aus Portland/Oregon. Grade mal 18 Jahre alt agiert er in der Weltklasse seiner Zunft, wie auch Jeff Loomis, Vinnie Moore oder Mark McGee. Thorpe erläutert: "Sein Stil und Gefühl sind nicht von dieser Welt!"
Im Sommer 2017 wird die Band eine exklusive Open Air Show auf dem renommierten Bang Your Head Festival spielen! Des weiteren stehen auch Club Shows auf dem Programm, so z.B. kehren VICIOUS RUMORS in den legendären Dynamo Club in Eindhoven zurück! Oder auch in den Zoom Club in Frankfurt mit ihren Bay Area Kollegen von Death Angel. Außerdem stehen Headliner Shows in München oder Marburg auf dem Plan.
Eine komplette Europäische Headliner Tour wird von der EAM Booking Agentur für den November gebucht, die exakten Daten werden im Juli bekanntgegeben.
With power and strength the VICIOUS RUMORS ball rolls into the future…the best is yet to come!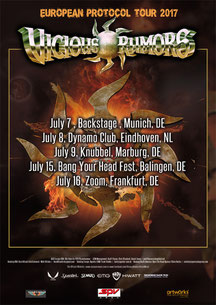 VICIOUS RUMORS Line-Up 2017
Brian Allen - vocals
Geoff Thorpe - guitars
Gunnar DüGrey - guitars
Tilen Hudrap - bass
Larry Howe - drums
VICIOUS RUMORS Live 201
07.07.2017 - D - München, Backstage
09.07.2017 - Marburg, Knubbel
15.07.2017 - Balingen, Bang Your Head Festival
16.07.2017 - Frankfu, - Zoom (mit Death Angel)