THE EDEN HOUSE sind ein musikalisches Kollektiv, das bereits mit einer atemberaubenden Anzahl an virtuosen Sängern und Musikern kollaboriert hat. Unter dem Projekt erschienen bereits zwei Langspieler, sowie zwei Mini-Alben.
Auf ihrem dritten Album "Songs For The Broken Ones" arbeiteten sie unter anderem mit Monica Richards zusammen. Die Öko-Aktivistin der Washington DC Punk Szene ist vor allem weltweit als Mitglied der Combo FAITH & THE MUSE bekannt. Einer ihrer letzten EDEN HOUSE – Tracks, an denen sie mitgearbeitet hatte, erlangte bereits große Bekanntheit auf dem aktuellen "Yu-Gi-Oh!"-Soundtrack, einer japanischen Anime-Serie. Das Album erscheint am 16. Juni über Jungle Records/Rough Trade.
Erster Trailer: https://www.youtube.com/watch?v=kw6dUEyoSDc&feature=youtu.be
Weitere Sänger und Sängerinnen auf dem neuen Album sind Lee Douglas von ANATHEMA, Louise Crane, Meg Pettitt und Kelli Ali von den SNEAKER PIMPS. Unter den Instrumentalisten finden sich Bob Loveday vom PENGUIN CAFÉ ORCHESTRA & Van Morrison und Simon Hinkler von THE MISSION.
THE EDEN HOUSE setzen sich im Kern zusammen aus dem Gitarristen Stephen Carey und dem Bassisten Tony Pettitt und Drummer Simon Rippin, die bereits mit ihrer Band FIELDS OF THE NEPHILIM größere Bekanntheit erlangen konnten.
Die Gruppe schmückt ihre Musik mit satten Violinen und Female-Vocals, die auf Wikipedia bereits als "ätherische Welle" bezeichnet werden. Ohne ihre Goth-Rock-Wurzeln zu vernachlässigen, erweitern THE EDEN HOUSE ihren Horizont durch Top-Musiker aus Prog-Rock und Trip-Hop und kreieren so einen einzigartig symbiotischen Sound.
2009 gegründet, arbeiteten THE EDEN HOUSE bereits mit hochkarätigen Künstlern zusammen, darunter Julianne Regan (ALL ABOUT EVE), Amandine Ferrari, Evi Vine, Jordan Reyne, Andy Jackson (PINK FLOYDs Tontechniker) und Phil Manzanera (Roxy Music). Zahlreiche Tourneen und Headliner-Shows auf Festivals in Großbritannien, Deutschland, Belgien und Polen unterstreichen diese Erfolgsgeschichte.
Eine Single als 7"- und Digitalvariante des Songs "Verdades" ist bereits samt Video im Lauf und stellt den Vorboten zum Album dar. Außerdem sind Live-Shows in Großbritannien und Europa geplant.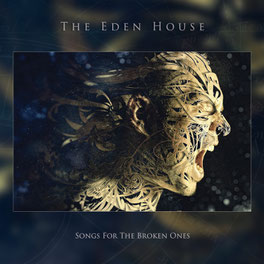 01. Verdades
02. One Heart
03. Misery
04. 12th Night
05. The Ghost of You
06. Ours Again
07. It's Just A Death
08. Words and Deeds
09. Let Me In
10. Kiss Kiss Bang Bang
11. Second Skin
12. The Ardent Tide.
68 mins.
Album credits: Vocals by Monica Richards, except 3. Louise Crane; 5. Meg Pettitt; 7. Lee Douglas; 10. Kelli Ali; 12 Lousie Crane & Meg Pettitt.