In den Wahnsinn gepeitscht
Mit ihrem 2015er Debütalbum "Overdrive" lösten sie als Senkrechtstarter einen ebenso positiven wie weitreichenden Aha-Effekt aus, der eine Vielzahl an weltweiten Fans nach sich zog.
Zahllose Reviews bescheinigten dem aus der Reihe tanzenden Material der Band um Gitarrist und Sänger Simon Bihlmayer eine ganz eigene, gehobene Klasse. Davon entsprechend angespornt, ging es nachfolgend noch hungriger, aber auch gefestigter und entschlossener ans Songwriting.
Und nun melden sich RUNNING DEATH mit einem neuen Werk zurück: "DressAge" betitelt, präsentiert der zweite Longplayer den knackig rockenden THRASH METAL der Bajuwaren in bislang ungehörter Frische und Dynamik!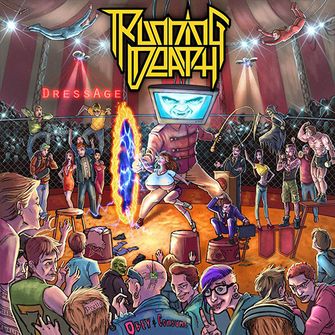 Offizieller Veröffentlichungstermin für "DressAge" ist der 26. Mai 2017.
Wer als neuer Hörer vorab noch eine Richtung zur Orientierung haben möchte, den weisen allerlei Anklänge an Megadeth in die korrekte Richtung. Freunden von solcher Stilistik sollte es jedenfalls schwerfallen, ultramelodischen und dezent progressiven Rhythmusgranaten wie "Heroes Of The Hour" zu widerstehen. Ähnlich wie die genannten US-Giganten, lassen auch RUNNING DEATH allerlei klassische, griffige Rock-Elemente in homogener Manier in ihren teils Hit-verdächtig inszenierten Thrash-Alarm einfließen.
Auch auf textlicher Ebene gibt es bewusst durchdachte Inhalte zu erleben. Oft mit einem zugekniffenen Auge verfasst, zählen die punktgenau treffenden Lyrics des Quartetts zum definitiv Lesenswertesten im Genre. So beziehen RUNNING DEATH mit Nummern wie "Duty Of Beauty" auf humorige Art Stellung zum immer entmenschter werdenden Mode-Wahnsinn heutiger Tage.
Der natürliche, markante Gesang von Frontmann Simon, der bereits auf dem erfolgreichen Debüt-Dreher für angeregte Diskussionen sorgte, bricht in den zehn neuen Songs noch individueller und kompromissloser hervor. Selbst in den balladesken Passagen stülpt der Gitarrist als überzeugter 100%-er mit vollends ausgelebter Emotion einfach sein Innerstes nach außen, anstatt den Standards des Metiers zu folgen.

Das detaillierte Frontcover für "DressAge" fertigte der mexikanische Grafikkünstler Joel Sánchez Rosales an, womit der lyrische Bezug zur köstlichen Dressur-Thematik des Titelsongs auf optimale Weise umgesetzt wurde. (Markus Eck/Metalmessage)