Neuer Song online, Vorbestellbar ab jetzt!

GOATWHORE veröffentlichen ihr vielfach erwartetes neues Album 'Vengeful Ascension' am 23. Juni weltweit über Metal Blade Records. Die siebte Scheibe der Band, für sie sie zum zweiten Mal analog im Studio aufgenommen hat, entstand im Earth Analog in Tolono, Illinois in der Nähe von Champaign, Illinois unter der Ägide von Jarrett Pritchard (1349, Gruesome), dem langjährigen Live-Mischer und Freund der Band, nachdem sie über vier Alben hinweg mit Erik Rutan gearbeitet hatte.

"Mit Rutan zu arbeiten war super. Mit ihm haben wir ein paar geile Sachen gemacht", beteuert Sänger Ben Falgoust, "aber irgendwann denkt man halt, man könnte mal wieder was Neues ausprobieren. Wir wollten aus unserer Komfortzone ausbrechen und Wagnisse eingehen. Außerdem sollte die Produktion genau einfangen, wie wir auf der Bühne klingen, und wie könnte man diese Energie besser bündeln, als mit dem eigenen Live-Mischer im Studio? Jarrett kennt sich dort bestens aus. Er weiß, wie sich das anhört, was bei uns aus der PA kommt, und wir wollten dem unbedingt näherkommen."

Die knapp 40 Minuten dauernden zehn Tracks - abgemischt von Chris Common (Tribulation, Pelican) und gemastert von Maor Applebaum (Faith No More, Halford, Today Is The Day) - platzen herein, packen den Hörer am Hals und lassen nicht los, bis der letzte Song 'Those Who Denied God's Will' vorbei ist. Die Scheibe ist eine akustische Entsprechung von Krieg, Chaos, Verzweiflung und emotionalem Konflikt, nicht zu vergessen, dass sie die 20-jährige Geschichte der Band klanglich zusammenfasst. Die Musiker finden, es sei das Beste, was sie bisher jeweils einzeln und als Gruppe geschaffen haben. Gitarrist Sammy Duets fette Riffs und manische Solos schillern und schlingern vom Geilsten um die hämmernden Rhythmen von Drummer Zack Simmons und Bassist James Harvey, herum, während Falgoust mit ätzenden Texten und unverkennbarem Organ dem apokalyptischen Treiben die Krone aufsetzt. "Jeder Song steht sinnbildlich für Goatwhore von Tag eins unseres Bestehens bis jetzt. Dabei erkennt man unsere Entwicklung sehr deutlich. Ich glaube nicht, dass diese Band ihren Zenit schon erreicht hat. Ich meine, wir sind dem jetzt näher denn je und wachsen weiter, das Ende der Fahnenstange ist noch nicht erreicht."

'Vengeful Ascension' erscheint auf CD, Vinyl (in unterschiedlichen Farben, streng limitiert) und digital. Pre-ordern könnt ihr die Scheibe in verschiedenen Konfigurationen auf: metalblade.com/goatwhore - wo sich auch der Titelsong von 'Vengeful Ascension' streamen lässt. Haltet euch für den offiziellen 'Vengeful Ascension'-Videoclip bereit, den die Band mit James Foster anfertigte und in den kommenden Tagen vorstellen wird.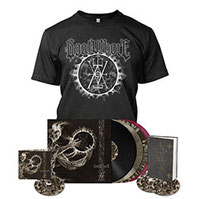 'Vengeful Ascension' Formate:
--Digipak CD
--Limitiertes "Spell Book" mit zwei CDs (3000 Einheiten)
--180g schweres schwarzes Vinyl
--clear/black-marbled Vinyl (300 Einheiten - EU-exklusiv)
--sepia/white-splatter Vinyl (200 Einheiten - EU-exklusiv)
--violet-red marbled Vinyl (200 Einheiten - EU-exklusiv)
--Clear with black and white swirls (1500 Einheiten - US-exklusiv)
--sepia-marbled Vinyl (100 Einheiten - EU-exklusiv)
* exklusive Bundles mit Shirt plus digitale Optionen ebenfalls verfügbar!

'Vengeful Ascension' ist zwar kein traditionelles Konzeptalbum, dreht sich aber mehr oder weniger um das im Titel angedeutete luziferische Prinzip. Der Geist und das Symbol des Lichtbringers stehen weniger für einen teuflischen, alles zerstörenden Dämon als für ein leitendes Licht. Die Themen Kampf und Transzendenz sind John Miltons Das verlorene Paradis entlehnt und wurden schon in der Vergangenheit von GOATWHORE aufgegriffen, sei es direkt oder nur andeutungsweise.

"Der Grundgedanke lautet: Luzifer ist so etwas wie ein Antiheld", erklärt Falgoust. "Er würde vom Himmel in die Tiefe und ins Nichts gestoßen. Egal, wie sehr er sich bemüht, wieder aufzusteigen - ständig funkt ihm jene Macht dazwischen und versucht, ihn zu zerstören, ja verbannt ihn zurück in die Hölle. Überträgt man das auf unseren heutigen Alltag, steht es für Situationen, in denen man am Boden zerstört ist oder wenn das Leben einfach nicht richtig läuft … Emotionen beeinflussen die Reaktion der Menschen sehr stark. Lieb, Hass, Trauer oder was auch immer - wir werden bis zu einem gewissen Grad immer von ihnen geleitet. Im Wesentlichen geht es auf 'Vengeful Ascension' also darum, sich von unten nach oben hochzuarbeiten, wobei man zu der Erkenntnis gelangt, dass es nicht nur um Vergeltung geht im Leben. Man kann selbst im Negativen noch etwas Positives finden."

'Vengeful Ascension' fungiert als Soundtrack zu jenem luziferischen Aufstieg und beginnt mit den kämpferisch-ritualistischen Trommelschlägen des Openers 'Forsaken.' Jeder Track packt sofort und wirkt sowohl in textlicher als auch musikalischer Hinsicht verblüffend stimmig. Das überspannte Getrümmer von 'Chaos Arcane,' das auf HP Lovecrafts Nyarlathotep basiert - eine Geschichte zur Beschreibung jener unergründlichen Furcht vor einem sich anbahnenden Übel - vermittelt derart eindrücklich die Ahnung eines bevorstehenden Unheils, wie es nur GOATWHORE können. "Mankind Will Have No Mercy," quasi ein Tribut an Bolt Thrower, brodelt unter schweren Kriegslasten, wohingegen das schnelle, punkige "Under The Flesh, Into The Soul", eine Beschreibung von ununterdrückbarem Hass aus der Ich-Perspektive, entsprechend wütend daherkommt. "Falls Abscheu sprechen könnte, würde es sich auf diese Weise äußern", bemerkt Falgoust dazu. "Ich stellte mir beim Schreiben vor, die personifizierte Abscheu dringe in eine Person ein und würde sie verzehren." Davon abgesehen dauern alle Songs im Schnitt vier Minuten und somit kein bisschen zu lang."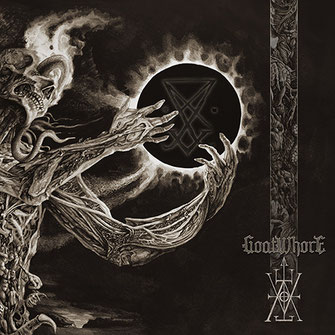 'Vengeful Ascension':
01. Forsaken
02. Under The Flesh, Into The Soul
03. Vengeful Ascension
04. Chaos Arcane
05. Where The Sun Is Silent
06. Drowned In Grim Rebirth
07. Abandon Indoctrination
08. Mankind Will Have No Mercy
09. Decayed Omen Reborn
10. Those Who Denied God's Will

GOATWHORE sind momentan als Support von Amon Amarth auf Tour. Die Reise began am 1. Mai in Pensacola, Florida und dauert bis zum 20. Mai mit einem Abschlusskonzert in Louisville, Kentucky. Dabei spielt die Band auch beim Dark Lord Day. Alle Konzerttermine im Folgenden.

GOATWHORE Studiobesetzung:
Louis B. Falgoust II - Vocals
Sammy Duet - Gitarre, Vocals
Zack Simmons - Drums
James Harvey - Bass

GOATWHORE Livebesetzung
Louis B. Falgoust II - Vocals
Sammy Duet - Gitarre, Vocals
Zack Simmons - Drums
Robert "TA" Coleman - Bass

http://www.facebook.com/thegoat666
http://www.twitter.com/goatwhorenola
http://www.youtube.com/Goatwhorenola666