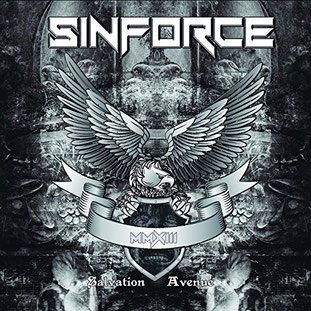 VÖ: 01.05.2017
Label: -
Format: Download

Tracklist:
01. The Dream Collector
02. Crown Of Thorn
03. New World Order
04. Salvation Avenue
05. Victim Of Time
06. Fairy Tales
07. Digital Slaves
08. Serpents Of Night
09. When Silence Remains
10. Let The World Explode

Wer auf klassischen und melodischen Heavy Metal steht der kommt an SINFORCE eigentlich nicht vorbei. Die Band rund um Sänger und Gitarrist Andreas Leyer vereint alles was die früheren Halloween, Gamma Ray, Metal Church und Co ausgemacht hat. Purer Heavy und Power Metal at its best.

Leyer ist schon ein alter Hase in der Metal Szene und hatte den Wunsch mal ein eigenes und komplett selbst produziertes Werk auf den Markt zu werfen. 2014 war der Vorhänger von SALVATION AVENUE geboren und als digitaler Download erhältlich. Ähnlich ist es nun mit dem neuen Release. Wer eine CD in physikalischer Form möchte, wende sich bitte an die Band. In der heutigen Zeit durchaus denkbar, da viele lieber die kostengünstigen Downloads wählen.

In welcher Form auch immer, SALVATION AVENUE sollte man sich auf keinen Fall entgehen lassen, wenn man auf die Anfänge des klassischen Heavy und Power Metal steht. Packende Riffs und mitreißende Drumms machen das Album zum Urlaub für Gehörgang und Seele. Auch hier hört man wieder, dass eine Band nicht zwangsweise ein Label braucht um eine qualitativ hochwertige Produktion an den Mann zu bringen.
(Sarah Jacob)