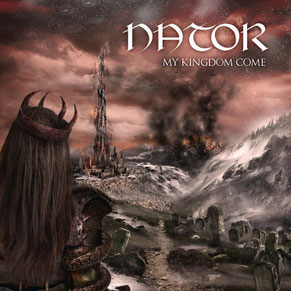 VÖ: 2016
Label: Metalizer Records
Format: CD

Tracklist:
01. Sorrows End
02. Heaven's Gate is Sealed
03. The End Of Days
04. A Bitter Victory
05. Exploration
06. Warlords
07. Innocent
08. Devil Eyes
09. My Kingdome Come

Dieses Review steht unter dem Stern "besser spät als nie", denn die Veröffentlichung ist ja schon ein paar Monate her. Entdeckt habe ich die Bayern von NATOR bei einem kleinen aber feinen Festival in Köln Anfang April. Live haben sie mich so überzeugt, dass ich mir gedacht habe, ich muss zu diesem Album noch mal eine Review schreiben und so meinen Teil zur Promotion für die Band beitragen.

Auf MY KINGDOM COME bietet sich klassischer Heavy Metal bis hin zu Power Metal mit düsteren Thrash-Einflüssen dem geneigten Hörer zum besten. Ganz im Stil des 80er wie Riot und Co kann die Band sich von der besten Seite zeigen und beweisen was sie musikalisch drauf haben.
Grundsätzlich wird ein bisschen das Klischeethema der Musikrichtung behandelt, trotzdem aber technisch sehr gut umgesetzt und ein echtes Hörvergnügen. Vor allem live können die Bayern überzeugen doch auch auf CD. In jeden Fall ist MY KINGDOM COME ein Kauftipp.

NATOR gibt es nun schon ein paar Jahre. Die ersten beiden Demos erschienen 2003 und 2005 und das erste full-length album erschienen 2008 in Eigenregie ohne Label. Dann dauerte es doch eine Weile bis MY KINGDOM COME 2016 das Licht der Welt erblickte und die Metalgemeinde sich daran erfreuen konnte. Ich würde mir für die Band wünschen, dass sie etwas mehr Aufmerksamkeit bekommen, denn die Musik ist es in jedem Fall wert!

Die Website lässt zurecht verlauten "Metal as it should be!" und dem kann ich mich nur anschließen. Wer NATOR auch mal live erleben möchte, sollte sich auf der Website oder bei Facebook über Termine informieren. Die sind leider noch etwas rar gesäht.
(Sarah Jacob)