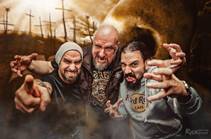 nachdem RAGE mit ihrem aktuellen Album "Seasons Of The Black" ( VÖ: Nuclear Blast, 28.07.2017) sowohl in den Charts ( Deutschland Platz 25!) als auch auf etlichen Sommerfestivals eindrucksvoll bewiesen haben, daß die Band um Front-Ikone Peavy Wagner im nicht mehr so ganz neuen Line-Up in absoluter Top-Form ist, werden sich die drei Herrschaften am Jahresende zu ihrer SEASONS OF THE BLACK WORLD TOUR aufmachen.

In Deutschland, Österreich und der Schweiz stehen dieses Mal insgesamt nur fünf exklusive Hallenshows auf dem Programm - drei in Deutschland, und je eine Show in Österreich und der Schweiz, was daran liegt, daß es nach vielen Jahren der Abstinenz nun an der Zeit ist, daß sich RAGE auch mal wieder in Gegenden blicken lassen, die über die Zeit sträflich vernachlässigt wurden, wie Südamerika und Asien, oder in denen die Metal-Legenden aus Herne bisher noch nie live aufgetreten sind, wie z.B. in Australien.
"Die kommende Tour wird ein Monster, das sich tatsächlich über vier Kontinente erstreckt, das ist absoluter Wahnsinn", sagt RAGE-Mastermind Peavy Wagner. "Marcos, Lucky und ich haben gerade die geilste Zeit unseres Lebens und voll Bock zu spielen, wir sind unglaublich motiviert und wir werden live so dermaßen auf die Kacke hauen, daß kein Auge trocken bleibt!".
Die Fans im deutschsprachigen Raum sind also gut beraten, sich eines der kommenden Festivals oder eine der wenigen Hallenshows im nächsten Frühjahr in den Kalender zu schreiben, wenn sie ihre Helden Ende 2017/Anfang 2018 live erleben wollen.
Hier sind die Dates:
RAGE - Seasons Of The Black World Tour - präsentiert von Rock Hard, Rocks, Rock It!, Musix, Powermetal.de und Stormbringer.at
23.12.2017 - D - Burglengenfeld, X-Mas Dynamite Night
04.01.2018 - D - Bochum, Zeche
05.01.2018 - D - Speyer, Halle 101
07.01.2018 - CH - Pratteln, Z7
09.01.2018 - D - München, Backstage
10.01.2018 - A - Salzburg, Rockhouse
17.03.2018 - D - Marsberg, Metal Diver Festival
02-08.04.2018 - A - Nassfeld, Full Metal Mountain
Very special guest bei den Hallenshows: FIREWIND
Support: DARKER HALF
Die Show am 04.Januar 2018 in der Zeche Bochum wird übrigens die 100ste Show im neuen Line-Up sein. Mit Überraschungen ist zu rechnen, vielleicht ist ja der eine oder andere musikalische Gast mit dabei, um gemeinsam mit RAGE einige Songs zu zocken ?!? Man kann gespannt sein....
---
RAGE veröffentlichen neues Album »Seasons Of The Black«
Die Kreativität und Produktivität kennt bei dem deutschen Heavy Metal Trio von RAGE scheinbar keine Grenzen. Nur 14 Monate nach dem erfolgreichen »The Devil Strikes Again« Nackenbrecher, liefern RAGE ihr neues, nunmehr 23. Studioalbum namens »Seasons Of The Black« ab, welches am 28. Juli veröffentlicht werden wird.
"Unsere Fans bekommen Rage-Metal der allerersten Güteklasse. Es ist uns gelungen, die typischen Trademarks der Band in elf neue Songs zu gießen. Wir halten den Kurs, den wir schon auf dem letzten Album eingeschlagen haben bei, das heißt harte, sehr eingängige Kompositionen, die ebenso thrashig-aggressiv und sowie episch klingen", konstatiert Bandleader Peavy.  

Die drei Bandmitglieder sind seit der Neuausrichtung 2015 geradezu perfekt auf sich eingespielt und die verloren gegangene Harmonie ist wieder hergestellt. "Wir sind noch besser aufeinander eingespielt", freut sich Peavy. "Mit spielerischer Leichtigkeit werfen wir uns die Ideen gegenseitig zu, es kam sogar vor das wir einen Song aus dem nichts heraus innerhalb von zwei Stunden kreiert hatten. Produktionstechnisch konnten wir auch einige Komplikationen, die sich beim letzten Album noch aus mangelnder Erfahrung eingeschlichen hatten, ausmerzen, so das dieses mal alles wie am Schnürchen lief."
Gitarrist Marcos Rodriguez und Schlagzeuger Vassilios "Lucky" Maniatopoulos sind bekennende RAGE Fans der ersten Stunde. Ihr Input hinterlässt auch auf ihrem zweiten gemeinsamen Album seine Spuren. "Dadurch, dass Marcos und Lucky den "klassischen" stilbildenden Spirit von RAGE sozusagen mit der Muttermilch aufgenommen haben und wir uns auf persönlicher Ebene so gut verstehen, haben wir den Bandspirit noch weiter vertieft und ausgebaut", adelt der Vokalist.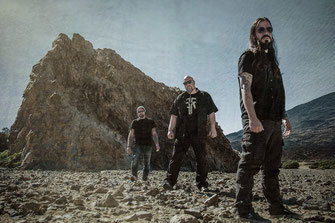 Die stilistische Verbindung zwischen »The Devil Strikes Again« und »Seasons Of The Black« spiegelt sich auch optisch in den von Grafik Künstler Karim König kreierten Artworks wider. "Die Idee haben wir gemeinsam entwickelt", verrät Peavy. "Wir wollen damit verdeutlichen, dass beide Alben auf ihre eigene Weise zusammengehören. Ich selbst habe die Soundchaser-Skulptur, die das Cover dominiert, modelliert. Als Grundlage habe ich dafür einen sehr seltenen Schädel aus meiner Sammlung benutzt, den ich erst abgegossen und danach übermodelliert habe. Zum anderen hat Karim die düstere Landschaft mit dem Golgotha-Hügel kreiert."

Der Titelsong »Seasons Of The Black« eröffnet das 11 Tracks umfassende Album. "Der Song ist sehr persönlich, es geht darin um einen zerbrochenen Lebensentwurf, wenn dir sozusagen der Teppich unter den Füßen weggezogen wird und du vor den Scherben deiner Existenz stehst. Ein Schicksal, das leider viele Menschen teilen müssen. Da die meisten Songs eine etwas düstere Sicht auf die Welt haben, fanden wir ihn auch passend für das gesamte Album", resümiert der Sänger, der RAGE vor über drei Jahrzehnten ins Leben gerufen hat.

Aufgenommen wurde "Seasons Of The Black" im Februar/März 2017 in den Megafon Studios (Burscheid) und in den Soundchaser Studios (Zandhoven, Belgien). Produziert wurde von RAGE, während Dan Swanö (MARDUK, OPETH, DISSECTION, KATATONIA) für den Mix und das Mastering in den Unisound Studios (Grefrath) verantwortlich war. 

RAGE - Live 2017
29.04.2017 - E - Oviedo, Discoteca Sir Laurens
05.05.2017 - S - Stockholm, Pub Anchor
06.05.2017 - N - Oslo, Hard Rock Cafe
07.05.2017 - S - Gothenburg, Sticky Fingers
12.05.2017 - I - Borgo Priolo (Pavia), Rockland Festival
03.06.2017 - D - Eichstätt, Open Air am Berg
10.06.2017 - D - Starnberg, Food Rock Festival, Schlossberghalle
17.06.2017 - D - Duisburg, Rage Against Racism (RAGE meets REFUGE)
29.06.2017 - D - Gardelegen, Metal Frenzy
02.07.2017 - E - Barcelona, Rock Fest
06.07.2017 - D - Ballenstedt, Rock Harz Open Air
16.07.2017 - CZ - Vizovice, Masters of Rock
21.07.2017 - UA - Ternopil, Faine Misto Festival
03.-05.08.2017 - D - Wacken, Wacken Open Air
10.08.2017 - E - Villena, Leyendas Del Rock
12.08.2017 - B - Kortrijk, Alcatraz Festival
13.08.2017 - D - Königs Wusterhausen, Zombie Rock Festival
02.09.2017 - D - Dormagen, Zons Rockt (RAGE meets REFUGE)
23.12.2017 - D - Burglengenfeld, VAZ, X-Mas Dynamite Night

Holt Euch »The Devil Strikes Again« hier: http://nblast.de/RAGEDevilStrikesNB
Hier gibt es die Platte digital: http://nblast.de/RageDownloads

Mehr zu »The Devil Strikes Again«:
'The Devil Strikes Again' OFFICIAL VIDEO: https://www.youtube.com/watch?v=CBbAF9IPnZ8
'My Way' OFFICIAL VIDEO: https://www.youtube.com/watch?v=JRfOdGlafuA
'Spirits Of The Night' OFFICIAL LYRICS: https://www.youtube.com/watch?v=wTjuBt0jcpI
'My Way' OFFICIAL FAN CLIP: https://www.youtube.com/watch?v=ty2Qw5TKFGg

RAGE sind:
Peter "Peavy" Wagner | Leadgesang, Bass
Marcos Rodriguez | Gitarre, Gesang
Vassilios "Lucky" Maniatopoulos | Schlagzeug, Gesang

Weitere Infos:
www.rage-official.com
www.facebook.de/rageofficialband
www.nuclearblast.de/rage