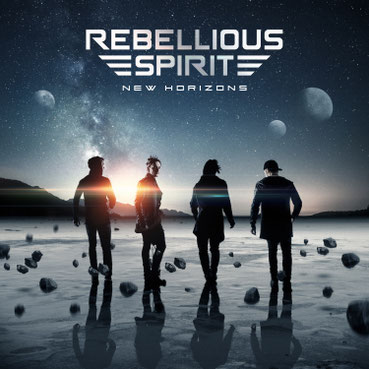 VÖ: 09.06.2017
Label: Fastball Music
Format: CD
Tracklist:
01. Intro (02:09)
02. Devil In Me (04:15)
03. Wish For (04:08)
04. Fuck (04:06)
05. Am I Right (04:37)
06. Enemy (04:24)
07. After All (04:13)
08. The Core (03:55)
09. Give It A Try (04:09)
10. Up! (04:28)
11. Eternal Desire (03:51)
12. Alright (04:15)
13. Far Away (04:26)
NEW HORIZONS heisst die neue Scheibe von REBELLIOUS SPIRIT und der Name ist Programm!
Waren die letzten Alben noch in der klassischen Rock/Metal-Ecke angesiedelt, findet man auf dem dritten Album der jungen Schwaben viele neue Einflüsse aus verschiedenen Richtungen der Musik. Natürlich bleibt die Band den Gitarren treu, es finden sich aber auch einzelne elektronische Akzente, sowie vermehrte Voice-Effekte, die die Kraft der entsprechenden Songs unterstützen. Zur Entstehung von NEW HORIZONS hat uns Jannik folgendes gesagt: "Man kann sagen, NEW HORIZONS ist aus den vielen Erfahrungen der letzten Jahre entstanden, die wir mit der Band und auch privat gemacht haben. Wir haben so viel dazugelernt, haben das Musikbusiness und das Leben kennengelernt und sind dadurch wirklich sehr gereift. Eine Sache die wir gelernt haben ist, Dinge manchmal lieber selbst zu machen, anstatt anderen den Job zu überlassen. Auf sich selbst kann man sich eben immer am besten verlassen ;) So kam es auch, dass wir heute unsere Musikvideos in Eigenregie produzieren und auch das Songwriting und Recording noch mehr selbst in die Hand nehmen.
Das Album wurde zum Großteil von mir produziert. Einige der Aufnahmen für's Album sind sogar in meinem Zimmer entstanden. Aber natürlich wurde der Großteil in einem sehr professionellen Studio aufgenommen und unser alter Produzent war auch noch dabei um ein paar Tipps von außen zu geben, sonst wäre eine Albumproduktion auf dem Niveau kaum möglich.
Zudem haben wir uns auch sehr viel Zeit für das Album genommen, da unser Anspruch auch sehr hoch war."
Die erste Single-Auskopplung zeigt ja schon mal deutlich, wo bei NEW HORIZONS die Reise hingehen wird. Woher der krasse Stilwechsel zu den Vorgängeralben kommt, hat uns Jens beantwortet: "Wir sehen das als eine fast logische Entwicklung und das wird auch deutlich, wenn man uns von Beginn an kennt, da wir eigentlich immer experimentierfreudig und noch nie Genrerassisten waren. Beim Vorgängeralbum "Obsession" hat uns unsere Plattenfirma in unserer Experimentierfreudigkeit eher noch ein bisschen behindert... Nun konnten wir endlich machen, was wir wollen und wir sind riesig begeistert.
Und klar, der Stil hat sich ein wenig verändert. Die neuen Songs haben jetzt mehr Bedeutung als je zuvor. Sie sind tiefgründig und partytauglich zugleich."
Alle, die sich in die "kleinen, süßen Jungs" und ihre Musik von früher verliebt haben, könnten sich mit dem aktuellen Werk eventuell etwas schwer tun. REBELLIOUS SPIRIT klingen nun erwachsener und die Musik beinhaltet demnach auch einige neue Eindrücke. So finden sich viele Core-Einflüsse und parallelen zu Bands wie In Flames, Avenged Sevenfold, Bullet For My Valentine und auch Disturbed. Und ja, ich würde sogar behaupten bei "Devil In Me", der Song, der auch als erste Single auserkoren wurde, einen größeren Einschlag von Marilyn Manson heraus zu hören. Ob das in Zukunft auch so bleiben wird? Hier Janniks Statement: "Ja ich bin überzeugt, dass wir jetzt unseren eigenen Stil gefunden haben. Du hast Recht, beeinflusst ist das Ganze unter anderem von den Bands die du genannt hast, da wir die auch privat viel hören und so was einen natürlich immer beeinflusst, aber vor allem denke ich, ist es eine ganz eigenständige und besondere Musik die wir kreiert haben, die so mit keiner anderen Band eins zu eins vergleichbar ist. Sowas ist riskant, aber hebt einen eben auch von der Masse an Bands ab.
Trotz der neuen Vocal-Horizonte von Sänger Jannik, verliert er hier aber nicht die gefühlvolle Seite seiner Stimme für die Balladen auf NEW HORIZONS. Hier zeigt sich "the man on the mic" als ein sehr vielseitiges Vocaltalent und präsentiert eine neu gewonnene Stimmgewalt, die einen schier vom Hocker bläst. Das Album ist insgesamt sehr abwechslungsreich mit einer schönen Mischung aus ruhigen Stücken und anderen - überwiegend - mit viel Wumms und Power! Auf einen offensichtlichen Titeltrack wurde hier verzichtet, aber wenn man sich "Fuck" einmal genau anhört, kann man hier den direkten Bezug zum Album, dem neuen Stil und seinem Namen erkennen ("We, we don't look back / We head off to New Horizons //Like it or not / 'Cause I don't give a fuck!"). Damit dürfte alles gesagt sein. Die Band entwickelt sich persönlich und musikalisch weiter, an Stillstand ist nicht zu denken.
Wie man sieht ist NEW HORIZONS auch ein fast experimentelles Album geworden, auf das die Band durchaus sehr stolz sein kann. Sie haben sich hier nicht nur in neue Gefilde gewagt, ihre eigenen Fähigkeiten neu entdeckt und die musikalischen Horizonte erweitert, sondern können sich als Band auch eine neue, breitere Fangemeinde erschließen. Tiefere Töne und härtere Klänge geben REBELLIOUS SPIRIT auf diesem Album eine düstere, schwere Atmosphäre die perfekt zu den Songs passt. Alle Stücke haben eine sehr eingängige Melodie und einen mitreißenden Rhytmus und man singt ab der zweiten Runde im Player automatisch mit (den Text lernt man ja auswenig, je öfter man die Scheibe hört ;)). Auch wenn das Album sehr anders klingt als seine Vorgänger, ich persönlich finde NEW HORIZONS super gelungen und bin bei jeder neuen Rotation im Player auf's neue begeistert. Für mich daher schon jetzt mit eines der absoluten Highlight-Alben 2017 (aktuell Top 3 in meinen persönlichen Album Chart für diess Jahr)! Und außerdem freue mich schon darauf, die Songs auf der Tour live erleben zu können! Was es bei den Dates besonderes gibt, hat Jannik uns nicht wirklich verraten wollen. Dazu nur so viel: "Lasst euch mal überraschen ;) Es wird auf jeden Fall einiges zu sehen geben, da wir noch nie eine so lange Headlinertour gemacht haben. Da können wir uns jetzt mal so richtig austoben."
Ich habe dazu redaktionsseitig nicht mehr viel zu sagen. Kauf euch NEW HORIZONS, entdeckt die neue Seite an REBELLIOUS SPIRIT und seid begeistert! Weiter so Jungs, ihr seid super!
(Sarah Jacob)