Nicht nur in Deutschland gibt es tolle Events, die einen Besuch wert sind! In genau einem Monat, am 13. Mai 2017, findet in Ninove (nahe Brüssel) in Belgien das WILDFEST statt. Dieses Event ist eine eintägige Veranstaltung und deckt den Glam und Sleaze-Bereich der Gitarrenfraktion ab! Auch in diesem Jahr sind wieder tolle Bands am Start:
Nightmare sind eine belgische Hard Rock Band, die im April 2011 von Kristof 'Krikke' Michiels, Zan Geeraerts und Jasper Vanderheyden gegründet wurde. Das Trio hat in zahlreichen früheren Projekten viel Erfahrung gesammelt.

In den ersten Jahren hatten sie wenig Erfolg und nur zwei Singles veröffentlicht: "Baby Let Go" und "She Gives It All". 2013 gab es einen Linup-Wechel an den Drums und jetzt konnte die Band richtig durchstarten.

Die explosivste Rock'N'Roll Band der Geschichte!

... aus der Zukunft wurden 4 intergalaktische Superstars durch die Zeit zurückgeschickt, auf der Mission, die blutende Leiche des Rock'n'Roll wieder auferstehen zu lassen. Zusammen sind sie als SUiCiDE BOMBERS bekannt.

Einzeln kennt man sie als:
Chris Damien Puppe (Lead Vocals und Rhythm Guitar) - Der Sleaze Führer;
Lazy Leather (Lead Guitar und Backing Vocals) - Der Sex-Gunslinger;
C. Slim (Bass und Backing Vocals) - Der Thunder Mechaniker;
Lyle Starr (Schlagzeug) - Das Schlagkommando;

Einzelnheiten ersparen wir euch hier noch. Diese folgen im Anschluss an das Event mit Foto-Belegung!


WILDHEART
Sie sind eine belgische Hard Rock/Sleaze Band, die geradewegs aus dem Jahr 1984 kommen könnte!
Schreiende Gitarren-Soli, packende Riffs, eine Menge Rock'n'Roll und eine hohe Mitsing-Wahrscheinlichkeit sind die Schlüsselelemente, die jede 80er Show und so auch WildHeart prägen.
Ihre Inspiration kommt von Künstlern wie Whitesnake, RATT, Mätley Crüe, Dokken & Co.

Also macht euch auf eine wahnsinns Performance gefasst!

MAVERICK
Zu Maverick bedarf es eigentlich nicht mehr vieler Wort. "Hard rockin', heavy hittin', kick-ass, dual guitar wielding wrecking machine from Belfast".
Seit ihrer Gründung haben sie die Regeln der Nord-Irischen Szene neu geschrieben und seit der ersten Show in Belfast, hat die Band die Zahl ihrer Anhänger immer weiter steigern können! Weltweite Plattenverkäufe und viele Shows rund um den Erdball können sie schon zu ihrem Repertoire zählen.
THE AMORETTES
Die einzigen Frauen auf der Bühne an diesem Abend! 2015 haben sich The Amorettes in UK gegründet und ihr Album "Game On" veröffentlicht. Darauf folgte eine Tour mit Europe und Black Star Riders.
Das schottische Trio, in der Presse als "wie Airbourne mit Frontfrau Joan Jett" beschrieben, schreiten mit ihrer gradlinigen Art und ihrer DIY-Einstellung weiter auf ihrem Weg zum großen Erfolg.

NITERAIN (NO)
Seit 2012 haben die Norweger einige Länder bereist und ihren neuen und explosiven Sound unter die Leute gebracht. Ihre Shows sind für ihren Mix aus viel Energie, guten Songs und neuem Sound bekannt.
Im November letzten Jahres hat die Band ihr zweites Album "Vendetta" veröffentlicht und dafür viele
gute Kritiken
einheimsen können.

KISSIN' DYNAMITE
Kissin' Dynamite sind DIE (moderne) Hard Rock Band aus Süddeutschland. Mitterweile sind sie weltweit für ihre gute Musik bekannt und konnten, trotz noch sehr jungem Alter, viele Erfolge feiern. Mit ihrem 10jährigen Bestehen reihen sich Charterfolge, Konzerte in Asien und weitere Meilensteine in die Bandgeschichte.
2016 wurde der neuste Beweis für das Talent veröffentlich: "Generation Goodbye" zeigt einmal mehr, dass man nicht viele Lebensjahre auf dem Buckel haben muss, um zu wissen was man tut und sein Können und die Erfahrung nichts mit Alter zu tun hat. Willkommen in der Königsklasse!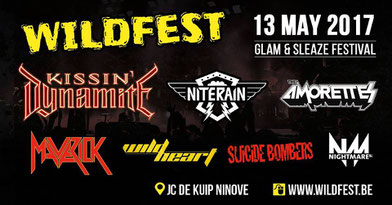 Und weil die Infos zum Lineup natürlich nicht reichen, gibt es hier noch alle weiteren Daten zum Festival:
Location: JC De Kuip
Adresse: Parklaan 1, B-9400 Ninove
Es gibt Parkplätze direkt am Club (Parkticket bis 18 Uhr erforderlich!); bei der Anreise mit den Zug: der Bahnhof ist nur ca. 10 Min entfernt
Tickets: 21 € + VVK gibt es bei Ticketmaster.be
Übernachtung: der Verantstalter hat ein Vereinbarung mit zwei Hotels in der näheren Umgebung. Hierüber gibt es Rabatte auf die Übernachtungskosten. Wendet euch daher direkt an das WildFest über das Kontakt-Formular.
https://www.facebook.com/thewildfestival/