Die New Yorker Death Metal-Pioniere SUFFOCATION werden ihr neues Album »...Of The Dark Light« am 09. Juni über Nuclear Blast veröffentlichen. Passend dazu hat die Band zur ersten Single 'Your Last Breaths' ein 360°-Trackvideo enthüllt: https://www.youtube.com/watch?v=56jDbL6dzLw

»...Of The Dark Light« wurde von SUFFOCATION produziert und gemeinsam mit ihrem langjährigen Partner Joe Cincotta (OBITUARY) in den Full Force Studios eingespielt. Mix und Mastering wurden in die Hände des weltbekannten Produzenten Zeuss (HATEBREED, ARSIS, SUICIDE SILENCE) gelegt. Das Cover-Artwork stammt von Colin Marks (ORIGIN, FLESHGOD APOCALYPSE, KATAKLYSM).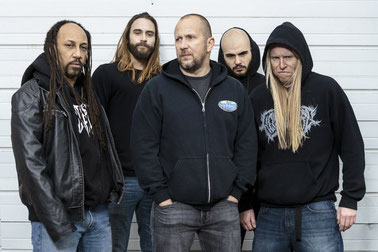 Gründungsmitglied / Gitarrist Terrance Hobbs kommentiert:
"Der Moment, auf den wir gewartet haben, ist endlich gekommen: Unser neues Album »...Of The Dark Light« wird am 09. Juni endlich über Nuclear Blast veröffentlicht! Wir haben uns vier Jahre Zeit genommen, um die neue SUFFOCATION-Platte zu schreiben und wir könnten nicht zufriedener sein. Es ist die brutalste Scheibe, die wir bisher gemacht haben!

Wir haben bis Ende 2016 an den Tracks gefeilt, um sie dann mit Joe Cincotta in den Full Force Studios einzuspielen. Zudem haben wir einmal mehr Zeuss dazu auserkoren, dem Album Leben einzuhauchen! Frank Mullen, Charles Errigo, Eric Morotti, Derek Boyer und ich haben die Grenzen SUFFOCATIONs gesprengt und wir hoffen, dass Ihr Gefallen daran findet!

Uns wurde zudem die Ehre zuteil, dass sich Colin Marks um unser Artwork gekümmert hat, das einen neuen Meilenstein für uns darstellt und im Vergleich zu den traditionellen SUFFOCATION-Alben mit einem anderen Stil aufwartet. Des Weiteren beinhaltet die Platte Backup-Gesang von Kevin Muller (THE MERCILESS CONCEPT), was sie für uns wirklich einzigartig macht! Dies ist unser zehntes Studioalbum und wir hoffen wirklich, dass Ihr »...Of The Dark Light« mögt! Keep the grind alive, wir sehen uns auf Tour!"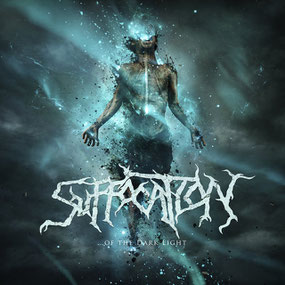 »...Of The Dark Light« - Tracklist:
01. Clarity Through Deprivation
02. The Warmth Within The Dark
03. Your Last Breaths
04. Return To The Abyss
05. The Violation
06. Of The Dark Light
07. Some Things Should Be Left Alone
08. Caught Between Two Worlds
09. Epitaph Of The Credulous

Bestellt »...Of The Dark Light« jetzt vor: http://nblast.de/SuffocationDarkLightNB
Ab morgen könnt Ihr »...Of The Dark Light« digital vorbestellen, um den Song 'Your Last Breaths' sofort zu erhalten. Zudem kann der Track ab morgen gestreamt werden!

SUFFOCATION live:
*nur SUFFOCATION
^w/ REVOCATION + WITHERED
09.-12.08.2017 - CZ - Jaromer, Brutal Assault
10.-13.08.2017 - RO - Rasnov, Rockstadt Extreme Fest
16.-19.08.2017 - D - Dinkelsbühl, Summer Breeze
18.-20.08.2017 - F - Saint-Nolff, Motocultor Festival
24.-26.08.2017 - D - Andernach, Death Feast Open Air

Tickets fürs Summer Breeze bekommt Ihr hier.

SUFFOCATION sind:
Frank Mullen | Gesang
Terrance Hobbs | Gitarre
Charles Errigo | Gitarre
Derek Boyer | Bass
Eric Morotti | Schlagzeug

Weitere Infos:
www.facebook.de/suffocation
www.nuclearblast.de/suffocation