Open Air-Konzerte in Zürich, München, Hannover und Wien
Rekordbrechende Not In This Lifetime Tour
Die wiederauferstandenen Guns N' Roses stürmen nach ihrem massiven Erfolg in Nord- und Südamerika jetzt nach Europa. Die rekordbrechende Not In This Lifetime Tour der legendären Rockformation macht im Juni/Juli u.a. in Zürich (07.06.), München (13.06.), Hannover (22.06.) und Wien (10.07.) Station.
Bisher hat die Rückkehr der gefeierten Band mit ihren Originalmitgliedern Axl Rose, Slash und Duff McKagan mehr als zwei Millionen Fans begeistert. Dabei wurde deutlich, dass Einstellung, Einfluss und Emphase von Guns N' Roses sowie des Rock'n'Roll-Genres insgesamt stärker sind denn je.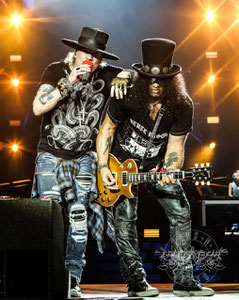 Die Gründung von Guns N' Roses 1985 verlieh der wachsenden Rockszene von Los Angeles entscheidende und unvergleichliche Impulse. Auftritt und Haltung der Band fesselten Fans in aller Welt. Das Bestseller-Debütalbum Appetite For Destruction verkaufte sich global 30 Millionen Mal. Die mit Multi-Platin ausgezeichneten Alben Use Your Illusion I und Use Your Illusion II belegten monatelang die beiden Spitzenplätze der internationalen Charts. Songs wie Sweet Child O' Mine, Welcome To The Jungle, November Rain und Paradise City oder geniale Interpretationen von Knockin' On Heaven's Door und Live And Let Die elektrisieren nach wie vor ein Millionenpublikum. Mit mehr als 100 Millionen verkauften Alben sowie restlos ausverkauften Open Air-Auftritten und Festivals sind und bleiben Guns N' Roses eine der wichtigsten und einflussreichsten Bands der Musikgeschichte. Sie gelten als der Maßstab für vehemente Live-Performances.
Live Nation Presents
GUNS N' ROSES
NOT IN THIS LIFETIME TOUR
07.06.2017 - CH - Zürich, Stadion Letzigrund *
13.06.2017 - D - München, Olympiastadion
22.06.2017 - D - Hannover, Messegelände
10.07.2017 - A - Wien, Ernst-Happel-Stadion **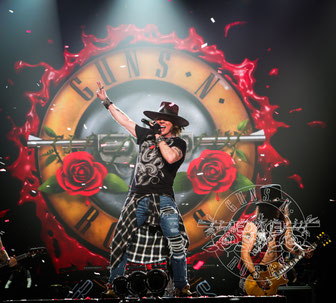 DEUTSCHLAND:
Ticketmaster/Eventim Online Presale: Mi., 07.12.2016, 10:00 Uhr (48 h)
Allgemeiner Vorverkaufsstart: Fr., 09.12.2016, 10:00 Uhr
Ticket Hotline: 01806 – 999 0000 (Mo-Fr 8-22 Uhr / Wochenende u. Feiertage 9-20 Uhr) (0,20 Euro/Anruf aus dem dt. Festnetz, max. 0,60 Euro/Anruf aus dem dt. Mobilfunknetz)
Ticket Hotline: 01806 – 57 00 00 (0,20 Euro/Anruf aus dem dt. Festnetz, max. 0,60 Euro/Anruf aus dem dt. Mobilfunknetz)
* SCHWEIZ:
Ticketcorner Online Presale: Mi., 07.12.2016, 10:00 Uhr (48 h)
Allgemeiner Vorverkaufsstart: Fr., 09.12.2016, 10:00 Uhr
Bestell-Hotline: 0900 800 800 (CHF 1,19 / min. | Montag – Sonntag 08-22 Uhr)
** ÖSTERREICH:
Ticketmaster/Oeticket Online Presale: Mi., 07.12.2016, 10:00 Uhr (48 h)
Allgemeiner Vorverkaufsstart: Fr., 09.12.2016, 10:00 Uhr
Ticket-Hotline: 01-253 888 (Mo.–Fr. 8:00–22:00 Uhr | Sa., So. + feiertags 9:00–20:00 Uhr)
www.oeticket.com
Bestell-Hotline 0900-9496096 (Montag - Sonntag 10-20 Uhr) (1,09 Euro/min inkl. MwSt)