end of green sind zurück – und nichts könnte egaler sein als die Tatsache, dass sie mit voller Absicht zwischen allen erdenklichen Stühlen stehen. Worauf es letztendlich ankommt: sie stehen.  

Kaum eine andere Band vermag, mehr Facetten zuzulassen und dabei vornehmlich eines zu sein: intensiv. Das süddeutsche Quintett hat sich längst von allem frei gemacht und sich eine eigene Ebene geschaffen. Irgendwo zwischen Wahnsinn, Hingabe und schwerwiegend abgedunkeltem Rock.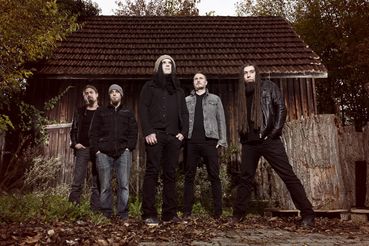 Gothic, Metal, Doom, Rock oder Alternative – in Rahmen ihrer Schrullen nehmen sich end of green die Freiheit, sich für nichts davon entscheiden zu müssen. Sie setzen auf die einzig gültige Währung des Rock'n'Roll: Songs, Seele und Attitude. Denn spätestens auf ihrer erfolgreichen "Darkoustic"-Tour zeigte die Band um Ausnahmesänger Michelle Darkness, dass sie selbst in ihren leisesten Momenten ein Erdbeben lostreten können. Schließlich es war noch nie eine Frage des Bestecks, sondern was man damit anrichten kann.
end of green haben nie etwas anderes gemacht, als schmerzhaft "echt" zu sein – das ist der Kern von Musik, die überdauern soll. Auch im 25. Jahr der Bandgeschichte lassen sich die Dunkelrocker aus Süddeutschland auf keinerlei Kompromisse ein. Sie sind heavy, ohne plakativ zu agieren. Sie sind deep, ohne im Abgrund zu verschwinden und sie sind melancholisch, ohne im Kitsch zu ertrinken. end of green ist eine Band zwischen Drohung und Versprechen. Beides mit einem guten Herzen. Und: laut, selbst wenn sie leise sind.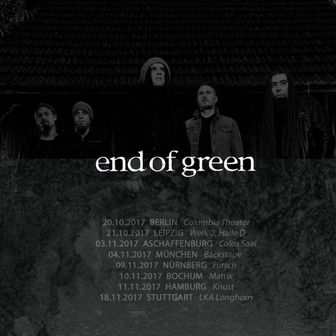 Und auch das muss man erstmal bringen: Nachdem ihre letzte Platte The Painstream bis auf Platz 13 der deutschen LP-Charts vorrückte, nahmen sich die end of green mit voller Absicht erstmal selbst zurück. Von wegen: Content, Content, Content und immer schön an die Erfolgsoptimierung denken. end of green so: "Nö". Sie widmeten sich Sideprojects, sich selbst und letztendlich ihrem eigenen Horizont. Dass der auch weiterhin in schillernden Dunkeltönen leuchtet, ist auch klar.
Doch Kraft von end of green liegt weder in der Dunkelheit noch im Schmerz. Da hinten brennt noch ein Licht und es geht um den Weg dort hin. Die Schönste aller Reisen. Im August werden end of green ihre neunte, bislang noch unbetitelte Platte via Napalm Records veröffentlichen – erstmals produziert von Sänger Michelle Darkness in den Darkland Studios. Wird geil.
Geil wird auch die kommende Tour durch Deutschland! Von Ende Oktober bis Mitte November geht es quer durchs Land! Sichert euch schon jetzt Tickets für diese ganz besonderen end of green Shows in eurer Nähe!
20.10.2017 - D - Berlin, Columbia Theater
21.10.2017 - D - Leipzig, Werk 2
03.11.2017 - D - Aschaffenburg, Colos Saal
04.11.2017 - D - München, Backstage
09.11.2017 - D - Nürnberg, Hirsch
10.11.2017 - D - Bochum, Matrix
11.11.2017 - D - Hamburg, Knust
18.11.2017 - D - LKA Longhorn

Mehr Infos & News auf:
www.facebook.com/endofgreenofficial
www.endofgreen.de