Seit dem 2014er Album "Antillius: The King Of The Light" hoffen die weltweiten Verehrer der italienischen Schwermetall-Historiker KALEDON auf einen Nachfolger.
Nun meldet sich die außergewöhnliche Formation mit einem virtuosen, melodischen und epischen POWER METAL-Paukenschlag zurück!
Kreiert wurden die stark emotionalen Lieder mit kochendem Herzblut und allergrößter Liebe zum Detail. Liebhaber von betont anspruchsvoller Kunst in diesem Genre dürfen daher eine stimmungsvolle und theatralische Mischung aus kriegerischer, muskulöser Instrumentierung, faszinierenden Arrangements, prunkvoller Ästhetik und anmutiger Schönheit erwarten.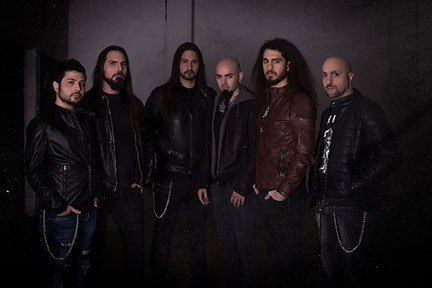 Und "Carnagus - Emperor Of The Darkness" vereint nicht nur alle bekannten Stärken des geschmackvollen Sextetts um Mainman und Lead-Gitarrist Alex Mele, sondern zeigt die Musik auch mit vielen interessanten und erfrischenden Facetten.
Offizieller Veröffentlichungstermin für "Carnagus - Emperor Of The Darkness" ist der 15. Mai 2017.
Als neuer Sänger für dieses neunte Studioalbum wurde Michele Guaitoli verpflichtet, der die erhebenden Hymnen mit seiner kraftvoll-variablen Stimme triumphal nach oben schrauben kann.
Michele ist als vielfach fähiger Vokalist gleichermaßen respektiert und beliebt. Er verzaubert mit seinem gigantischen Talent und breiter Ausdrucksstärke auch mit den erfolgreichen Melodic Heavy Metal-Spitzenkönnern OVERTURES zahllose Herzen.

Ebenfalls neu mit dabei im Line-Up ist Drummer Manuele Di Ascenzo, der die komplexen Kompositionen nach allen Regeln der Kunst rhythmisiert. Sein gut geschultes Repertoire offenbart er in kernigen Midtempo-Passagen bis hin zu wild galoppierenden Ausbrüchen, jederzeit äußerst kompetent gespielt.



Für die optisch würdige Präsentation der neuen Scheibe zeichnet der global bekannte, französische Grafikkünstler Jean-Pascal Fournier verantwortlich, der nach dem 2010er Werk "Legend Of The Forgotten Reign, Chapter VI: The Last Night On The Battlefield" erneut für KALEDON tätig wurde.

"Carnagus - Emperor Of The Darkness" stellt oberbegrifflich den dritten Langspieler in der inhaltsreichen Historie der 1998 gegründeten Band dar, welches auf dem Charakter der legendären Saga eines längst vergessenen Reiches beruht.
KALEDON verarbeiteten die einzelnen Kapitel dieser Saga bislang auf ganzen sechs Alben. Einst niedergeschrieben wurde die Saga 1997. Jetzt fügen sich alle Teile dieses langjährig verfolgten Gesamtkonzeptes auf einem einzigen Album schlüssig und überaus spannend zusammen.

Thematisch dramatisch dreht sich auch 2017 alles um diese aufwändig erzählte, mittelalterliche Fantasy-Story. Es geht darin um den klassischen Gut/Böse-Plot … und noch so einiges mehr.
Zwei Herrscher befinden sich darin im Zwiespalt, der von arglistiger, gemeiner und intriganter Eifersucht tief geprägt ist: Während der gute Regent Antillius alles das um sich weiß, was ein anständiges Königreich froh macht, neidet ihm der böse Gegenspieler-Monarch Carnagus sämtliches Glück. Alles beginnt mit der schicksalhaften Geburt von Carnagus im November des düsteren Jahres 1295… (Markus Eck)