Große Tournee vor der offiziellen Auflösung
Im November/Dezember live in fünf deutschen Städten
HIM, mit fast zehn Millionen verkauften Tonträgern Finnlands erfolgreichste Rockband aller Zeiten, meldeten sich 2013 mit dem achten Studioalbum "Tears On Tape" zurück, eroberten einmal mehr die internationalen Charts und begaben sich auf eine fast eineinhalbjährige Welttournee. Zuletzt veröffentlichte die Band um den begnadeten Sänger und Frontmann Ville Valo im November 2014 das aufwändige Vinyl-Box-Set "Lashes To Ashes, Lust To Dust: A Vinyl Retrospectice".
HIM werden sich nach der kommenden Tournee auflösen, um "ein Buch zu beenden, deren Kapitel alle geschrieben sind", wie die Band verlauten ließ. Zwischen dem 29. November und dem 8. Dezember gastieren sie in Hamburg, Berlin, Leipzig, München und Köln.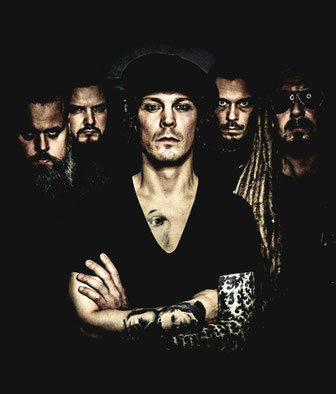 Seit fast zwei Jahrzehnten zählen HIM zu den weltweit erfolgreichsten Rock Acts Europas. Zur Speerspitze der skandinavischen Rockszene gehörend, erhielten als erste finnische Band eine goldene Schallplatte in den USA und konzipierten mit 'Love Metal' ein eigenes Genre. Dabei verbinden sie die Kraft und Progressivität des modernen Metal mit epischen Keyboard-Entwürfen, schwermütigen Gothic-Elementen sowie dem notwendigen Gespür für Eingängigkeit und Melodien, die eine brillante Zeitlosigkeit ausstrahlen. Aus diesem mutigen Grenzgang erwächst auch ihr atemberaubender internationaler Aufstieg. HIM vereinen Fans der unterschiedlichsten Szenen, die die dunkel-romantische Musik ebenso schätzen wie die aufwühlenden, meist hochemotionalen Texte ihres Frontmanns Ville Valo. Für ihre enge Verbindung zu ihren Fans erhielten HIM im Mai 2013 eine besondere Auszeichnung: den Golden God Award in der Kategorie 'Most Dedicated Fans'. Eine weitere besondere Ehrung folgte 2015, als die Band von der finnischen Post ihre eigene Briefmarke bekam.
Ville Valo gründete HIM – damals noch unter dem Namen His Infernal Majesty – 1991 gemeinsam mit Gitarrist Mikko Viljami Lindström, Bassist Mikko Heinrik Julius Paananen und Drummer Juhana Rantala. In den ersten Jahren formierte sich die Band einige Male um, seit 2000 war das Line-Up konstant und bestand aus Valo, Lindström, Paananen sowie Schlagzeuger Mika Kristian Karppinen und Keyboarder Jani Purttinen. Vom Fleck weg sprach sich in Finnland die Einzigartigkeit von HIM herum. Bereits das Debütalbum "Greatest Lovesongs Vol. 666" erreichte 1997 Platz 4 der finnischen Charts.
Mit dem Nachfolger "Razorblade Romance" stiegen HIM 1999 europaweit zur Rocksensation auf. Begleitet vom überragenden Song "Join Me", der zur erfolgreichsten Single aller Zeiten einer finnischen Band avancierte, dominierte das Album in vielen Ländern die Hitlisten. So unter anderem auch in Deutschland, wo es sich über 58 Wochen in der Top 100 hielt. Jedes weitere Album – "Deep Shadows And Brilliant Highlights" (2001), "Love Metal" (2003), "Dark Light" (2005), "Venus Doom" (2007) und "Screamworks: Love In Theory And Practice" (2010) – erreichte in zahllosen Ländern die Top 5. Elf ihrer Singles notierten in Deutschland unter der Top 30, in Finnland landeten 18 Singles in der Top 10, sieben davon auf der Spitzenposition.
Seit "Dark Light" hat das Quintett auch die USA endgültig erobert. Nicht zuletzt dank prominenter Fans wie Bam Margera oder Kelly Osbourne, die beide das Erkennungssymbol von HIM als Tätowierung tragen: das 'Heartagram', eine stilisierte Verbindung von einem Herz mit einem umgedrehten Pentagramm. Nach dem Label-Wechsel von Warner zu Universal lieferte die Band mit "Tears On Tape" 2013 den nächsten Chartstürmer: Dem Dark Rock Act gelang mit dem letzten Werk der Einstieg auf Platz 2 der Hitlisten in Deutschland und Finnland, in den USA landete es auf dem 15. Platz. Nach einer ausgedehnten Welttournee zogen sich die Mitglieder Ende 2014 zunächst zurück – der Anlass für Schlagzeuger Mika Karppinen, seinen Ausstieg bekanntzugeben. Mit dem neuem Drummer Jukka Kröger wird die Band nun die Legende von HIM zu Ende schreiben.
Live Nation Presents
HIM
29.11.2017 - D - Hamburg, Docks
01.12.2017 - D - Berlin, Columbiahalle
04.12.2017 - D - Leipzig, Haus Auensee
05.12.2017 - D - München, Tonhalle
08.12.2017 - D - Köln, Palladium
Pre-Sale Mo., 06.03.2017, 10:00 Uhr
Allgemeiner Vorverkaufsstart Mi., 08.03.2017, 10:00 Uhr
www.ticketmaster.de
Ticket Hotline: 01806 – 999 0000 (Mo-Fr 8-22 Uhr / Wochenende u. Feiertage 9-20 Uhr) (0,20 Euro/Anruf aus dem dt. Festnetz, max. 0,60 Euro/Anruf aus dem dt. Mobilfunknetz)
www.eventim.de
Ticket Hotline: 01806 – 57 00 00 (0,20 Euro/Anruf aus dem dt. Festnetz, max. 0,60 Euro/Anruf aus dem dt. Mobilfunknetz)
www.heartagram.com
www.facebook.com/theheartagram