- Legendäre US Metal Band unterschreibt weltweit bei Steamhammer/SPV -
- Neues Album erscheint Ende 2017 -
Steamhammer / SPV hat die legendäre US Metal Band THE RODS weltweit unter Vertrag genommen. Die Band, bestehend aus den Original-Mitgliedern David "Rock" Feinstein (guitar, vocals), Carl Canedy (drums) und Garry Bordonaro (bass), haben immer eine perfekte Mischung aus Metal und Hard Rock abgeliefert, ohne ihre Einflüsse aus den 70er Jahren zu leugnen.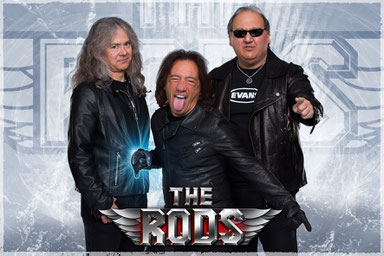 Drummer Carl Canedy sagt zum Signing: "The 3rd time's a charm!" After two unsuccessful attempts, to work with Olly Hahn and Steamhammer/SPV , it's finally happening. The Rods have signed a worldwide deal for their brand new album "Louder Than Loud". This album, in my opinion, has some of the strongest Rods material in years. The title says it all!"
Olly Hahn, A&R und International Product Manager bei Steamhammer/SPV, ist mehr als begeistert : "Ich erinnere mich noch gut daran, als ich 1982 eine Anzeige zum "Wild Dogs" Album in der Bravo (!!!) gesehen habe. Musste sofort das Album kaufen, alleine schon wegen des grossartigen Covers. Keine Ahnung was mich musikalisch erwarten würde, aber als ich die Platte gehört hatte, wurde ich umgeblasen. Jetzt 35 Jahre später hätte ich nie gedacht folgenden Satz sagen zu dürfen: Wir sind stolz und glücklich THE RODS in der großen Steamhammer Familie begrüßen zu dürfen!"
THE RODS sind ein Heavy Rock Trio aus Cortland (New York) und konnten besonders in den 80er Jahren durch fantastische Alben wie "The Rods", "Wild Dogs" und "In The Raw" mit ihrer kraftvollen und rauen Energie auf sich aufmerksam machen. Dadurch konnten sie auch mit den größten Metal Bands in den USA und Europa auf Tour gehen wie z.B. Judas Priest, Iron Maiden und Metallica, um nur einige zu nennen.
Das neue Album "Louder Than Loud" erscheint im Herbst 2017, gefolgt von etlichen Live Shows und Festivals......mehr Infos dazu in den kommenden Wochen.