Im Juni/Juli gehen die Modern Thrasher von Hopelezz auf exklusive "Sent To Destroy Sommer Tour" in 4 ausgewählten Städten.
Als Co-Headliner werden Fall Of Carthage (mit Mitgliedern von Suidakra & Perzonal War) am Start sein, sowie pro Show zwei lokale Bands.

Die Karten sind in allen offiziellen Vorverkaufsstellen zu kaufen, oder online auf Eventim:
http://bit.ly/2mXnWIn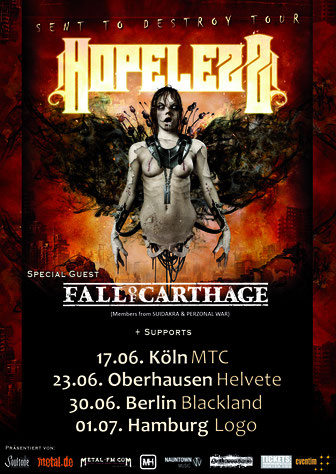 Tourdates:
17.06.2017 - D - Köln, MTC
23.06.2017 - D - Oberhausen, Helvete
30.06.2017 - D - Berlin, Blackland
01.07.2017 - D - Hamburg, Logo

Hopelezz geben exklusive Headliner Shows bekannt!
Die Modern Thrasher haben eine aufregende Zeit hinter sich.
Das im letzten Jahr veröffentlichte Album "Sent To Destroy" wurde von Presse und Fans gefeiert und die Band spielte sich im wahrsten Sinne des Wortes den Hintern ab.

Nach 2 Europa Tourneen (zusammen mit The Unguided und Six Feet Under), zahlreichen Supportshows (u.a. mit Havok, Mushroomhead und Flotsam&Jetsam) und vielen Festivalauftritten gehen Hopelezz nun exklusiv für 4 Headliner Shows in ausgewählten Städten auf Tour. "Mit diesen 4 Shows beenden wir den Tourzyklus für "Sent To Destroy" und lassen nochmal ordentlich die Sau raus. 110% Metal Pur. Eventuell werden wir auch schon neues Material spielen" so Sänger Adrian.

Als direkten Support werden Fall Of Carthage (mit Mitgliedern von Suidakra & Perzonal War) am Start sein, welche im Januar Ihr neues Album "The Longed-For Reckoning" veröffentlicht haben.

Links - Hopelezz:
Homepage: www.hopelezz.de
Facebook: www.facebook.com/hopelezzmetal
Musik: Video "Everything Beneath": https://youtu.be/8ix5E7nsKIo

Kurzbeschreibung HOPELEZZ:
Seit Ihrer Gründung im Jahr 20019 gehen die Wuppertaler Jungs Ihren Weg....und das ohne Rücksicht auf Verluste! Durch zahlreiche Europa Tourneen (mit Six Feet Under, Ektomorf und The Unguided) und vielen Supportshows (u.a. mit Lamb Of God, Sepultura, Soilwork, uvm.), konnte sich die Band einen hervorragenden Ruf als energiegeladene Live Band erspielen. 2 Alben und 2 EP´s stehen in der Diskographie, welche sowohl von Fans als auch von der Presse gefeiert wurden.

Links - Fall Of Carthage:
Homepage: www.fallofcarthage.com
Facebook: www.facebook.com/fallofcarthage
Musik: https://youtu.be/jwtTPIN_zwQ