Veröffentlichen Trailer!

Am 28. April veröffentlichen BETWEEN THE BURIED AND ME ihre neue DVD/Blu-ray 'Coma Ecliptic: Live' auf Metal Blade Records in Zusammenarbeit mit Good Fight Entertainment. Das Konzert, bei dem die Band ihr jüngstes Album 'Coma Ecliptic' ganz aufführte, wurde live am 4. Oktober 2016 im Observatory North Park in San Diego in Kalifornien aufgenommen.
Bassist Dan Briggs sagt dazu: "Beim Mitschneiden von 'Coma Ecliptic' ging es darum, die Show unseres Lichttechnikers Chris Hill für eine vollständige Aufführung des Albums auf Video zu verewigen. Das Album bedeutet uns ungeheuer viel, auch in Hinblick auf unsere Weiterentwicklung als Band, wobei die visuelle Umsetzung auch unserer eigenen turbulenten Geschichte widerspiegelt. Das ist eine perfekte Zusammenfassung der letzten beiden Jahre, während derer wir täglich mit dieser Scheibe lebten!"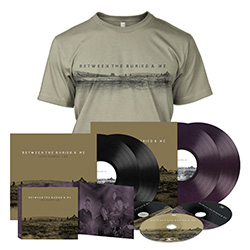 Um 'Coma Ecliptic: Live' vorzubestellen, besucht: metalblade.com/btbam - wo ihr auch einen Trailer für die DVD/Blu-ray sehen könnt. Folgende Formate sind erhältlich:
--CD/DVD/Blu-ray
--180g 2LP, schwarz
--Golden yellow marble 2LP (limitiert auf 300 Einheiten - EU-exklusiv)
--Ultra violet marble 2LP (limitiert auf 200 Einheiten - EU-exklusiv)
--Purple/black marble 2LP (limitiert auf 300 Einheiten - USA-exklusiv)
*exklusive Bundles mit Shirt plus digitale Optionen ebenfalls verfügbar!
Die "68-minütige Weltraumoper" (Rolling Stone), 'Coma Ecliptic' wurde im Juli 2015 veröffentlicht, stieg auf #1 der Hard Music Billboard Charts ein, auf #12 der Billboard Top 200 und auf #1 der iTunes Metal Charts, Vinyl Charts, Amazon Hard Rock Charts sowie Amazon Metal Charts. Zudem landete die Platte in den iTunes Rock Charts (#2), Canada Hard Music Charts (#3), UK Rock/Metal Charts (#4), UK Independent Charts (#10), Canada Top 200 Charts (#17), Canada Top 200 Digitalcharts (#22), Top 100 Deutschland (#53) und UK Album Charts (#74). Die kommende DVD/Blu-ray 'Coma Ecliptic: Live' wird die Fans sicherlich wieder begeistern, denn dadurch verleiht die Band dem bereits gefeierten Album eine sehenswerte visuelle Komponente. Regie führte Vince Edwards, den Schnitt übernahmen Blake Faucette und Justin Reich. 'Coma Ecliptic: Live's Audiopart wurde von Jamie King im Studio Basement Recording abgemischt, und Drummer Blake Richardson ließ sich von einer GoPro-Kamera beobachten.

BETWEEN THE BURIED AND ME sind:
Tommy Rogers - Vocals, Keyboards
Dan Briggs - Bass
Blake Richardson - Drums
Paul Waggoner - Gitarre
Dustie Waring - Gitarre

https://www.facebook.com/BTBAMofficial
https://twitter.com/btbamofficial
https://instagram.com/btbamofficial
https://www.youtube.com/user/BTBAMofficial