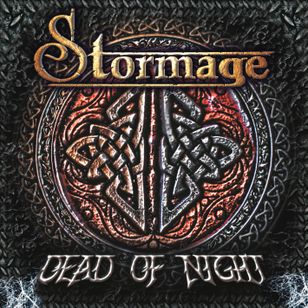 VÖ: 24.03.2017
Label: Massacre Records
Format: CD
Tracklist:
01. Instinct To Defend
02. Anguish Of Mind
03. Heretic Enemy
04. Prime Of Life
05. Faithless God
06. In The Line Of Fire
07. Drag You To Hell
08. Victims Eyes
09. The Deadly Blow
10. Borne The Agony
2017 wird DAS Jahr für gute Metal-Scheiben werden! Bei all den neuen Alben, die in der Redaktion so auflaufen, ist es mittlerweile schwierig geworden, Lieblingsalben auch als solche zu definieren.
STORMAGE bringen mit ihrem dritten Album "Dead Of Night" eine weitere Heavy Metal-Scheibe auf den Markt, die ihres Gleichen sucht. Auch hier gibt es die geballte Macht von Gitarren und Schlagzeug, auf die man sich in unserer Szene freut. Ebenfalls die Stimme von Fronter Heiko Heseler kann überzeugen und rundet das gesamte Album ab. Auf "Dead Of Night" bekommt man nicht nur klassischen Heavy Metal geboten, nein, hier kommen auch modernere Einflüsse zum Tragen und bringen einen frischen Wind in die Musik. Die Kollegen der Metal Hammer-Redaktion nannten es "Eine herzerfrischende Auslegung des modernen Heavy Metal, der in Deutschland seinesgleichen sucht". Kann man so stehen lassen.
Nachdem die Musiker sich auch bei anderen Projekten neue Erfahrungen und Einflüsse zu Eigen machten, wurde 2016 das nun vorliegende Werk geschaffen und kann sich wahrlich als ein weiteres Meisterwerk voller Energie und Emotionen nennen. Ich bin gespannt was hier als nächstes kommt. Bis dahin kann ich das Album wärmstens empfehlen. Ein angekündigts Konzert gibt es bereits! Am 08.04.2017 werden STORMAGE die Bühne im Plettenberger "Gasthaus zur Post" unsicher machen und die Zuschauer sicherlich mit einigen Songs des neuen Albums verwöhnen.
Aufgenommen, produziert, gemischt und gemastert wurde "Dead Of Night" in den Hardline Studios mit Assiszenz von Könner Sebastian "Seeb" Levermann, seines Zeichens Kopf der Senkrechtstarter Orden Ogan. Ein echter Qualitätsgarant, der ebenfalls mit Bands wie zum Beispiel Rhapsody Of Fire zusammen arbeitet. Das Coverartwork wurde von Mystic Art kreiert.
(Sarah Jacob)