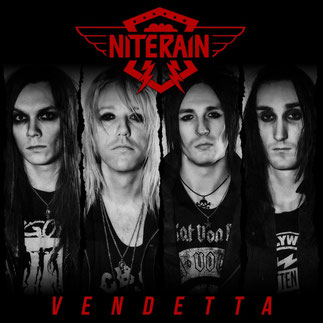 VÖ: 02.12.2016
Label: Live Management
Format: CD
Tracklist:
01. Lost and Wasted
02. Come out
03. The Threat
04. Rock n' Roll
05. Romeo
06. One More Time
07. Something Ain't Right
08. Don't Fade Away
09. # 1 Bad Boy
10. Electric
11. Vendetta
Insgeheim werden NITERAIN als die neuen Mötley Crüe gehandelt. Grundsätzlich kann man da erstmal zustimmen. Mit einem frischen Wind in der Hardrock-Musikwelt kommen die sympatischen Norweger mit ihrem zweiten Release "Vendetta" um die Ecke. Bereits das Debüt "Crossfire" aus dem Jahr 2013 fand bei der Presse und den Fans großen Anklang. Innerhalb von drei Jahren spielte die Band über 200 Konzerte in Europa und den USA - hier sogar beim Rocklahoma vor 50.000 Zuschauern. In Norwegen gab es den Preis für die "Beste Konzerterfahrung" im "Gaffa" Magazin.
Nun war die Band fleißig auf Tour unterwegs und fand hier auch Zeit für das Songswriting zum neuen Album "Vendetta". Dabei wollte man nochmal eine Schippe oben drauf packen und noch mehr Energie und Wucht in die Scheibe stecken, als es beim Vorgänger schon der Fall war. So geschehen fliegen einem die Tracks von Anfang bis Ende um die Ohren und es fällt schwer, still sitzen zu bleiben. Schnell merkt man auch starke Einflüsse von den alten Skid Row scheiben mit Sebastian Bach. Die Band hat sich dem Oldschool Rock verschrieben und bringt diese Musik in modernerem Soundgewand unter die Leute, sodass auch "Neufans" auf den Geschmack der guten, alten Klänge kommen.
Ob musikalisch oder gesanglich, NITERAIN überzeugen auf voller Linie und ziehen den Hörer in den Bann von "Vendetta". Die knapp 40 minütige Spielzeit verlangt auf jeden Fall nach mehr und ich gehe davon aus, dass uns NITERAIN nach einer ausgiebigen Vendetta-Tour mit einer weiteren Scheibe erfreuen werden. Wann und wo es die Band wieder live zu sehen gibt, ist in den Tourdaten zu finden.
(Sarah Jacob)