Heute haben WITHIN THE RUINS ihr heißersehntes fünftes Studioalbum "Halfway Human". Zusammen mit dem von der Kritik gelobten Album erschien auch ein neues Video zu der letzten Single "Objective Reality". Das Video, bei welchem Justin Reich Regie führt, feierte exklusive Premiere auf Loudwire am 02.03.17.
"We're really proud of this video" sagt Gitarrist Joe Cocchi und fügt an "Justin did a really good job and was terrific to work with, enjoy!"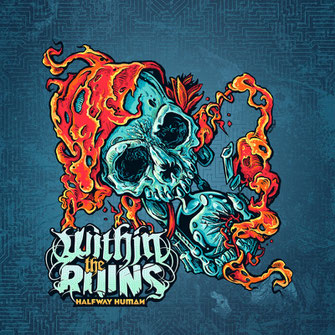 WITHIN THE RUINS verschieben (mal wieder) die Genredefinitionen und zeigen, dass es keine Grenzen in der Kunst gibt. Die Band bewies bereits auf ihren vorigen Veröffentlichungen (Creature, 2009; Invade, 2010; Elite, 2013; Phenomena, 2014), dass Sie sich außerhalb der gesteckten Grenzen bewegt und kreierte in all den Jahren einen progressiven Metalsound, der absolut einzigartig ist.
Halfway Human ist der neueste Streich aus dem Hause WITHIN THE RUINS und ein Schlag gegen Konformität und Selbstgefälligkeit. Tim Goergen (Gesang) und Paolo Galang (Bass und Cleangesang), ebenso wie die beiden Originalmitglieder Joe Cocchi (Gitarre) und Kevin McGuill (Schlagzeug), schlagen jeden Zweifel beiseite und verlassen sich diesmal voll auf ihre kreativen Impulse. WITHIN THE RUINS klingen roh, erholt und wütend, gespickt mit einer Prise Sarkasmus. Nach den direkt aufeinanderfolgenden Alben "Elite" (2013) und "Phenomena" (2014), nahm sich die Band Zeit um alte Gewohnheiten über Bord zu werfen, ohne ihr eigenes Vermächtnis zu entstellen. Der neue Sound auf Halfway Human ist insbesondere im Songwriting spürbar, indem man durch die Shouts von Tim Goergen im Wechselspiel mit den Cleans von Bassist Paolo Galang eine weitere Ebene hinzufügte. Die gesamte Produktion wurde diesmal weniger klinisch angegangen und sollte von Beginn an organischer klingen. Dadurch entfaltet sich auf Halfway Human eine andere und wahrnehmbarere Energie, ohne dabei verfälscht zu klingen. Man hat es vom ersten bis zum letzten Ton noch immer mit WITHIN THE RUINS zu tun.
Line Up:
Tim Goergen - Vocals
Joe Cocchi - Guitars
Paolo Galang - Bass
Kevin McGuill - Drums