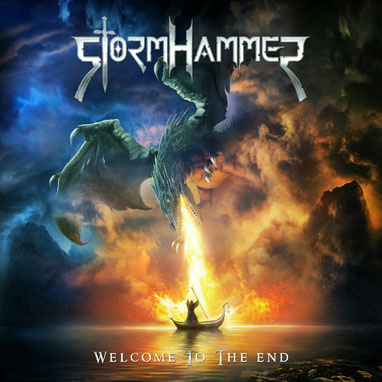 VÖ: 24.03.2017
Label: Massacre Records
Format: CD
Tracklist:
01. The Beginning Of The End 
02. Northman 
03. Welcome To The End 
04. The Heritage 
05. Secret 
06. The Law 
07. Watchmen 
08. Road To Heaven 
09. My Dark Side 
10. Into The Night 
11. Spirit Of The Night 
12. Soul Temptation 
13. The Awakening 
14. Black Dragon
SCHEI**E, IST DAS GEIL!!!
Damit wäre ich dann eigentlich schon fertig, wenn es um einen passenden Kommentar zur neuen und schon sechsten STORMHAMMER-Scheibe geht. Aber wie das so ist, muss diese Aussage natürlich noch begründet werden.
Seit der Gründung im Jahr 1993 und fünf weltweit veröffentlichter Alben und Tourneen mit u. a. Blind Guardian, Grave Digger und weiteren Supportslots, hat sich die Band stetig weiterentwickelt und an der eigenen Musik gefeilt.
"Welcome To The End" ist von Anfang bis Ende ein ziemliches "auf die Fresse"-Werk geworden. Härter und bestimmter als die Vorgängeralben kommt es mit einem ziemlich starken, thrashigen Einschlag daher und knallt sofort durch die Boxen, dass das Trommelfell platzt. Trotz dieser Neuerung sind STORMHAMMER aber auch wiedererkennbar. Ob durch die Stimme von Sänger Jürgen Dachl, oder die sonstigen Bestandteile der Musik, geht hier nicht die Power verloren, die man schon gewohnt ist. Hier sind neben starken Drumms und Gitarren auch wieder saubere und kraftvolle Vocals am Start, die zu "The Heritage" von Gastsängerin Natalie Pereira Dos Santos unterstützt werden. Eine sehr schöne Stimmharmonie, die ich mir sehr gut häufiger vorstellen kann. Mit "Welcome To The End" ist die Band auf einem neuen Level angekommen und konnte sich vorallem qualitativ zu den Vorgängern steigern.
Auf diesem Werk baut ein Song auf den anderen auf und entführt den Hörer in seine eigene Welt. Es gibt nichts, aber auch gar nichts, was man hier hätte anders oder besser machen können. Chapeau!
Ein feines Scheibchen, dass man so schnell nicht mehr aus der Hand legen möchte. Auf jedenfall kaufenswert!! Und wenn ihr schon mal dabei seid, könnt ihr auch gleich noch das ein oder andere Shirt mit abgreifen. ;o)
Aufgenommen wurde das Werk in der Heimat im Münchener SH Studio. Das Mixing stammt erneut von Mario Lochert und das Mastering blieb ebenfalls in den bekannten Händen von Jan Vacik, der schon für Serious Black oder Schwarzer Engel an den Reglern saß. Das wieder einmal sehr schöne Cover-Artwork stammt von niemand geringerem als Jan Yrlund (darkgrove.net) der auch schon für Apocalyptiva, Manowar Korpiklaani, Stratovarius und einige andere aktiv war.
(Sarah Jacob)