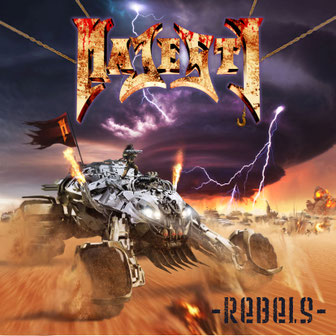 VÖ: 03.04.2017
Label: NoiseArt Records
Format: CD
Tracklist:
01. Path To Freedom
02. Die Like Kings
03. Rebels Of Our Time
04. YOLO HM
05. The Final War
06. Across The Lightning
07. Fireheart
08. Iron Hill
09. Heroes In The Night
10. Running For Salvation
11. Fighting Till The End
Ein neues, episches Meisterwerk aus dem Hause MAJESTY!
Diese Band gehört ja schon seit einer ganzen Weile mit in den Metal-Olymp. Seit im Jahr 2000 das legendäre "Keep It True" erschien, konnten die sympatischen Schwermetaller mit jedem weiteren Release punkten und sich tief in den Herzen der Fans verwurzeln. Als im Jahre 2003 auch noch das von Sänger Tarek selbst ins Leben gerufene "Keep It True" Festival auf den Sommerreiseplänen erschien, wusste man sofort, die Band wird so schnell nicht wieder klein zu kriegen sein.
Wer sich dem letzten Release "Generation Steel" noch tief verbunden fühl und das Album abfeiert, der wird vom neuen "Rebels" auf keinen Fall enttäuscht sein! Dieses Release überzeugt mit noch weitaus mehr Power und Energie als alle Vorgänger zusammen und kommt mit epischen Hymnen und fetten Refrains daher. Auch bei den Balladen kann die Band wieder voll punkten. Diese Scheibe wird unter Kennern bereits als MAJESTY 2.0 gehandelt. Es ist von Anfang bis Ende eine sehr positive Weiterentwicklung der Band und deren musikalischen Können erkennbar. So hat sich auch der jüngste Neuzugang Emanuel Knorr (2015) gut in das gesamte Team einfinden können und vielleicht ist es auch diesem frischen Wind zu verdanken, dass "Rebels" so ein geiles Teil geworden ist. Und wer beim Titel "YOLO HM" erstmal denkt "WTF, ALTA??", dem sei gesagt: ja, auch bei MAJESTY geht man mit der Zeit und der Track ist wirklich stark geworden.
Wer hier die Boxen nicht bis zum Anschlag aufdreht und seine Nachbarn an diesem Silberling teilhaben lässt, ist selber Schuld und alle, die sich diese Scheibe das erste Mal reinziehen, werden schnell feststellen, dass sie auf Dauerschleife in der Anlage rotieren wird!
Das Werk gibt es natürlich auch live zu bestaunen. Alle Dates findet ihr natürlich hier!
Aufgenommen wurde Rebels übrigens im bandeignene Studio und Frederik Nordström hat das Mixing und Mastering im Studio Fredman vorgenommen.
(Sarah Jacob)