Wie angekündigt arbeiten ENSIFERUM seit kurzem im Astia Studio in Lappeenranta in Finnland an ihrem siebten Album, das wieder von Anssi Kippo (Children Of Bodom, Impaled Nazarene, Entwine etc.) produziert wird. Die Scheibe erscheint im September 2017 via Metal Blade Records. Das Quintett setzt uns nun direkt aus dem Studio auf den neusten Stand der Dinge.
Sami Hinkka (Bass): "Hi, Folks! Seid gegrüßt!
Wir wollen, dass dieses Album besonders live klingt und den bestmöglichen Sound erhält, um uns auf ein ganz neues Niveau zu hieven. Darum haben wir alle Songs gemeinsam beim Aufnehmen der Drums gezockt. Die meisten Basslinien stammen auch von diesen Mittschnitten, um den maximalen Groove zu garantieren. Einige Songs haben wir ohne Click eingespielt, also macht euch auf rockigen Stoff gefasst, Leute!
Da Anssi Kippo so ein Studiozauberer ist, hat er sein kultiges Otari MTR-90mk2 2" 24-Spur Bandgerät (bekannt etwa aus dem Video zu Metallicas 'Nothing Else Matters') an seinen Computer angeschlossen, also werden wir Drums, Bass, Rhythmusgitarren und Leadvocals auf Tape mitschneiden. Alles weitere, was nicht mehr aufs Band passt, nehmen wir mit dem Rechner auf. Auch den Mix erledigen wir analog, um sicherzugehen, dass die Scheibe rau, druckvoll und möglichst natürlich klingt.
Die zweite Woche ist fast vorbei, und alles läuft genau nach Plan: Drums, Basslinien und die Hälfte der Rhythmusklampfen sind im Kasten.
Wir fahren jetzt zwölfstündige Schichten, weshalb wir leider keine Zeit für Albernheiten wie das "Bier der Woche" oder Videotagebücher haben, doch das wird nachgeholt, wenn die Platte fertig ist und wir wieder auf Tour gehen. ;)
Haltet euch bereit für mehr News! Cheers!"

Vor der Veröffentlichung des Albums spielen ENSIFERUM mehrere Festivalshow diesen Sommer. Hier die Termine, weitere kommen demnächst hinzu!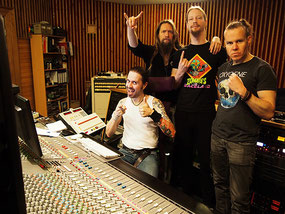 ENSIFERUM live:
07.04.2017 - D - Dettelbach, Metal Franconia Festival
08.04.2017 - B - Durbuy, Durbuy Rock Festival
03.06.2017 - CZ - Plzen, Metal Open Air Plzen
24.06.2017 - CAN - Montebello, Montebello festival
30.06.2017 - E - Barcelona, Rockfest Barcelona
01.07.2017 - D - Brande-Hörnekirchen, Hoernerfest
02.07.2017 - I - Mailand, Battlefield festival
13.07.2017 - D - Neukirchen-Vlyn, Dong Open Air
17.08.2017 - D - Dinkelsbühl, Summerbreeze festival

ENSIFERUM halten die Flagge des epischen, Folk-beeinflussten Death Metal eit zwei Jahrzehnten hoch. One Man Army (2015) ist ihr "sauberstes Album bisher", wie der Metal Hammer meint, und die Band selbst "eine der besten im Folk Metal " (Loudwire.com) bzw. "kriegerisch und feurig" (MetalSucks.net): Hörproben und Kaufmöglichkeiten findet ihr hier: metalblade.com/ensiferum

http://www.facebook.com/Ensiferum
http://www.ensiferum.com
http://www.metalblade.com/ensiferum

---
ENSIFERUM beginnen Arbeiten an ihrem siebten Album
ENSIFERUM fielen kürzlich im Astia Studio im finnischen Lappeenranta ein, wo sie ein paar Demos für ihr kommendes, siebtes Album aufnahmen, das im September 2017 via Metal Blade Records erscheinen wird. Das Quintett kehrt bald wieder ins Astia zurück, um das Album aufzunehmen, und zwar erneut gemeinsam mit Anssi Kippo (Children Of Bodom, Impaled Nazarene, Entwine etc.).

Sami Hinkka (Bass) sagt dazu: "Hi Leute! Wie ihr schon auf unseren Social-Media-Seiten gesehen habt, sind wir bereit, das nächste Album von Ensiferum in Angriff zu nehmen. Erst vor ein paar Wochen spielten wir Demos mit Anssi Kippo ein, der bereits 'One Man Army' aufgenommen und produziert hat. Diese Session verlief reibungslos, und mit ihm zu arbeiten ist immer ein Vergnügen, weil er so kreativ und positiv ist. Unser Ziel besteht für die kommende Scheibe darin, unser Live-Feeling einzufangen, und außerdem planen wir, so viel wie möglich analog aufzunehmen, um den bestmöglichen Sound zu bekommen.
Das Songmaterial umfasst vertraute Elemente, aber wie immer werden wir unser mächtiges Kriegsschiff auch in unbekannte Gewässer des musikalischen Wahnsinns steuern. Mehr dazu in Kürze."

Vor der Veröffentlichung sagen ENSIFERUM noch an mehreren Stellen in Europa hallo. Verschiedene Festivals stehen an, und demnächst geben sie weitere Tourdaten bekannt!
ENSIFERUM live:
31.03.2017 - A - Tröpolach, Full Metal Mountain
01.04.2017 - F - Colmar, Rock In Hell
07.04.2017 - D - Dettelbach, Metal Franconia Festival
08.04.2017 - B - Durbuy, Durbuy Rock Festival
03.06.2017 - CZ - Plzen, Metal Open Air
30.06.2017 - E - Barcelona, Rockfest Barcelona
1.07.2017 - D - Brande-Hörnerhirchen, Hoernerfest
13.07.2017 - D - Neukirchen-Vlyn, Dong Open Air

ENSIFERUM halten die Flagge des epischen, vom Folk durchsetzen Death Metal seit zwei Jahrzehnten hoch. Ihr letztes Album 'One Man Army' (2015) ist "ihr geschliffenstes bislang" (Metal Hammer), die Band "eine der besten im Folk Metal" (Loudwire.com) und "kriegerisch wie feurig" (MetalSucks.net). Kaufen und probehören könnt ihr die Scheibe weiterhin auf: metalblade.com/ensiferum

http://www.facebook.com/Ensiferum
http://www.ensiferum.com
http://www.metalblade.com/ensiferum