2017 markiert das 25. Jahr nach Erscheinen des original Releases des viel umjubelten Albums "The Crimson Idol" von W.A.S.P.
Weltweit als das Wahrzeichen der Band anerkannt, werden W.A.S.P. dem Release dieses historischen Albums gedenken, indem sie es in seiner Gesamtheit spielen: "Re-Idolized: the 25th anniversary of The Crimson Idol" World Tour.
Die Tour wird das komplette Album beinhalten, sowie die 3 fehlenden Songs, die ursprünglich ebenfalls ein Teil dieser Aufnahmen waren. Die Show wird in zwei Teilen durchgeführt, mit dem ersten "The Crimson Idol", und Teil zwei ist eine Sammlung an Greatest Hits.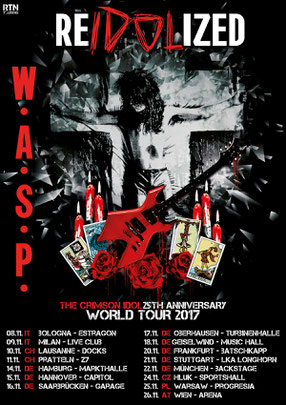 08.11.2017 - I - Bologna, Estragon
09.11.2017 - I - Milan, Live Club
10.11.2017 - CH - Lausanne, Docks
11.11.2017 - CH - Pratteln, Z7
14.11.2017 - D - Hamburg, Markthalle
15.11.2017 - D - Hannover, Capitol
16.11.2017 - D - Saarbrücken, Garage
17.11.2017 - D - Oberhausen, Turbinenhalle
18.11.2017 - D - Geiselwind, Music Hall
20.11.2017 - D - Frankfurt, Batschkapp
21.11.2017 - D - Stuttgart, LKA Longhorn
22.11.2017 - D - München, Backstage
24.11.2017 - CZ - Hluk, Sportshall
25.11.2017 - PL - Warsaw, Progresja
26.11.2017 - A - Wien, Arena
W.A.S.P. online:
www.facebook.com/W.A.S.P.Nation/
www.waspnation.com/
www.twitter.com/WASPOfficial