**'LIVE AND LOUDER' KOMMT AM 19. MAI ALS CD/DVD/DOPPEL-LP/BOX-SET ÜBER SPITFIRE MUSIC/SPV***
'Live And Louder', das langersehnte Live-Album von The Dead Daisies, erscheint am 19. Mai 2017 über Spitfire Music/SPV. Es fängt die schweißtriefenden, mitreißenden Shows ein, die die Band auf dem Höhepunkt eines unglaublichen Jahres 2016 gespielt hat.
Beginnend mit der Veröffentlichung ihrer ersten Single 'Long Way To Go', die pünktlich vor dem europäischen Festivalsommer im Juni auf den Markt kam, gelingt der Band ein Hit nach dem anderen. So läutet die zweite Single 'Join Together' die Veröffentlichung des dritten Studioalbums 'Make Some Noise' ein. Kurz darauf begleiten The Dead Daisies die großen KISS auf ihrer US-Tour und spielen zum Abschluss selbst eine ausverkauften Headline-Show im legendären Whisky A Go-Go in Los Angeles.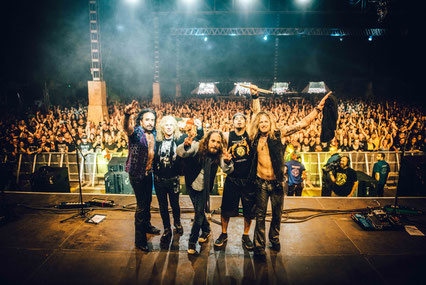 Wenig später erscheint 'Song And A Prayer' zusammen mit einem Kurzfilm veröffentlicht. Dies verschafft der Band erneut hohe Aufmerksamkeit und begleitet die finale Tourphase des Jahres, welche The Dead Daisies zunächst zum ersten Mal nach Japan führt. Dort avanciert die Band aus dem Stand zum Publikums- und Medienliebling, als sie auf dem weltbekannten 'Loud Park'-Festival einen regelrechten Sturm entfacht. Es folgen einige Konzerte für die USO in Korea sowie eine groß angelegte Co-Headline-Tour durch Europa mit Shows in mehr als 30 ausverkauften Venues.
Die "Daisies", wie die Band von ihren Fans liebevoll genannt wird, erweisen sich allerorts dank ihrer ungezügelten Energie, ihrer hervorragenden handwerklichen Fähigkeiten und ihrer ungetrübte Spielfreude schnell zu einer allseits beliebten Live-Band. Bei jeder Autogrammstunde und in den Social-Media-Kanälen fällt deshalb stets die gleiche Frage: "Wann veröffentlicht ihr ein Live-Album?" Kurz: Die Leute bekommen einfach nicht genug von den Daisies.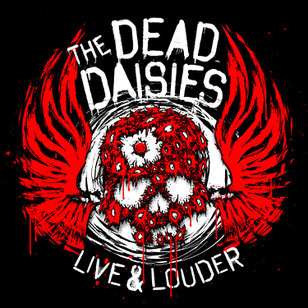 Um die gute Gelegenheit nicht verstreichen zu lassen, nimmt die Band einige ihrer UK/Europa-Shows auf. Die Platte wird gemischt von Anthony Focx (Aerosmith, Bad Company, Metallica, Santana) und gemastert von Howie Weinberg. Gemeinsam erschaffen sie ein wahres Monster, das den Geist der Live-Alben der Siebziger atmet. Man fühlt den Schweiß von der Decke tropfen, spürt die Energie des schreienden Publikums und die der Band, während der schnöde Alltag für eine Nacht voller Rock'n'Roll in den Hintergrund rückt. 'Live And Louder' ist das Zeugnis einer Band auf ihrem Höhepunkt, ein kostbares Stück emotionaler Energie, ein In-your-face-Angriff auf die Sinne. Einfach gesagt: Die atemberaubenden The Dead Daisies in ihrer natürlichen Umgebung.
Sänger John Corabi kommentiert: "Wir sind sehr aufgeregt und stolz auf unser neues Album 'Live And Louder'! Viele unserer Fans haben uns geschrieben, wie sehr sie unsere Alben lieben, aber dass wir sie live noch viel stärker umgehauen hätten! Die Mitschnitte dokumentieren unsere letzte UK/Europa-Tour und zeigen auch, wie unglaublich laut und unterstützend unsere Fans sind! Vielen Dank – und dreht die Platte auf!"
'Live & Louder' wird in verschiedenen coolen Formaten veröffentlicht. Auch hier hörte die Band vor allem auf ihre Fans: Es wird ein Limited Edition Box-Set geben, dazu eine spektakuläre Vinyl-Edition samt einer exklusiven 7"-Single, für die im November 2016 der exklusive Fan-Only-Gigs für Planet Rock Radio in London mitgeschnitten wurde.
Video-Teaser: https://youtu.be/wzA51aA5XpQ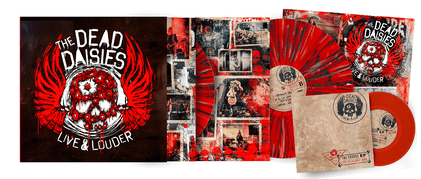 'Live And Louder'-Formate:
• DIGIPAK:
enthält CD, DVD & ein umfangreiches Fotobooklet. Die DVD bietet eine exklusive 'Live And Louder'-Dokumentation, eine umfassende 'Make Some Noise World Tour'-Dokumentation, alle 'Make Some Noise'-Musikvideos sowie eine Bildergalerie.
• VINYL:
mehrfarbiges 180g Doppelvinyl mit Gatefold, Printeinleger, 4-seitigem Booklet und CD in einer Kartonstecktasche
• LIMITED EDITION BOX-SET:
enthält das Digipak mit CD & DVD, 180g Doppelvinyl, eine exklusive farbige 7"-Vinylsingle, Poster, Sticker, Button, Patch und eine Fotokarte
• DIGITAL DOWNLOAD & STREAM