- Neues Album "Darkness Remains" am 21. April 2017 -
- Digitale Single und Video für "Welcome To The Night" am 03. März 2017 und "Hallowed Ground" am 07. April 2017 -
Der erste Meilenstein in der Karriere von dem amerikanischen Heavy Metal Trio Night Demon war die Veröffentlichung ihres Debütalbums im Januar 2015 über Steamhammer/SPV. Unter dem Titel Curse Of The Damned präsentierten die Musiker jenen typisch eigenständigen Sound, der sie bereits auf der EP Night Demon ausgezeichnet hatte. Bei den treuen Heavy Metal-Fans sorgte die Scheibe für geradezu fanatische Hingabe.
Jetzt befinden sich Night Demon, bestehend aus Jarvis Leatherby (Gesang/Bass), Armand John Anthony (Gitarre) und Dusty Squires (Schlagzeug), unmittelbar vor dem größten Album/Tournee-Abenteuer ihrer bisherigen Karriere. Der zweite Longplayer der Band, ein fabelhaftes Werk namens Darkness Remains, steht unmittelbar vor seiner weltweiten Veröffentlichung. Eingeleitet durch die Vorabsingles inklusive Videoclips ´Welcome To The Night` (03.03.2017) und ´Hallowed Ground` (07.04.2017) zeigt Darkness Remains die Band so, wie es die Fans gehofft haben: inspiriert von der Energie des NWOBHM, aber ebenso mit eigenständigem und unverwechselbarem Songwriting, das mittlerweile in einen noch individuelleren Sound und in schärfere Konturen mündet und gleichzeitig keinem Risiko aus dem Weg geht. Darkness Remains weist eine raue, kraftvolle, facettenreiche und klare Produktion aus, mit der die Songs perfekt in Szene gesetzt werden und die den Standard vorgibt, wie ein traditionelles Metal-Album im Jahre 2017 klingen sollte.
"Darkness Remains" erscheint am 21. April 2017 europaweit über SPV/Steamhammer als CD Digipack, LP Version in dunklelgrünem Vinyl, Download (mit Bonus Tracks) und Stream.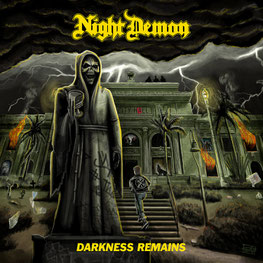 Tracklisting:
01. Welcome To The Night 3:51
02. Hallowed Ground 3:53
03. Maiden Hell 2:43
04. Stranger In The Room 4:09
05. Life On The Run 3:34
06. Dawn Rider 3:22
07. Black Widow 3:26
08. On Your Own 3:27
09. Flight Of The Manticore (Instrumental) 4:06
10. Darkness Remains 5:31
11. We Will Rock You (Queen Cover Version) 2:58
12. Turn Up The Night (Black Sabbath Cover Version) 3:24*
* Digitaler Bonus Track
Live 2017:
21.04.2017 - D - Oberhausen, Helvete (mit Angel Witch)
28.-29.04.2017 - D - Lauda/Königshofen, Keep It True Festival
30.04.2017 - D - Leipzig, Hellraiser
03.05.2017 - CH - Aarau, Kiff
11.05.2017 - D - Karlsruhe, Alte Hackerei
13.05.2017 - D - Oberndorf am Lech, Metalheadz Open Air
14.05.2017 - CH - Chur, Pallazo Beat Club
16.05.2017 - D - München, Backstage
17.05.2017 - A - Wien, Escape Metal Corner
19.05.2017 - D - Etzenrot, Soundcheck One
20.05.2017 - D - A-Dornbirn, Schlachthaus
03.06.2017 - D - Berlin, Cortina
04.-06.2017 - D - Gelsenkirchen, Rock Hard Festival
27.07.2017 - D - Brande/Hörnerkirchen, Headbanger's Open Air
10.-12.08.2017 - D - Schlotheim, PartySan Open Air
- weitere Daten werden noch bestätigt -
https://www.facebook.com/nightdemonband/