Die DIRTY WHITE BOYZ gründeten sich erst im Jahr 2016 als der Ex Melodic Rocker Tony Mitchell – Frontmann und Gitarrist von "Kiss Of The Gipsy" – ein weiteres Solo-Album veröffentlichen wollte, aber stattdessen Bekanntschaft machte mit Neil Ogden, Paul Hume der Hardrock-Bands "Demon" und "Lawless", Nigel Bailey von Classic Rock Bands wie "Bailey", "3 Lions" und "Lifeline" und Jamie Crees von "Lawless". Damit ist die Supergroup des AOR/Classic- und Melodic Rock perfekt und das Debütalbum "Down And Dirty" mit hymnischen Songs steht nun kurz bevor.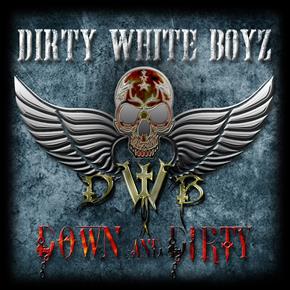 Tony Mitchells ursprünglicher Plan, alle Songs selbst einzuspielen und zu singen und das mittlerweile fünfte Solo-Album auch selbst zu veröffentlichen, wurde verworfen. Die neuen Bandmitglieder ließen ihren individuellen Style in die Songs einfließen und so entstand etwas ganz Besonderes… DIRTY WHITE BOYZ wurden geboren. Tony Mitchell und Paul Hume produzierten das Debüt, welches im Bank Studio in UK entstand, selbst.
Die Band vereint alle Elemente der Historien der einzelnen Mitglieder: Mitchells raue Rock-Vocals und seine gewaltigen Girarren-Riffs, Ogdens Donnerschlag am Schlagzeug, Humes lupenreines Leadgitarren-Spiel, Crees Powerriffs an der Rhythmusgitarre und Baileys mächtige Bass-Sounds. Das Ergebnis des Quintetts kann sich hören und sehen lassen. Es scheint wie von selbst zu laufen und jeder Einzelne harmoniert perfekt in der Gruppe. "Down And Dirty" trifft den Hörer nicht nur wie ein bretternder Güterzug, sondern hinterlässt diesen atemlos mit einer besonderen Mischung aus Melodic-Perlen, Rock-Hymnen und Powerballaden. Schon jetzt steht fest, die Songs werden zur Abrissbirne eines jeden Venues werden und die Fans zu einer emotionalen Achterbahnfahrt mitreißen.