Das US-Power-Trio PRONG kündigt 2017er "Zero Days" Europa-Sommer-Tourdaten an. Mit dabei einige der besten Festivals und eine Anzahl eigener Headline-Shows! 
Neues Studioalbum "ZERO DAYS" im Sommer 2017 über Steamhammer/SPV!
PRONG-Gründer Tommy Victor: "Europa ist ein spezieller Platz für PRONG und 2017 scheint ein weiteres Tour-Jahr für die Geschichtsbücher zu werden! Viele coole Festivals und super Clubs auf dem Tourplan und wir bringen sogar schon wieder neue Musik mit! Wir freuen uns total!"

PRONG kündigen weiterhin die Veröffentlichung ihres neuen Studioalbums "ZERO DAYS" für den Sommer 2017 via Steamhammer/SPV an. Mehr Details dazu folgen in den nächsten Wochen.
PRONG verbrachten den Oktober und November 2016 in Europa mit Obituary, Exodus und King Parrot als Teil der "Battle Of The Bays"-Tour. Im April/May 2017 werden sie mit Testament und Sepultura die USA beackern. Die Welttour zum letzten Album "X – No Absolutes" zählt zu dem umfangreichsten und erfolgreichsten in der langen Karriere der Band.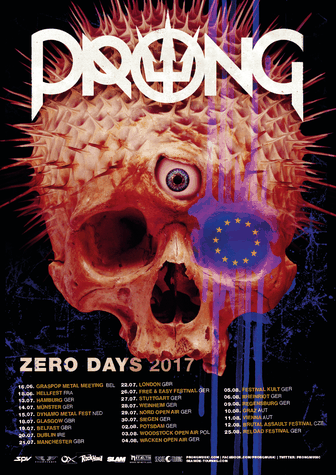 "Zero Days - Tour 2017"
Präsentiert von: Rock Hard Magazine, Slam Magazine, Ox Fanzine
13.07.2017 - D - Hamburg, Hafenklang
14.07.2017 - D - Münster, Sputnikhalle
26.07.2017 - D - München, Free&Easy Festival
27.07.2017 - D - Stuttgart, Keller Klub
28.07.2017 - D - Weinheim, Cafe Central
29.07.2017 - D - Essen, Nord Open Air
30.07.2017 - D - Siegen, Vortex
02.08.2017 - D - Potsdam, Waschhaus
04.08.2017 - D - Wacken, Wacken Open Air
05.08.2017 - D - Veltheim, Festival Kult
06.08.2017 - D - Köln, Rheinriot
09.08.2017 - D - Regensburg, Eventhall Airport
10.08.2017 - A - Graz, Explosiv
11.08.2017 - A - Wien, Viper Room
25.08.2017 - D - Sulingen, ReLoad Festival
Outline Magazine UK schrieb über eine der letzten Europashows: "Vom ersten Moment an ist es klar, warum PRONG so einen Eindruck in der Musikszene hinterlassen haben. Sie haben einen Sound, der viel grösser ist, als die Summe der drei Musiker auf der Bühne und sie wissen, wie man ihn einsetzt. Es ist, als ob jemand Metal zu einer Waffe umgebaut hat und das Publikum als Zielscheibe benutzt wird. Beindruckend und wirklich, wirklich gut!"
Das aktuelle PRONG Album "X-No Absolutes" erschien im letzten Jahr über SPV/Steamhammer als Digipak (incl. Bonus Track + Sticker), Doppel LP Gatefold (rotes Vinyl, CD im Paper Sleeve) und als Download und Stream veröffentlicht. Das Album chartete in den offiziellen Albumcharts in Deutschland, den USA, Belgien und in England.
PRONG haben zum Song "In Spite of Hindrances" ein neues Lyrik Video veröffentlicht:
https://www.youtube.com/watch?v=VkZNftcIYrw