Die Hardcore-Giganten HATEBREED aus Connecticut haben ihre erste Europa-Tour zum aktuellen Album »The Concrete Confessional« angekündigt. Siehe alle Daten unten.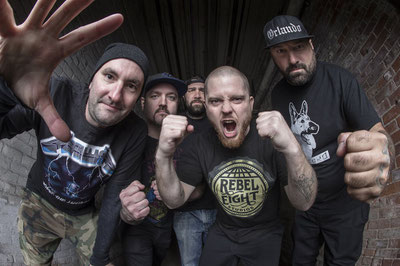 Sänger Jamey Jasta kommentiert: "Finally we are coming to Europe to headline in support of »The Concrete Confessional«! It's going to be great to hit the road with our friends in Dying Fetus on the 1st leg of the tour! See you in the pit!"

»The Concrete Confessional« stieg bei seiner Veröffentlichung 2016 weltweit in die Charts ein und ist nun auch als Limited Edition Picture Disc erhältlich. Siehe oben. Die Pic Disc wird in Kürze auf www.nuclearblast.de bestellbar sein.
Mehr zu »The Concrete Confessional«
'Looking Down The Barrel Of Today' music video: https://youtu.be/eGOr91Wx4DM
'Something's Off' music video: https://youtu.be/N63Zc5XS-rw
'Seven Enemies' lyric video: https://youtu.be/q17D-mGxOFc
'A.D.' visualizer: https://youtu.be/2zYy9S3y5w4
'A.D.' lyric video: https://youtu.be/5jJs-oA-BvY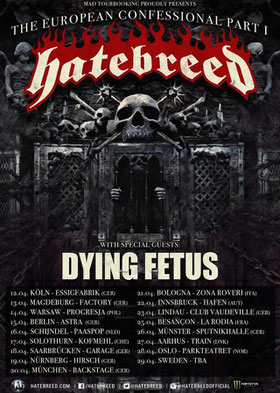 HATEBREED
+ DYING FEUTS
12.04.2017 - D - Köln, Essigfabrik
13.04.2017 - D - Magdeburg, Factory
14.04.2017 - PL - Warsaw, Progresja
15.04.2017 - D - Berlin, Astra
16.04.2017 - NL - Schijndel, Paaspop
17.04.2017 - CH - Solothurn, Kulturfabrik Kofmehl
18.04.2017 - D - Saarbrücken, Garage
19.04.2017 - D - Nürnberg, Hirsch
20.04.2017 - D - München, Backstage
21.04.2017 - I - Bologna, Zona Roveri
22.04.2017 - A - Innsbruck, Hafen
23.04.2017 - D - Lindau, Vaudeville
25.04.2017 - F - Besancon, La Rodiax
26.04.2017 - D - Münster, Sputnikhalle
27.04.2017 - DK - Aarhus, Train
28.04.2017 - N - Oslo, Parkteatret
29.04.2017 - S - TBA

Sommer Tour
06.05.2017 - RA - Buenos Aires, Maximus Festival
13.05.2017 - BR - Sao Paulo, Maximus Festival
09.-11.06.2017 - F - Paris, Download Festival
16.06.2017 - D - Hockenheim, Matapaloz
17.06.2017 - A - Nickelsdorf, Nova Rock
18.06.2017 - B - Dessel, Graspop Metal Meeting
10.-13.08.2017 - UK - Derby, Bloodstock Open Air
16.-18.08.2017 - D - Dinkelsbühl, Summer Breeze
19.08.2017 - D - Hamburg, Elb-Riot

www.hatebreed.com