Release-Konzerte stehen fest!

Die niederländische Todesmetallwalze GOD DETHRONED hat 'The World Ablaze' als Titel ihres nächsten Albums festgelegt, das am 5. Mai über Metal Blade Records erscheinen wird!

'The World Ablaze' ist das erste Album der Band seit 'Under The Sign Of The Iron Cross' von 2010 und markiert das ruhmvolle Comeback der Tulpenschlächter! Gleichzeitig ist das Album der dritte und letzte Teil der Trilogie über den ersten Weltkrieg.

Die Scheibe wurde erst gestern gemastert, doch in Kürze stellen wir euch sowohl das Cover als auch einen ersten Höreindruck vor. Dann könnt ihr das Gerät auch in unterschiedlichen Formaten vorbestellen!

Dan Swanö, der 'The World Ablaze' abmischte, gibt seine Meinung dazu zum Besten: "God Dethroned haben im Death-Metal-Bereich eine großartige Wende vollzogen. Diese Platte enthält eine klasse Kombination verschieden schneller Gangarten und Stile, die das Genre zu bieten hat, alles erdrückend perfekt ausgeführt mit eingängigen Refrains und melodischen Hooks, die euch nicht mehr aus dem Kopf gehen werden! Fans von Bolt Thrower (R.I.P.) und einigen anderen Todesbrigaden aus den Niederlanden, mit denen zu arbeiten ich bereits die Freude hatte, dürften begeistert sein!"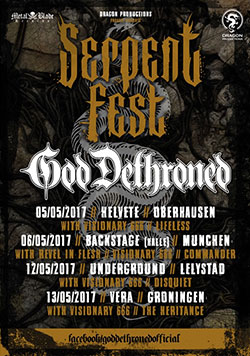 GOD DETHRONED werden am Wochenende der Veröffentlichung zwei Releaseshows in Deutschland geben, am darauffolgenden Wochenende dann zwei weitere in ihrer Heimat. Wir bitten um Verbreitung der frohen Kunde!

05.05.2017 - D - Oberhausen, Helvete
mit Lifeless & Visionary 666
06.05.2017 - D - München, Backstage
mit Revel In Flesh & Commander & Visionary 666
12.05.2017 - NL- Lelystad, Poppodium
mit Visionary 666 & Disquiet
13.05.2017 - NL - Groningen, Vera
mit Visionary 666 & The Heritage

Weitere Shows von GOD DETHRONED:
11.03.2017 - D - Heidelberg, Deathfest
18.03.2017 - D - Altenburg, 8. Indoorfestival
08.04.2017 - NL - Erica, Pitfest
10-12.08.2017 - D - Schlotheim, Party.San Open Air

GOD DETHRONED sind:
Henri Sattler - Vocals/Gitarre
Mike Ferguson - Gitarre
Jeroen Pomper - Bass
Michiel van der Plicht - Drums

https://www.facebook.com/goddethronedofficial
https://goddethroned.bandcamp.com
https://twitter.com/villavampiria