Pure Leidenschaft! Drei wirklich extrem spielfreudige Rabauken, die für ihre Sache alles an kochendem Herzblut opfern, was die Pumpe nur hergibt.
Axeman, Speedfreak und Shouter Jonathan Brutschin, Bassist Toby Straumann und Drummer Simon Straumann sind FREAKINGS und peitschen die Trommelfelle mit ekstatisch-wildem, verdammt präzise gespieltem THRASH METAL!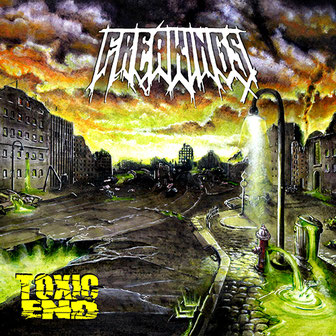 'Old School to the bone!', so heißt das programmatische Motto von Meister Brutschin und den fähigen Straumann-Brothers. Dass die Eidgenossen 2017 erneut in Originalbesetzung antreten, spricht absolut für die Linientreue und Authentizität des Schweizer Trios.
Köstlich verkommenes und viehisch-räudiges Geschrei zeichnet das neue Album "Toxic End" aus, wobei zackig erhebende Gangshouts nach bestens bewährter UK-Manier einfach nicht fehlen dürfen. Offizieller Veröffentlichungstermin für "Toxic End" ist der 6. März 2017.
Ein kultivierter Genuss für Kenner ist dabei sicherlich auch die blitzsauber ausgeführte, giftig-scharfe und technisch filigran geschrubbte Gitarrenarbeit, der es weder an Druck noch an Biss fehlt. Dass dabei auch Erinnerungen an die kalifornischen Großmeister Slayer zu ihren schnellsten und furiosesten Zeiten entstehen, kommt wohl einfach aus dem unverdorbenen Unterbewusstsein der drei helvetischen Energiebündel. 


Ein ebenso aufrechter wie sympathischer Werdegang ohne Makel liegt hinter den hart erprobten Wüterichen, die in Basel beheimatet sind:
2008 mit Bier-getränkter Entschlossenheit gegründet, hauten FREAKINGS nach emsigem Proben, Ausprobieren und Finden des eigenen Stils drei Jahre später den ersten Langdreher "No Way Out" raus. Schnell war klar, mit diesem Kommando muss man auch künftig rechnen.
2014 wurde dementsprechend mit "Gladiator" noch kerniger nachgelegt. Das Album präsentierte eine Truppe, die beflissen an ihren Fähigkeiten und Fertigkeiten gefeilt hatte, was mit gesteigerter Aufmerksamkeit und Anerkennung in der Szene belohnt wurde.
Jetzt liefern FREAKINGS endlich mit "Toxic End" die perfekte Begleitmusik zum Weltuntergang, den die marode Menschheit scheinbar gar nicht mehr abwarten kann… (Markus Eck)
FreaKings - online:
Website: http://www.freakings.ch
Facebook: https://www.facebook.com/freakings
Youtube: https://www.youtube.com/user/freakingsband
Soundcloud: https://soundcloud.com/freakingsband