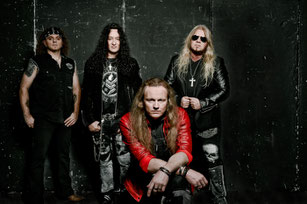 Wertet man die Songs des neuen VOODOO CIRCLE-Album "Raised On Rock" als Gradmesser für das emotionale Befinden ihrer wichtigsten Protagonisten, muss man sich speziell um Bandgründer, Gitarrist und Hauptkomponist Alex Beyrodt unverkennbar keine Sorgen machen. Dank Beyrodts exzellentem Songwriting – wie gewohnt speist es sich aus renommierten Quellen wie Whitesnake, Rainbow, Deep Purple, Led Zeppelin oder Jimi Hendrix – und seines erneut überragenden Gitarrenspiels mit Reminiszenzen von Ritchie Blackmore über Jimmy Page bis zu John Sykes, atmet die Scheibe pure Spielfreude.
Diese überbordende Vitalität liegt allerdings nicht nur an Beyrodt allein, sondern zweifelsohne auch an seinen Mitstreitern Mat Sinner (Bass), Francesco Jovino (Schlagzeug) und – last but not least – am neuen Sänger Herbie Langhans (Avantasia). Beyrodt und Langhans lernten sich 2015 auf dem W:O:A kennen, als sie unter anderem die Wacken-Hymne gemeinsam von der riesigen Black Stage schmetterten.
Beyrodt: "Das Kuriose an dieser Geschichte ist, dass Herbie und ich uns vorher nie getroffen hatten, sondern zum allerersten Mal persönlich miteinander sprachen, nachdem wir wenige Minuten vorher gemeinsam 100.000 Leute vor der Bühne und etwa vier Millionen Zuschauer am Fernsehgerät gerockt hatten."
Mit Langhans als neuer Frontmann der Band hat sich die stilistische Ausrichtung der Voodoo Circle-Kompositionen zwar nicht signifikant verändert, sehr wohl aber das generelle Flair der Stücke: "Ich finde, dass die Band mit Herbie noch eigenständiger, etwas weniger bluesig, dafür umso kerniger klingt", schwärmt Beyrodt. "Dadurch konnte ich auch an Ideen arbeiten, die zu
Herbies Vorgänger David Readman vermutlich nicht so recht gepasst hätten, sich für Herbies kraftvolle Stimme dagegen geradezu perfekt eignen." Der Voodoo Circle-Chef spricht von Nummern wie ´Running Away From Love` mit seiner hymnischen Gesangsmelodie oder dem folgenden Midtempo-Rocker ´Higher Love`, der bereits bei seiner ersten öffentlichen Feuertaufe vor Publikum auf helle Begeisterung stieß. Beyrodt: "Die Nummer bereitete mir zunächst einige schlaflose Nächte, da ich das Gefühl hatte, dass ihr noch ein kleines, aber wichtiges Element fehlt. Dann kam mir die Idee mit der Talk-Box, mit der das Stück plötzlich eine andere, sehr interessante Note bekommt. In der jetzigen Form halte ich ´Higher Love` für einen der besten Voodoo Circle-Songs ever." Bis weit zurück in die Gründungsphase der Gruppe reicht das knapp sechseinhalb-minütige, mit allerlei Blackmore-Zitaten durchtränkte ´Dreamchaser`, das Beyrodt ursprünglich für das 2008er Voodoo-Circle-Debütalbum komponiert hatte, seinerzeit mit dem Resultat aber noch nicht restlos zufrieden war. "Das Arrangement der Nummer wurde im Laufe der Jahre immer wieder geändert und überarbeitet, jetzt endlich hat es die Reife erlangt, um es aufzunehmen." Demgegenüber greift Beyrodt mit ´You Promised Me Heaven` tief in die Page/Sykes-Kiste, ein wahres Gitarrenfestival aus Telecaster-, Strat- und Les Paul-Sounds, die das bluesige Feeling des Songs unterstützen und für Tiefgang sorgen.

Apropos Sound: Gemischt und gemastert wurde "Raised On Rock" von Jacob Hansen (Volbeat, U.D.O.), dessen feines Gespür für Dynamik und Frequenzen der Scheibe ihren modernen Touch verleiht. Und noch ein Name, der entscheidend am prallen Gesamteindruck von Raised On Rock beteiligt war: Die Keyboards hat Corvin Bahn (Saxon, Uli Jon Roth) übernommen. Summa summarum bleibt also nur die Erkenntnis, dass die neue Voodoo Circle-Scheibe ihrem
programmatischen Titel vollauf gerecht wird.

"Raised On Rock" erscheint am 09. Februar als CD, Digipak und ltd. farbiges Vinyl.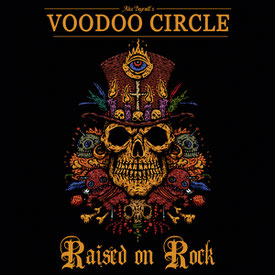 "Raised On Rock" Tracklist:
01. Running Away From Love
02. Higher Love
03. Walk On The Line
04. You Promised Me Heaven
05. Just Take My Heart
06. Where Is The World We Love
07. Ultimate Sin
08. Chase Me Away
09. Unknown Stranger
10. Dreamchaser
11. Love Is An Ocean
12. Time For The Innocent (Bonus track on Digipak)
13. There's More To See (Bonus track on Digipak)
---
VOODOOCIRCLE stellen ihren neuen Sänger vor! / Neuer Song online
VOODOO CIRCLE, die Classic Hardrocker um Gitarrist Alex Beyrodt, haben sich mit ihren bisherigen vier Studioalbum nicht nur einen exzellenten Ruf, sondern auch eine weltweite Fangemeinde erspielt. Nach erfolgreichen Touren und Festivalgigs deutete sich 2016 der Abschied von Sänger David Readman an. Seither steht die spannende Frage im Raum: Wer wird sein Nachfolger?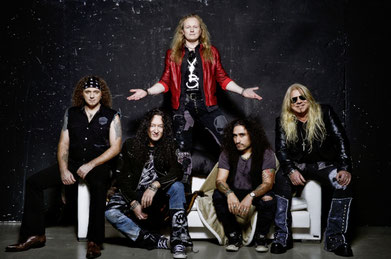 VOODOO CIRCLE freuen sich, ab sofort Sänger Herbie Langhans (u.a. Avantasia) als neuen Frontmann vorstellen zu können.
"Herbie hat alle Qualitäten, die ein echter Frontmann braucht: Tolle, gefühlvolle Stimme mit einer ganz eigenen Farbe und Charakteristik und einem hohen Wiedererkennungswert. Darüber hinaus verfügt Herbie über Charisma und Entertainerqualitäten. Seine sympathische Art und Energie sind ansteckend. Wir blicken kommenden Aktivitäten hochmotiviert entgegen", sagt Gitarrist und Bandleader Alex Beyrodt.

Derzeit befindet sich die Band in der letzten Phase des Songwritings für ihr (noch unbetitelte) fünftes Album, deren Veröffentlichung im Sommer erfolgen soll.

Einen Vorgeschmack gibt es aber jetzt schon, denn VOODOO CIRCLE haben Herbie ihren Song "Heart Of Stone" (vom aktuellen Album "Whiskey Fingers") neu einsingen lassen.