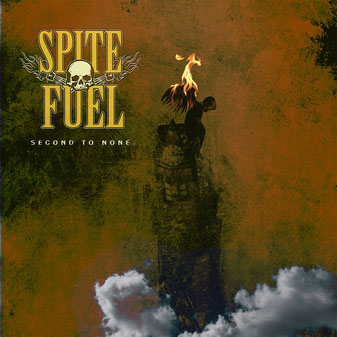 VÖ: 07.04.2017
Label: MDD Records
Format: CD
Tracklist:
01. On Burning Wings (1:14)
02. Purified (3:48)
03. By My Hand
04. Worehouse Symphony (5:20)
05. Regrets (6:17)
06. Sleeping With Wolves (6:14)
07. Adamah's Tribes (0:39)
08. Triad Of Faith (4:19)
09. Fly (4:19)
10. Devil's Darling (4:09)
11. It Remains Empty Forever (4:45)
Zack! Da isses auch schon! Die Senkrechtstarter von SPITEFUEL schmeißen ihren ersten Langspieler auf den Markt. Die vorab-Singleauskopplung "Sleeping With Wolves" gab es ja Anfang Dezember schon zu kaufen und nun wird nochmal ne Schippe drauf gelegt. Ein megamächtes Teilchen in dem - vor allem für ein Debüt - jede Menge Aufwand, Arbeit und demzufolge auch Kohle steckt!
Erstmal zu den einzelnen Songs. Beginnen wir das Hör-Erlebnis mit einem seichten und ruhigen Intro namens "On Burning Wings". Nix wildes, nur ein paar Strings, Keys und Trompeten-Gedöns etc, wir wollen uns ja langsam rantasten. 1:14 min später dann BAAAAM! Harte Riffs, der obligatorische Metal-Schrei und es geht los! "Purified" wurde schnell zu meinem Lieblingslied des Silberlings. Sehr gut abgestimmte Riffs und Melodien und mit 3:48 aber leider auch der kürzeste Track, aber trotzdem ein Ohrwurm. "By My Hand" reiht sich hier super mit ein und kann die rockigen Töne aus den Boxen ohne Unterbrechung gut weiter transportieren. Ein sehr eingängiger Track, der ebensoviel Power hat wie sein Vorgänger. Das folgende "Whorehouse Symphony" schlägt anfangs etwas seichtere Töne an, fällt dann aber auch wieder in vertraute Rhythmen. Man könnte bei diesem Track auch sagen, dass er etwas dirty'n'naughty klingt. Eine sehr gute, harte Nummer, wenn auch nicht die schnellste. Die passende Überleitung zum folgenden "Regrets". Eine Ballade! Jungs, nehmt die Mädels in den Arm - Kuschelzeit! Ein 6:17 min Stück, das zum Träumen einlädt. Aber nicht zu lange bitte - denn nun kommt "Sleeping With Wolves". Mitsingen angesagt! Der Track dürfte ja schon bekannt sein. Danach ist dann nochmal etwas Zeit um die Stimmbänder mit einem Kamillentee zu besänftigen - "Adamah's Tribes", ein weiteres Instrumental, bevor es mit "Triad Of Faith" auf den Saiten und Fellen wieder rund geht. Und es darf erneut feierlich ge(head)bangt werden! "Fly" ist dann wieder mehr in der Kuschelrichtung angesiedelt und schon kommt mit "Devil's Darling" nochmal ein ordentlicher Fetzer daher. Ein bisschen mehr in Richtung "auf die Fresse" und auch wieder sehr gut um das Haar kreisen zu lassen. "It Remains Empty Forever" bildet einen sehr gelungenen Abschluß des Albums. Schönes Gitarren- und Drumspiel und mit guten Tempo-Wechseln. Alle Tracks miteinander sehr harmonisch und optimal aufeinander abgemischt. "Second To None" ist ein sehr abwechslungsreiches Album und wirkt trotzdem nicht durcheinander, sondern in sich stimmig von vorne bis hinten.
Insgesamt klingt "Second To None" sehr erwachsen und professionell für ein Erstlingswerk, wobei man auch zugeben muss, dass die Jungs schon Erfahrung im Business haben. Ich bin trotzdem freudigst überrascht und bin mir sicher, dass SPITEFUEL keine Eintagsfliege sind! Hier gibt es einen "fürchterlichen" Ohrwurmgarant aller erster Güte!
Ob fetzig/rockig oder harmonisch/langsam, auch hier kann Rampensau Stefan Zörner wieder mit kräftiger Stimme überzeugen. Den Rest der Band wollen wir aber mal nicht unter den Tisch fallen lassen. Ob Timo, Tobias und Finn an den Saiten, oder Björn an den Drums - alle haben auf dieser Scheibe einen großartigen Job geleistet! Band, Produzent und weitere Mittäter sorgten dafür, dass das Album sich sehen und vor allem hören lassen kann! Auch nach gefühlten hunderten von Rotationen im Player wird hier nix langweilig und "Second To None" entpuppt sich schnell als Lieblingsalbum!
Die CD lohnt sich allemal für jedes CD-Regal! => Kauftipp! Und zum Schluss lasst euch noch gesagt sein, dass die Songs auch live mega fett rüber kommen. Ein SPITEFUEL Konzerte ist also auch immer einen Besuch wert! Die aktuellen Konzertdaten gibt's natürlich hier.
Aufgenommen, gemischt, gemastert, verfeinert und gewürzt wurde "Second To None" in den Troisdorfer Gernhardt Studios im Winter 2016. Produzent hier: Markus Rösner für MDD Records. Das Cover-Artwork haben wir Travis Smith (Anathema, Nevermore, Katatonia, Opeth, Soilwork, Strapping Young Lad, etc.) zu verdanken.
(Sarah Jacob)