Die deutsche Hard Rock Institution SINNER wird im Mai endlich wieder aufTour sein. Mit im Gepäck haben sie ihr neues Album "Tequila Suicide",welches bereits am 31.03 über AFM Records erschienen ist und in die deutschen TOP 50 Album Charts eingestiegen ist.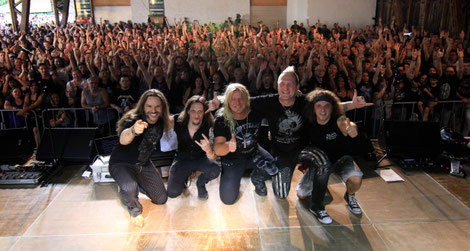 Produziert von Mat Sinner und co-produziert von Dennis Ward erreicht"Tequila Suicide" die höchste Chart Notierung in der Geschichte der Band mit Pos #49 und chartet sogar in der Schweiz auf Pos #99. Mit Alex Scholpp (Tarja) und Tom Naumann (Primal Fear) an den Gitarren kehrt die Band mit moderner Produktion wieder zu ihren Roots zurück.

Auf dem Album befinden sich etliche illustre Gastmusiker - darunterOzzy Osbourne-Gitarrist Gus G., Magnus Karlsson (Primal Fear/Free Fall),Rock Meets Classic Sängerin Kolinda Brozovic, Thin Lizzy / Black StarRiders Sänger Ricky Warwick und Sweet Sänger Pete Lincol. Auf dem Album und auch auf Tour dabei sind Sascha Krebs (Queen Kings und Rock Meets Classic),GAMMA RAY-Sänger Frank Beck und Barkeeper Neil Witchard. Man darf aufspannende gemeinsame Bühnenpräsenz gespannt sein!

Seit 30 Jahren ist die Band um Frontmann Mat Sinner im Geschäft, spielteweltweit erfolgreiche Headliner- und Support-Touren mit Bands wie DeepPurple, Mr. Big und Savatage. Mit Klassikern wie "Touch Of Sin" und "CominOut Fighting" setzten SINNER Ende der Achtziger Maßstäbe. In denNeunzigern kehrten SINNER nach kurzer Schaffenspause furios zurück undentwickelten auf Alben wie "Judgement Day" und "The Nature Of Evil"(Charts #63) mit großem Erfolg einen dunkleren, bedrohlichen undmetallischeren Sound, ohne jedoch von ihrer traditionellenGrundausrichtung abzuweichen. Dieser Trend setzte sich auch im neuenJahrtausend mit den Chart-Alben "The End Of Sanctuary" und "There Will BeExecution" fort, bevor mit dem Anfang 2007 mit "Mask Of Sanity" einekleine Kurskorrektur vornahm und wieder mehr den klassischen Heavy Rockzelebrierte, setzten SINNER mit ihren Erfolgsalben "Crash & Burn" und "One Bullet Left" (Charts #65) auf eingängigeres Songmaterial.

Als Special Guest ist die Band THE UNITY (feat. Michael Ehré und Henjo Richter von Gamma Ray) dabei, die zur Tour im Mai ihr gleichnamiges Debütalbum veröffentlicht.

SINNER TEQUILA SUICIDE Tour 2017
+ special guest THE UNITY
12.05.2017 - CH - Wetzikon, Hall Of Fame
13.05.2017 - D - Memmingen, Kaminwerk
14.05.2017 - D - Essen, Turock
16.05.2017 - D - Nürnberg, Hirsch
17.05.2017 - D - Aschaffenburg, Colos-Saal
18.05.2017 - D - Mannheim, 7er Live Club
19.05.2017 - D - Markneukirchen, Framus & Warwick Music Hall
20.05.2017 - D - Hamburg, Knust
---
SINNER veröffentlichen neues Album "Tequila Suicide" am 31. März
Auf SINNER ist Verlass: Auch wenn Bandboss Mat Sinner mit zahlreichen anderen Aktivitäten (man nenne nur Primal Fear, das "Rock meets Classic" Projekt und Voodoo Circle) stets viel beschäftigt ist, so findet er doch in mehr oder weniger regelmäßigen Abständen auch immer wieder die Zeit, mit SINNER neue Alben zu produzieren und auf Tour zu gehen. Zuletzt war dies 2013 der Fall, als dem 2011er "One Bullet Left" Album mit "Touch Of Sin 2" eine Neueinspielung von SINNER-Klassikern der 80er folgte.

"Tequila Suicide" ist nun aber wieder ein ganz frisches, aus neuem Songmaterial bestehendes Album, das von Mat Sinner und Dennis Ward (Co-Produzent) produziert wurde. Einerseits ist "Tequila Suicide" natürlich (und alles andere wäre Frevel gewesen) typisch SINNER, aber beinhaltet auch kleine Überraschungen wie den "Sinner Blues", eine bluesige Rockballade von feinster Qualität.
Starke Songs paaren sich auf "Tequila Suicide" mit einem mächtigen und doch homogenen Sound, der keinerlei Wünsche offen lässt. Zahlreiche hochkarätige Gastmusiker (u.a. Gus G von Ozzy Osbourne & Firewind, Ricky Warwick (The Almighty und Thin Lizzy) und Pete Lincoln (Sailor, Sweet) ließen es sich nicht nehmen, Teil des Albums zu werden. SINNER - die deutsche Hard'n'Heavy-Legende ist zurück!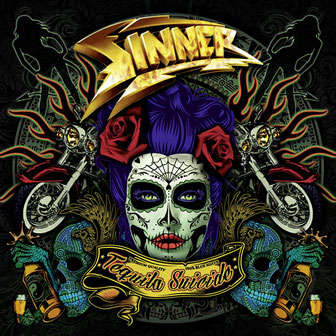 Tracklist:
01. Go Down Fighting
02. Tequila Suicide
03. Road To Hell
04. Dragons
05. Battle Hill
06. Sinner Blues
07. Why
08. Gypsy Rebels
09. Loud & Clear
10. Dying On A Broken Heart
11. House Of Rock *
12. Monday Morning *
13. I Am *

* Bonustracks