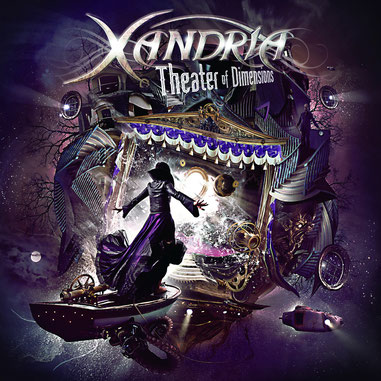 VÖ: 27.01.2017
Label: Napalm Records
Format: CD
Tracklist:
01. Where The Heart Is Home
02. Death To The Holy
03. Forsaken Love
04. Call Of Destiny
05. We Are Murderers (We All)
06. Dark Night Of The Soul
07. When The Walls Came Down (Heartache Was Born)
08. Ship Of Doom
09. Céilí
10. Song For Sorrow And Woe
11. Burn Me
12. Queen Of Hearts Reborn
13. A Theater Of Dimensions
Ein neues Release aus dem Symphonic Metal Hause von XANDRIA. Nach "Sacrificium" und der "Fire And Ashes" E.P. kommt nun das nächste Studioalbum mit Dianne van Giersbergen an den Vocals.
Eigentlich könnte man sagen: "Alles klar... ein weiteres Operettending. Kennt man schon, kann wieder weg..." Genau DAS sollte man aber nicht tun!
Wie meine aufmerksamen Leser und Fans bereits wissen, ich bin absolut kein Fan dieser Sopran-Stimmen und Operngesängen, die Nightwish seiner Zeit in der Metal Szene populär gemacht haben. Die letzten Releases von XANDRIA haben mir aber durchaus gefallen. Warum vermag ich nicht wirklich zu sagen. Es muss ein unterschwelliges, unbemerkbares Etwas sein, das Dianne in ihrer Art und Weise und Stimme hat, die mir doch gefallen.
Zurück zum neuen Album! Klar kann man beim anfänglichen Hören sagen: "Kenne ich schon. Danke. Nächstes bitte." So ähnlich ging es mir bei den ersten Tracks durchaus auch. Was aber eher XANDRIA-untypisch ist, ist die Verwendung der männlichen Vocalsparts in einigen Songs.
Hier wird die Sicht von Licht und Schatten/Gut und Böse ausgedrückt. Diannes Stimme hat ja doch meist etwas erhellendes im Ausdruck. Diese Eigenschaft lässt sie - unabhängig von den Lyrics - in der Regel immer fröhluch und positiv klingen. Nun kommt der Stimmen-Konflik mit ins Spiel und gibt den Songs damit eine ganz andere Ausdrucksweise. Es macht sie interessanter und abwechslungsreicher, was dazu beiträgt, dass man das gesamte Album bis zum Ende anhören möchte.
Ob schnelle Riffs, oder langsame und gefühlvolle Melodien, XANDRIA haben mit "Theater Of Dimensions" ein neues Meisterwerk geschaffen. Hier zeigt sich wieder sehr deutlich, dass der Band nichts besseres passieren konnte, als Diannes frischer Wind mit all ihren musikalischen Erfahrungen und ihrer Persönlichkeit.
Man darf sich schon auf eine weitere Tour freuen und ich bin sehr gespannt, wie die verschiedenen Vocals auf der Bühne umgesetzt werden.
(Sarah Jacob)