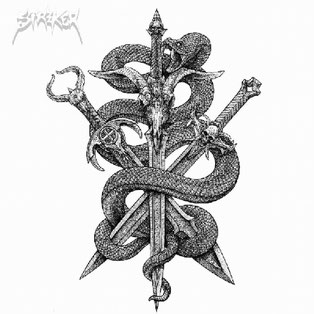 VÖ: 24.02.2017
Label: Saol (H'ART)
Format: CD
Tracklist:
01. Former Glory
02. Pass Me By
03. Born To Lose
04. Cheating Death
05. Shadows in The Light
06. Rock The Night
07. Ober The Top
08. Freedom's Call
09. Curse Of The Dead
10. Desire
STRIKER wollen es nochmal wissen! Mit dem letzten Album "Stand In The Fire" schafften die Canadier den großen Durchbruch in Europa und waren bereits recht erfolgreich mit Bands wie Primal Fear auf Tour.
Das vierte, selbstbetitelte, Album setzt dem ganzen nochmal eine Schippe oben drauf. Härter und schneller als zuvor rasseln die Songs nur so runter. Besser hätte man Heavy Metal auch in den 80ern nicht machen können.
Dabei beweist Tim Brown einmal mehr, wie präziese er mit seinen flinken Fingern saubere Riffs auf der Gitarre schmettern kann und auch Dan Cleary überzeugt abermals am Mikrofon. Mehr Power geht fast nicht.
Getreu dem Motto "full speed or no speed" schleudern dem Hörer die Songs von A bis Z um die Ohren. Ohne Atempause feht es rund. Den Einstieg macht dabei das Schleudertrauma erzeugende "Former Glory", gefolgt vom nicht minder aggressiven "Pass Me By". So zieht sich dee Faden bis zum Schlusslicht "Desire", welches ebenfalls durch musikalische Brillanz strahlt.
Mixing und Mastering stammt aus den Händen von Fredrik Nordtröm in den Fredman Studios. Das Artwork wurde von Rizky Putranto (Rish XXV) kreiert.
Um auch hier wieder das Können unter Beweis zu stelken, gehen STRIKER ab Februar auf umfangreiche Europa-Tour als Support von Sonata Arctica. Ob sie den Hauptact dabei mit all ihrer Energie, die auf der Bühne explosionsartig zum Vorschein kommt, nicht in den Schatten stellen? Überzeugt euch selbst, kauft Ticket und Album ind erfreut euch an der Musik!
(Sarah Jacob)