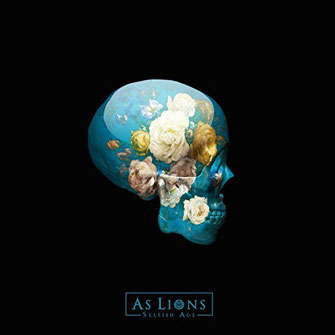 VÖ: 20.01.2017
Label: Seven Eleven Music (Warner)
Format: CD
Tracklist:
01. Aftermath
02. The Suffering
03. Bury My Dead
04. Deathless
05. Selfish Age
06. White Flags
07. Pieces
08. World On Fire
09. One By One
10. The Fall
11. The Great Escape
Gerade erst erschien das Debütalbum von AS LIONS und schon wird es in den höchsten Tönen gelobt.
Wer sind die eigentlich?
Nun, im Grunde sind sie nur 5 Jungs aus London, England, die - wie viele andere auch - gerne Musik machen und das natürlich am liebsten so erfolgreich wie möglich. Gegründet wurden AS LIONS im Jahr 2015 von Ex-Rise to Remain-Mitgliedern: Austin Dickinson - Vocals, Conor O'Keefe - Gitarre, Will Homer - Gitarre
Dickinson? Ja, richtig. Sänger Austin Dickinson ist ei er der Sprösslinge des Iron Maiden Fronters Bruce Dickinson. Dieser hat seinen Kindern die musikalischen Fähigkeiten offenbar vererbt. Nun ist die Abstammung aber längst kein Grund, gleich alles ungehört gut zu finden. Grade in diesem Konstellationen hört man doch gerne mal genauer hin.
Viele Stimmen sagen, AS LIONS und die Vorgängerband Rise To Remain klängen genau gleich. 1:1 nur unter anderem Namen. Für mich sind RtR stark in die Metalcore-Schublade zu stecken. Bei AS LIONS gibt es diese Einflüsse zwar auch, meinem Gehör nach bei Weitem aber nicht so stark. Daher eher Heavy Metal mit leichten Core-Momenten. Zumindest hat sich die Band entschieden, kein billiger Abklatsch der berühmten Abstammung zu sein. Das ist schon löblich. Es gibt doch immer wieder Nachkommen, die auf den Zug der Eltern aufspringen wollen und scheitern.
Nun zum Album "Selfish Age". Die musikalische Richtung haben wir ja bereits festgelegt. Nun gehen wir etwas auf das Gesamte Album ein. Das gesamte Songswriting stammt aus der Feder von Austin Dickinon und Conor O'Keefe. Gitarrist Will Homer hat auch oft seine Finger im Spiel, der Rest der Band, Bassist Stefan Whiting und Drummer Dave Fee haben sich dabei komplett rausgehalten.
Auf "Selfish Age" kann Austin tatsächlich mit einer gut geübten Stimme an den Vocals überzeugen. Ob bei den schnellen und härteren Tracks, zeigt er auch Emotionen in "World On Fire" und "One By One". Insgesamt kommt die Scheibe recht abwechslungsreich daher und ist als Debüt eine wirklich gelungene Scheibe! Aber auch die Gitarren und Drumms sind natürlich nicht unwichtig und überzeugen mit musikalischen Können.

Produziert, gemischt und gemastert wurde das Album in den Hideout-Studios in Las Vegas umd bei House Of Loud in New Jersey.
Als nächstes steht erstmal eine ausgedehnte US-Tour mit Shinedown auf dem Plan. Hoffentlich wird uns die Band auch bald auf europäischen Bühnen beehren. Wir werden unser Möglichstes tun um davon in Bild und Wort zu berichten!
(Sarah Jacob)