In Zusammenhang mit dem Grazer Schloßberg ist das METAL ON THE HILL Festival das erste & einzige österreichische Boutique Festival, das mit der Einzigartigkeit der Steiermark unverwechselbar verbunden ist! Nach der Feuertaufe im Dom im Berg, sowie auf den Kasematten, vergrößert man sich 2017 entsprechend, und wird an beiden Tagen die Festivalbesucher auf den Kasematten - der wohl schönsten Bühne Österreichs - begrüßen.  Save the Date: 11.08. - 12.08.2017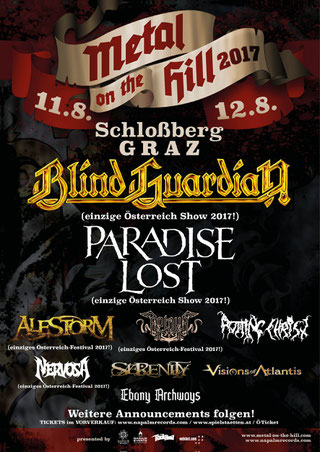 Als METAL ON THE HILL Headliner finden BLIND GUARDIAN und PARADISE LOST ihren Weg nach Graz zu ihren jeweils einzigen und exklusiven Österreich Shows 2017!
Weitere bereits bestätigte Hochkaräter sind die schottischen Piraten Metaller von ALESTORM, die Pagan-Folk Russen von ARKONA und das brasilianische Thrash Power-Trio NERVOSA – die sich ebenso mit exklusiven Festivalauftritten in Österreich ankündigen. Eine mächtige Brise Black Metal kommt von ROTTING CHRIST mit einem Special Old School Set angerauscht. Passend dazu gibt es symphonischen Bombast der Extraklasse serviert von SERENITY und VISIONS OF ATLANTIS.

Halten Augen & Ohren offen für weitere Bandbestätigungen und bringt euch mit dem offiziellen Festival Trailer in die perfekte METAL ON THE HILL Stimmung. Seht den Festival Trailer HIER!
Zudem wurde heute eine weitere Band am Festival Line-up bekanntgegeben. Direkt aus der Heimatstadt von Metal On The Hill kommen diese vier Grazer zu uns auf den Schloßberg! EBONY ARCHWAYS liefern fetten, soliden Heavy Metal ab und können es kaum erwarten euch am Festival so richtig einzuheizen!
Mehr Infos & News auf:
www.metal-on-the-hill.com
www.facebook.com/metalonthehill
www.facebook.com/event